The Best Shampoos For Bleached Hair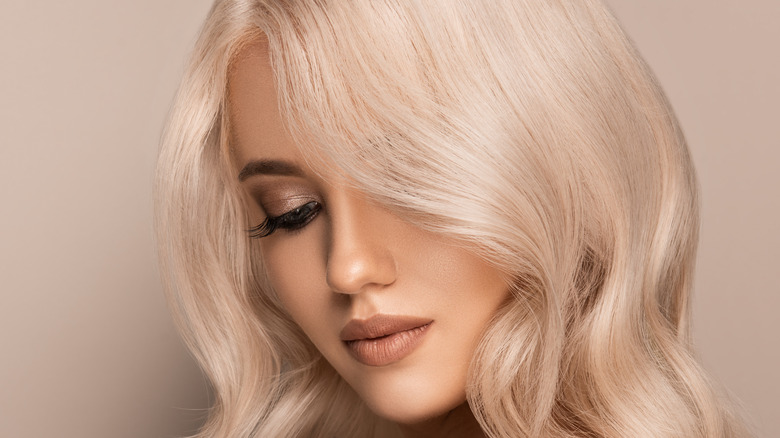 Shutterstock
One of the most popular trends in the hair industry is getting highlights or ombré-ing your hair. In order to add that light, bright blond color to your hair, most people need to undergo some bleach treatments. In order to lighten your original hair color at all, you have to use a bleach process to lift the color and make it lighter. While using bleach is pretty common in the hair industry, it can be pretty damaging to your hair.
Bleach works by actually breaking apart the bonds in your hair so that it can dissolve the natural pigments known as melanin (via Refinery29). The way in which the chemicals process can cause the hair to become dried out and brittle after bleaching, which is why hair care post-bleaching is super important. People with newly bleached hair will want to ensure they have a shampoo that is both color-protecting and hydrating to keep those locks shiny and healthy. 
There are a few shampoos you can invest in to ensure your hair is luscious and strong! 
You want shampoos that make your hair strong and maintain that blond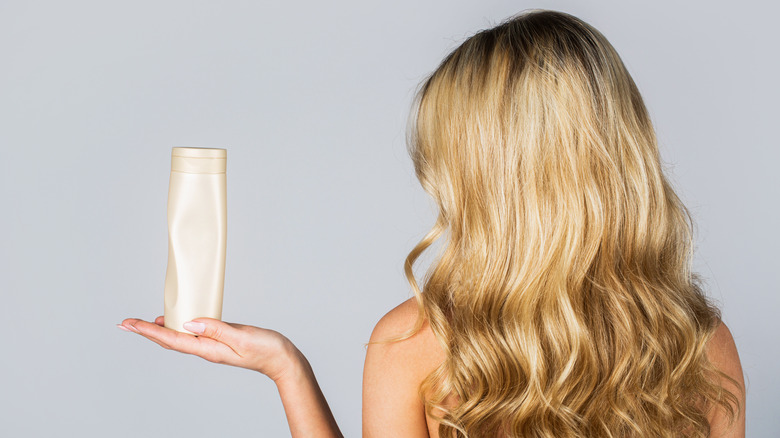 Shutterstock
When bleaching your hair, the one thing you want to do is find a shampoo that'll help restore that strength back into your bonds. Luckily, Olaplex makes shampoos that do just that. The most popular for bleached hair, according to NBC, is Olaplex. Their Bond Maintenance shampoo is known to work well on color-treated hair and restores that bond back into your bleached locks. Customers review that the shampoo works well at keeping highlighted and bleached hair hydrated and healthy. Olaplex's Bond Maintenance retails for $28 at Sephora.
One thing that all newly bleached blondes want to ensure is that their color stays vibrant and bright. The last thing you want to do is rush to bleach too soon. Therefore, getting a good purple shampoo to keep your color more blond and less orange is key. Cristophe Robin is known to have products ideal for baby blondes who want to keep their locks ashy. Their Mini Blonde Maintenance Set includes a brightening shampoo to prep hair and purple mask to nourish and correct brassy tones and retails for only $25.
This shampoo hydrates your hair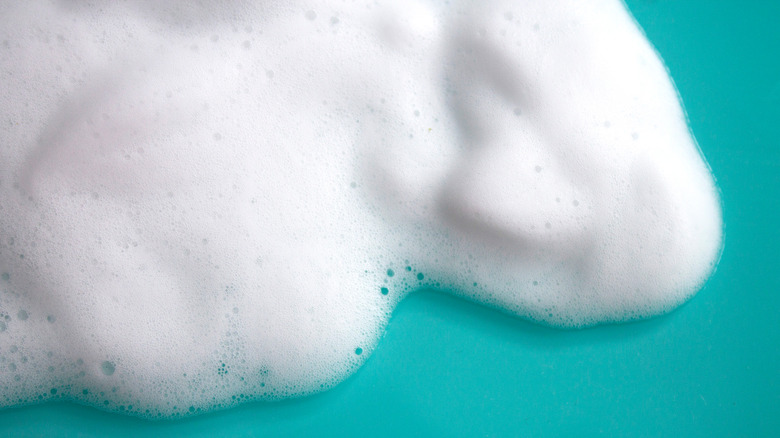 Shutterstock
According to Byrdie, the best-all around shampoo for bleached hair is Oribe's Bright Blonde Shampoo. It not only revitalizes hair, but it brightens brassy tones and keeps blondes lasting longer. It also provides UV protection in the sun and strengthens hair shafts.
For hair that's dried out and brittle, Kérastase's Blond Absolu Strengthening Shampoo and Conditioner is perfect for hydrating your locks again. Reviews on Sephora claim that pairing the duo together make your hair absolutely soft and luxurious, while also protecting your color and allowing for a longer time in between re-bleaching and highlighting your hair. Plus, it works on all hair types, curly, straight, and wavy.
Whether you have a full head of dyed blond hair or you just get highlights, bleaching and processing can lead to some serious damage. If you're looking for ways to save those strands, try out some of these absolutely loved shampoos!