Eagle-Eyed Fans Spotted Lilibet In Meghan Markle's Birthday Video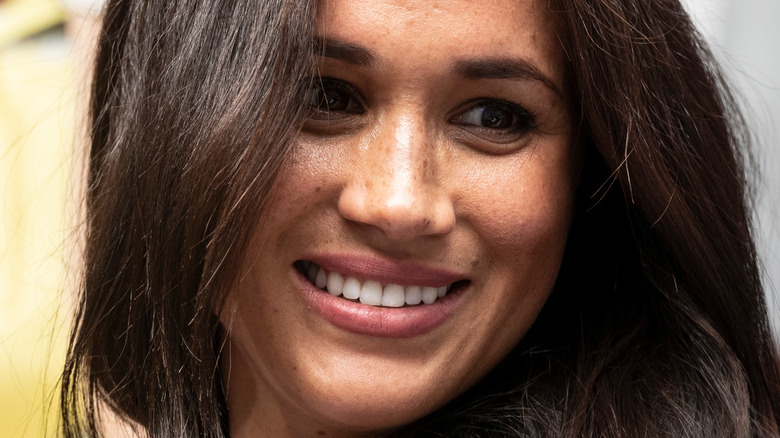 Shutterstock
Meghan Markle is celebrating her 40th birthday today, and she's doing so in a very Duke-and-Duchess-of-Sussex kind of way: by using a day that is special to her and turning it into a day that ultimately serves others. To celebrate her milestone birthday, Markle filmed a video with actress and friend Melissa McCarthy about the newest initiative she and Prince Harry are launching through the Archewell Foundation. 
In the two-minute video, Markle and McCarthy banter back and forth about how the former could be celebrating her day. After McCarthy offers up a few ideas that are never going to fly (such as a "Suits" reunion), Markle gets right to the point: she is kicking off the Archewell 40x40 project today, asking 40 women she knows to give 40 minutes of their time to a woman who is returning to the workforce. Markle points out that a huge number of women had to leave work due to the ongoing coronavirus pandemic, and it's time to help those women get back.
Of course, the initiative is beautiful and important, however, fans couldn't help but spot something in the clip that is also exciting. Look closely and you can see Markle has framed photos of her family on her desk, including what appears to be a photo of Prince Harry and Lilibet in the center. While it's quite difficult to actually make out any details of the photos, some fans have managed to do so and think they know exactly what's pictured.
Meghan Markle shared the tiniest glimpse of baby Lilibet
If you're quick, you can catch it: at the very beginning of the video on Archewell, Meghan Markle offers the tiniest glimpse of baby Lilibet. While the photos aren't crystal clear, a few people have put together what they are. 
Page Six writes, "The video shows one large photo of the couple's red-headed son Archie — now 2 years old and a dead ringer for Harry — as well as three framed smaller black-and-white photos in front. The center photo shows Harry gently kissing Lili, who has not been seen since her birth at Santa Barbara Cottage Hospital in June. Another photo is a family shot, while the third shows Meghan snuggling up to Archie." 
The video actually features all kinds of fun little Easter eggs and clues! Meghan's laptop is sitting on top of a few copies of her recent book, 'The Bench,' and Prince Harry is seen juggling fruit in the after scene. Meghan is also wearing jewelry that represents both of her children: a Taurus constellation for Archie, and a Gemini constellation for Lilibet (via Page Six).
And of course, the video also features the hilarity of Melissa McCarthy herself, who seems only soo pleased to have a role in the launch of this project. After choosing to don a frilly dress and large hat while sipping from a tea cup (ostensibly to make Markle more comfortable), the two launch in.
What Meghan Markle's 40x40 initiative is all about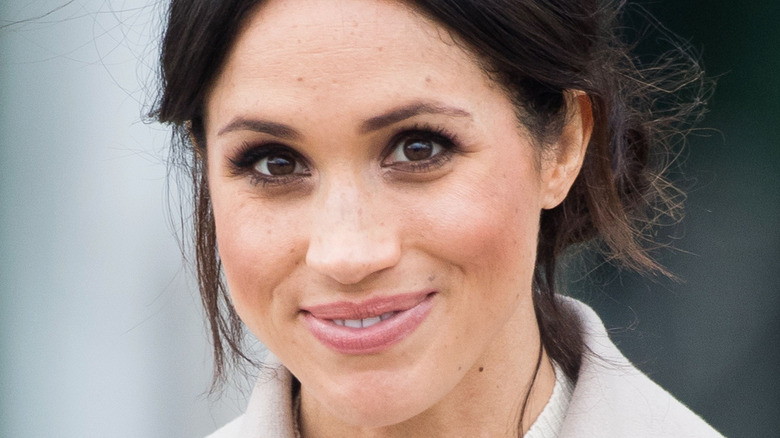 Shutterstock
Meghan Markle's latest project is called 40x40. As she explains to Melissa McCarthy, Markle is launching the global effort to celebrate her 40th birthday. The premise of the project is pretty straight-forward: Markle is asking 40 people to donate 40 minutes of their time to help mentor women who are re-entering the workforce after having left it due to the coronavirus pandemic. As Fortune reported in early 2021, as much as two million women may have been forced to leave work due to the ongoing pandemic. 
Page Six explains, "She has asked 40 activists, athletes, artists and world leaders to participate by contributing 40 minutes of mentorship to women re-entering the workforce." Markle also isn't going after small names, either. She has so far recruited some very famous faces and names to join her project. "Among those who have committed 40 minutes are singer Adele, poet Amanda Gorman, fashion designer Stella McCartney, and Sophie Gregoire Trudeau, the wife of Canadian Prime Minister Justin Trudeau."
Markle also explains the motivation behind the project herself, adding, "I believe mentorship is one way to help women regain confidence and rebuild their economic strength, and for my birthday I have asked 40 friends, activists, athletes, artists and world leaders to help kick off a global effort by contributing 40 minutes of mentorship to support women re-entering the workforce,"  according to Page Six.