Stylish Ways To Wear A Scarf During The Summer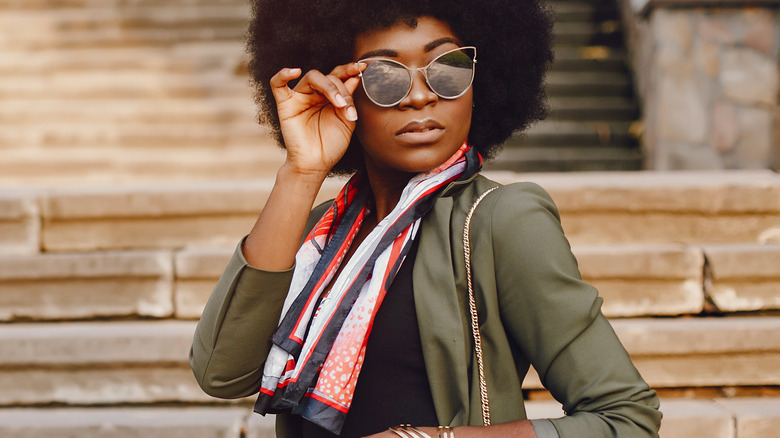 Shutterstock
Your wardrobe is not complete until you find the perfect scarf. Seriously, the cozy piece is an absolute must-have for any fashionista in the making. Putting one on adds color, print, texture, and depth to even the most basic look. That doesn't even consider the cozy factor a good scarf brings to the table. Is there any other accessory more closely linked to keeping warm during a brisk day?
While scarves evoke memories of fall and winter, here's an important secret to keep in mind: They don't have an expiration date in fashion. That means you can always use one to cap off a look. Sure, leave your toasty, woolen favorites in the closet until the weather cools down a bit, but there are plenty of other options to consider if you'd like to layer one on during the summer.
It's all about selecting a different material that will breathe in the heat. Publications like Evie Magazine recommend silk or cotton for warmer months. There are a lot of ways to get in on the trend, but the most obvious is to put it around your neck. You can tie it, use it like a shawl, or even drape it over your shoulders and leave it untied.
Of course, you can pair your new silk scarf with a lightweight, trendy blazer and call it a day. But you don't need to leave it there.
A scarf doesn't have to go around your neck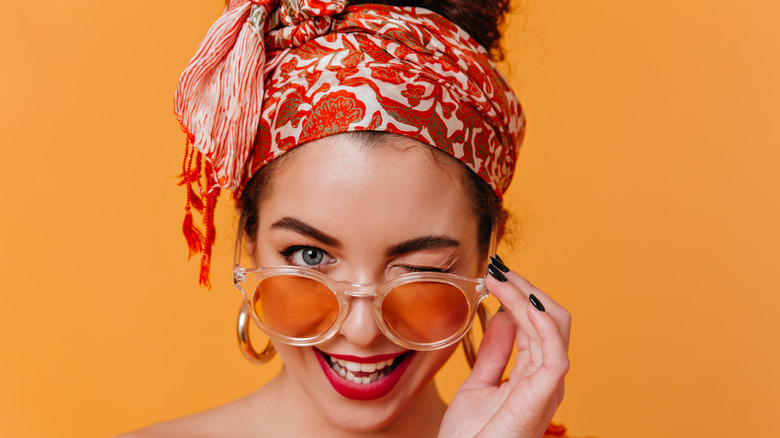 Shutterstock
There are many ways to wear a lightweight scarf in the summer to complete or create your look. The options are only limited by the scope of your creativity and how daring you feel (via Byrdie). 
Heading to the beach? Use a scarf as a cute bikini wrap. Going from the beach to dinner? Use the lightweight fabric as a head scarf or hair tie. Is your outfit lacking a belt or way to cinch the waist? Consider a scarf. If you're particularly crafty, a larger scarf can even be transformed into a fashionable top. There are plenty of places to go for inspiration on how to style this must-own piece. YouTuber Tupo1 put together a helpful video with 20 different ways to tie a silk scarf (via YouTube). That's a good starting point. 
Celebrity stylist Monica Rose emphasized the versatility and cool factor of summer scarves in an interview with Refinery29. "Sometimes my outfit is so boring, and I'll put a cool scarf on and feel so cool," she said. "You can turn it around and wear it as a choker, knot it, tuck it, or add a necklace."
How do you pick out the perfect summer scarf?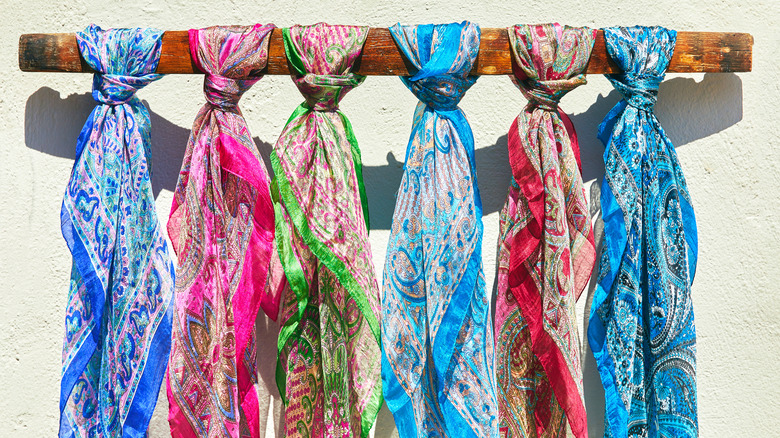 Shutterstock
If you're looking to add the perfect lightweight scarf to your wardrobe, there are a couple things to keep in mind. Evie Magazine pointed out that silk and cotton scarves often feature a print. That means you may want to let the rest of your outfit remain more neutral. If you're bold enough to pair a patterned scarf with another bold piece, BuzzFeed has some recommendations on how to pull it off.
Some of the easiest ways to mix prints include keeping everything in a similar color family, playing with different sizes (for example pair smaller polka dots with thick and chunky stripes) and considering different ways to break up the prints so each has an opportunity to stand out.
Keep in mind that these rules (like any rules related to fashion) aren't set in stone. What matters most is that you feel confident and comfortable enough to rock the look. So feel free to pick out options that speak to you and play with different ways to layer.