How To Build An Office Style Capsule Wardrobe
Shutterstock
Due to many offices offering remote work options amid COVID-19, many have become accustomed to wearing pajamas to their jobs. Some make their outfit decisions based on the varying degree of importance their upcoming meetings hold. If someone is speaking with an important client, for instance, they may want to accessorize with good lighting. If the meeting calls for switched-off cameras, it is absolutely warranted to take the call from bed in a messy bun.
We now have the work-from-home uniform under our belts, and it's definitely been a timesaver. However, with offices (like Apple's) potentially reopening by October in the U.S., per The New York Times, we might be seated in a conference room sooner than expected. If you feel like you've forgotten what it's like to function in a professional society, we can help you look like you do. The easiest way to do that is by creating a capsule wardrobe. Keep scrolling for more details about how to build a versatile wardrobe for the office. 
There are some essentials for your office wardrobe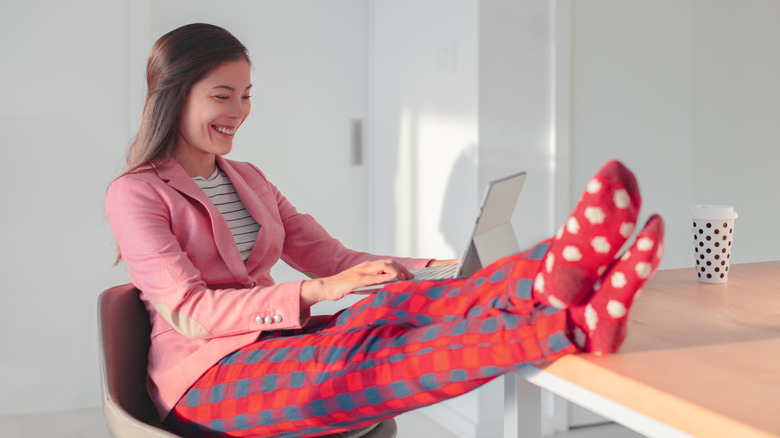 Shutterstock
Depending on what you do, workwear can look different. If you work at Anne Hathaway's office from her 2015 movie "The Intern," a suit and tie pair nicely. However, Miranda Priestly's strict dress code from "The Devil Wears Prada" requires high heels and a keen eye. For either job and the many in-between, a surefire start to the capsule wardrobe would be the basics: crisp white shirts, blazers, understated black shoes, and a structured bag to match. The checklist is simple, but allows for pairings with anything that's trending, from over-the-top colors to pastel hues. After all, the point of a capsule closet is to make mixing and matching outfits quick and effortless. As stylist Christine Centenera told The Wall Street Journal, "No one wants that dreaded feeling in the morning of not knowing how to put things together."
Sarah Slutsky, a celebrity stylist, also makes a case for the Moto jacket to Glamour. "It solves 90% of styling conundrums. And they just get better with age. I'm as comfortable throwing a leather jacket over a ball gown as [I am wearing one with] jeans," she said. We'd also invest in classic jewelry — like pieces that should be taken off before you shower — to finish the look. However, with hybrid work-models becoming the norm, as noted by SHRM, make sure to include comfortable sweatpants you can dress up in the capsule, too.