This TikTok Viral Top Is So Flattering & Only $9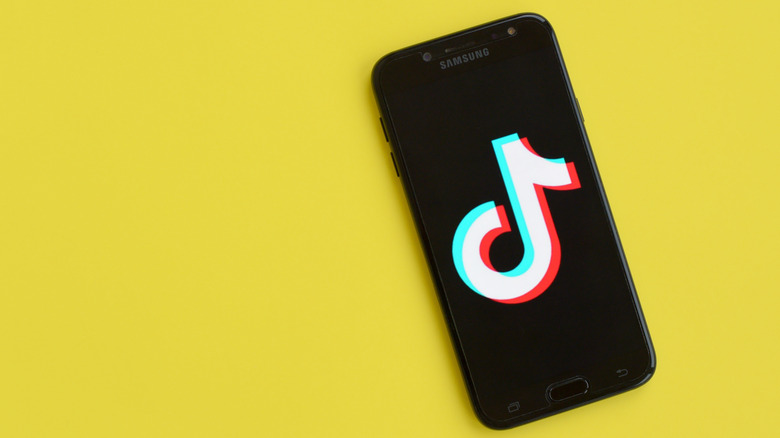 Shutterstock
We may receive a commission on purchases made from links.
When you spend time on social media almost every waking hour, like a lot of people do these days, it's only natural to be influenced by the trends you see when scrolling through the endless line of pictures and videos. Whilst the social media platform TikTok is usually known for its viral dance trends, it can actually be a goldmine for fashion and beauty trends, too.
For instance, you've undoubtedly heard about the Amazon leggings that went viral on TikTok. The universally flattering leggings were a hit due to their ability to emphasize literally everyone's backside, no matter the size, with their scrunched seam in the back, and textured, stretchy material, according to Today.
Whether you're looking for the latest outfit hack or just tired of seeing the same pieces from the same selection of shops, TikTok's influencers will have you adding a bunch of new finds to your cart in no time (it is their job, after all). The latest piece sweeping through the social media app is a floral halter top, and it comes in at under $10. Keep scrolling to learn more about the popular top.
The Mylleure Crisscross Halter is the perfect summer top
The super affordable top TikTok users have been going wild over is the floral Mylleure Crisscross Halter Top. It's available on Amazon and is priced at a cool $9. The beauty of the Mylleure tank top is the versatility of it: The two thick self-tie straps can be wrapped around the neck into a simple halter neck top style, or it can be criss-crossed at the front and then wrapped around the neck for an even cooler look. Available in sizes small to extra large, it's one we'll be adding to the cart immediately.
While the Mylleure top is available in other patterns and colors, the floral print is what really sells this top, and seems to be what made it go so viral. One Amazon reviewer wrote, "Love the color and floral fabric. Cute Summer Top." Its abstract floral pattern in cool forget-me-not blue, yellow, and red makes it the perfect pop of color for summer, whether you're heading to the beach or the bar. 
Wear it with a pair of classic Levi jeans and some strappy heels for that influencer style we know and love, or wear over your swimsuit and add a white denim skirt for beachy days. Regardless, this top is not sacrificing on style.