Here's What Disney Star Jake T. Austin Looks Like Today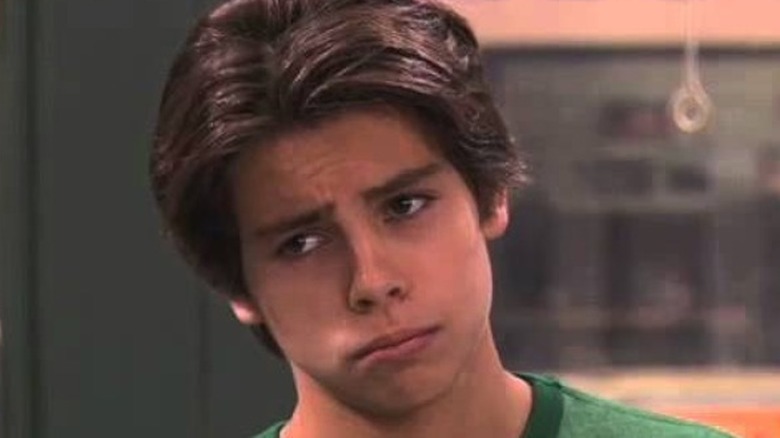 Disney
Disney has launched many a career, from Miley Cyrus on "Hannah Montana" to Selena Gomez via "Wizards of Waverly Place." The magically themed kid's show ran for four seasons, from 2007 to 2012, with Gomez playing the lead, Alex. As her brothers, David Henrie and Jake T. Austin impressed, while fellow future pop star Bridgit Mendler also popped up alongside Bailee Madison, whose child star career was only just getting started at the time (via IMDb). Gomez was ostensibly the lead, but "Waverly Place" was an ensemble piece, all things considered.
With beloved shows like "Friends" and "The Fresh Prince of Bel-Air" gifted with emotional reunions (via Variety) — and Nickelodeon fan-favorite "iCarly" enjoying a full-on reboot on Paramount+ (via Variety) — fans are reminiscing about some of their favorite shows from the early to mid-2000s. "Waverly Place" still holds a special place in our hearts because it introduced Gomez to the world, but it also captured some of that "Sabrina the Teenage Witch" magic, particularly for kids who didn't come of age during its original '90s run. 
Also, the show gave us Jake T. Austin. Keep reading to see what the actor looks like today and what he's up to.
Jake T. Austin still casts a spell
Jake T. Austin was just 13 years old when "Wizards of Waverly Place" debuted in 2007, and, aside from a handful of animation jobs on the likes of "Dora the Explorer" and "Go, Diego, Go!" it was his most high-profile role to date, at the time (as per IMDb). 
The New York native has kept his focus on TV in the years since "Waverly Place" wrapped, in particular, enjoying a recurring role on the hit sitcom "The Fosters." He's continued doing voice work, too, in "Rio 2" and "The Emoji Movie," among others. Austin also competed on "Dancing with the Stars" in 2016. 
Posting a throwback shot with Selena Gomez from their Disney days, in April 2021, Austin wrote on Instagram, "#nationalsiblingday." The former child star previously confirmed on Twitter, in 2017, that he'd be down for a reboot of "Waverly Place" at some stage, too. According to Seventeen, that same year, Austin advised that his departure from "The Fosters" was as a result of less screen time. 
Speaking to Flaunt in 2019, the Disney star opened up about his early career, "For a while I was really enveloped in the characters I was playing and connected to them, but as I was growing up in front of the camera and going through puberty and going through my life, I kind of lost sight of who I was as a person." 
Thankfully, Austin seems to have his head fully screwed on now.