Every Makeup Product Kim Cattrall Wore As Samantha On Sex And The City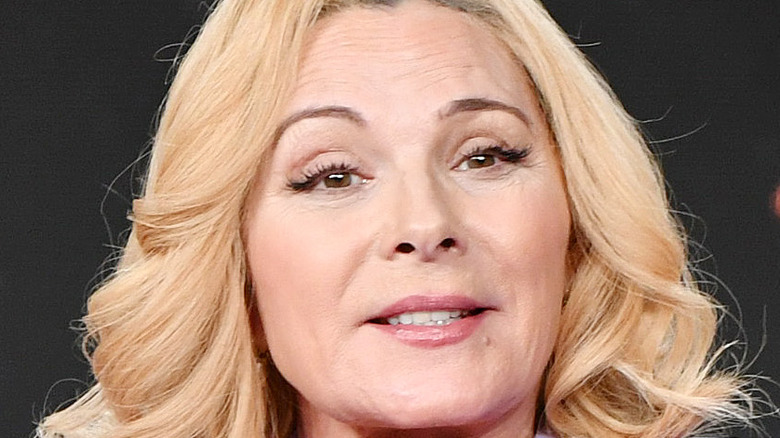 Amy Sussman/Getty Images
Samantha Jones is one of the most iconic characters. The fierce "Sex and the City" lead, played by Kim Cattrall, always understood the importance of a great blowout, a nude lip, and loving yourself for exactly who you are. Sadly, the actress told Harper's Bazaar that she won't be returning for the "Sex and the City" reunion and that she was done after filming the second movie.
However, that doesn't mean that you can't look back on all of the seriously sexy looks Samantha served throughout the series. Here's every makeup product Cattrall wore as Samantha on "Sex and the City." 
After playing Samantha for six series and two movies, it's so clear that Cattrall knows the character inside and out. "You know, at the end of the series, I was really skeptical that Michael (Patrick King) had left her in a monogamous relationship," she told Collider. "I knew that was not going to last. I so knew it! And to see her trying to be somebody else really wrenched my heart. Poor girl. She gave up her business, her friends ... She moved to the West Coast for a maaaaan? And he is not even that cute!"
During her time on the show, Cattrall developed a signature look that included a dewy base, soft blush, and a bold lip. It carried her through every scene looking flawless. And here's how you can get Samantha's look.
What products did Kim Cattrall use as Samantha Jones?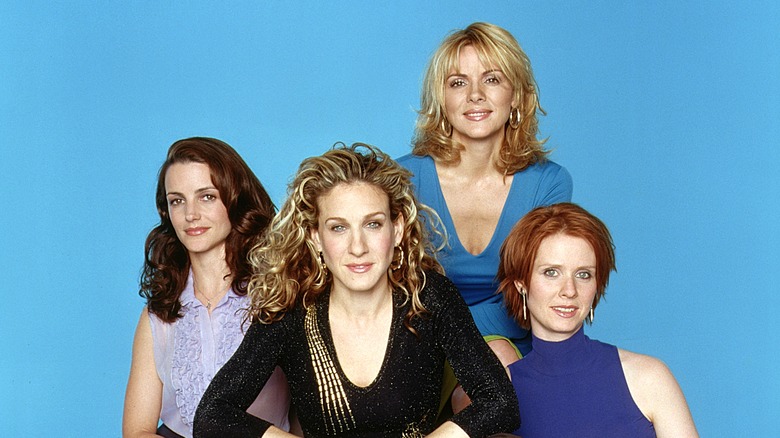 Getty Images/Getty Images
During her time on the show, Kyra Panchenko was one of the makeup artists who worked with Kim Cattrall to create the Samantha Jones aesthetic. Makeup Artist Magazine explained that they used a number of products to create a signature look that carried her through the series. According to the publication for her base, Panchenko used Laura Mercier Oil-free Foundation in Shell Beige, Armani High-Precision Retouch Concealer in 3.5, and MAC Loose Blot Powder.
Samantha often has flushed cheeks and a super shimmery eye look. The publication noted that this was achieved with Chanel Powder Blush in Nude and MAC Glowbal Glow Bronzer, as well as the Laura Mercier Creme Eye Color in Gold Metallic or Chanel Shimmering Dunes Palette, and Cle de Peau Eyeliner in Liquid Black.
To define Cattrall's brows and lashes, Panchenko used Laura Mercier Fair Blonde Brow Pencil and MAC Brow Set in Sophisticated, mascara from Kevyn Aucoin, and false lashes from Shu Uemura individual flares. To finish off the look she used FACE Stockholm Pot Glass and Laura Mercier Natural Lips Lip Pencil on her lips and City Girl Firming Body Shimmer by Kyra Panchenko.
The show wasn't shy in sharing Samantha's beauty secrets. Makeup For All explained that eagle-eyed viewers will be able to spot the products that they place for her in the show. According to the publication, she used a lot of Dior and Chanel, as well as MAC.
How to get Samantha's look today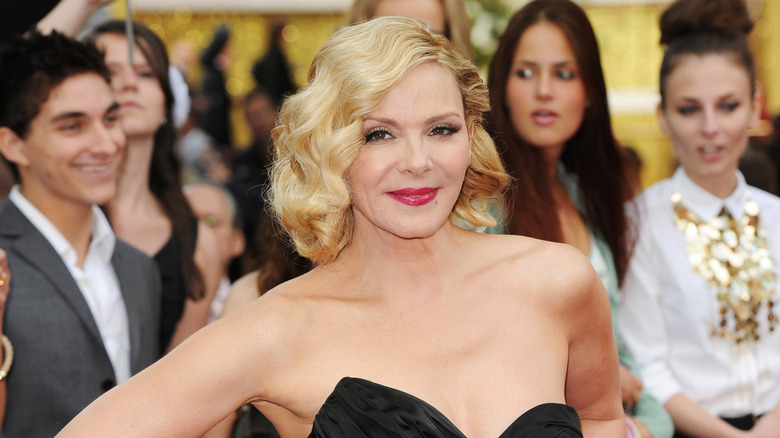 Gareth Cattermole/Getty Images
Kim Cattrall may have been rocking Samantha Jones' look three decades ago, but it translates through pretty well to 2021. The flushed cheeks, bronzed glow, and nude lip are just as glamorous today as they were then. Byrdie explained that if Samantha was transported into 2021, they believe she'd use the Hanacure All-in-One Facial Starter Kit which is a mask that promises youthful rejuvenation and glow. Any true fan Samantha is always willing to treat herself to something that would leave her looking and feeling great.
The publication also noted that they think that the Augustinus Bader The Rich Cream, Tom Ford Soleil Blanc Shimmering Body Oil, and ZO Skin Health Enzymatic Peel would all be favorites of the girl who loves luxury.
Similarly, Refinery29 highlighted that Samantha was responsible for teaching her fans some makeup tips which transcend the ages. She was always a fan of a compact check and lipstick top-up before facing a crush or nemesis. She also proved that any chemical peels or skin procedures should be done with caution, by a professional, and not straight before a big event.
Truly the beauty secrets, humor, and wisdom of Samantha Jones are as applicable today as they were in the 1990s.