Why Donald Trump's Cryptic Email Has Twitter Talking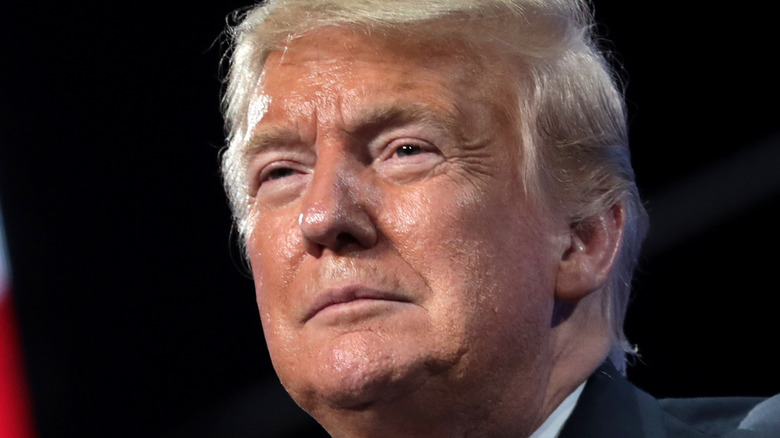 Shutterstock
It's no secret that former President Donald Trump has been critical of his political constituents in the past. In July, he was especially outspoken about the infrastructure bill spearheaded by Democrat lawmakers and the Republicans who supported it, as explained by NBC News. Though we can normally guarantee Trump to share his thoughts on any given topic, surprisingly, the former president has not shared his opinion on the recent development in politics of New York Governor Andrew Cuomo resigning after facing allegations of sexual harassment from 11 different women, per AP News.
While speaking at a New York State Republican Party fundraiser on August 5, Trump apparently alludes to the notion that Cuomo was facing possible impeachment in the week that followed. "Cuomo's got real problems," Trump said at the fundraiser, according to the New York Post. "It's going to be a hot couple of weeks in Albany. Senator Ortt is going to have a great time. Cuomo has found himself in an interesting situation."
As history tells it, Trump and Cuomo were often at odds with one another while Trump was in the Oval Office. Per the New York Post, Trump often accused the former governor of not properly handling the COVID-19 crisis properly in New York City and throughout the rest of the state.
Is this cryptic tweet from Trump about Cuomo?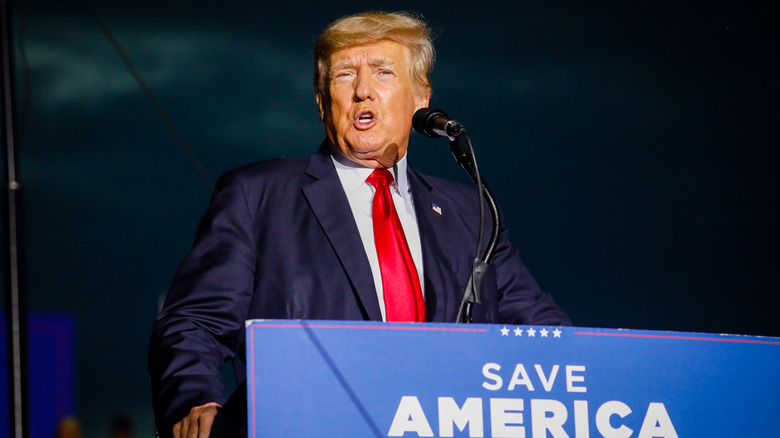 Eva Marie Uzcategui/Getty Images
Since being banned from Twitter, former President Donald Trump has still found a way to relay messages to his fans (and foes) on the social media platform through spokesperson Liz Harrington. On August 11, Harrington posted a cryptic three-word message from Trump on her Twitter, which read, "BULLIES NEVER FIGHT." Apparently, the message was originally sent out as an email from Trump's Save America political action committee. No context or explanation has been provided by Harrington as of writing.
As one might imagine, Twitter users had a hard time interpreting what the message might mean. While some made fun of the message and compared his statement to the "old man yelling at the clouds" meme, others wondered if it was directed simply at those who don't support his policies. "I take it that he's letting his proud boys etc know that, in his opinion, his non-backers in DC are bullies and that they won't fight back," one Twitter user said. "(His base peeps are the bullies though). So plan B is a go. Just a thought."
New York Times reporter Maggie Haberman guessed that this message might have been directed at Andrew Cuomo and his resignation, tweeting, "Presumably this is about Cuomo but it's [questioning face emoji]," but it seems everyone will have to wait and see if further explanation comes from Trump or his spokesperson.