The Best Lip Sunscreens To Use If You Have Cold Sores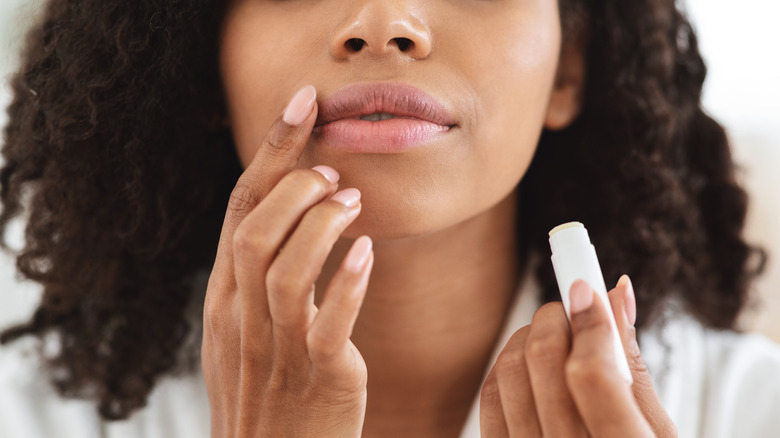 Shutterstock
We may receive a commission on purchases made from links.
Whether you live in a hot and sunny climate or not, most dermatologists recommend that you work an SPF into your daily skincare routine. Allure noted that UV rays from the sun can damage your skin all year round, and this includes your lips. "People forget to protect their lips," said Elizabeth Tanzi, founder and director of Capital Laser & Skin Care, told the publication. "Skin cancer in this area can be particularly dangerous, which is why everyone needs lip balm with SPF." However, finding the best product for you can be tough. Here are some of the best lip sunscreens to use if you have cold sores.
Healthline explained that cold sores can be triggered by sun exposure, using products that you've used when you've had a sore in the past, stress, and the cold. But still, when you think of sun protection, you might not automatically think of your lips. "SPF is important on your lips, even in the winter," board-certified dermatologist Tsippora Shainhouse, M.D., told Prevention. "Lips have thin skin with very little melanin, so they have minimal innate protection from aging and damaging UV rays."
When you burn your lips they can blister, break, and become extremely irritated. This isn't just extremely uncomfortable. Zovirax explained that it can also leave you more vulnerable to recurring cold sore breakouts.
Why does the sun cause cold sores?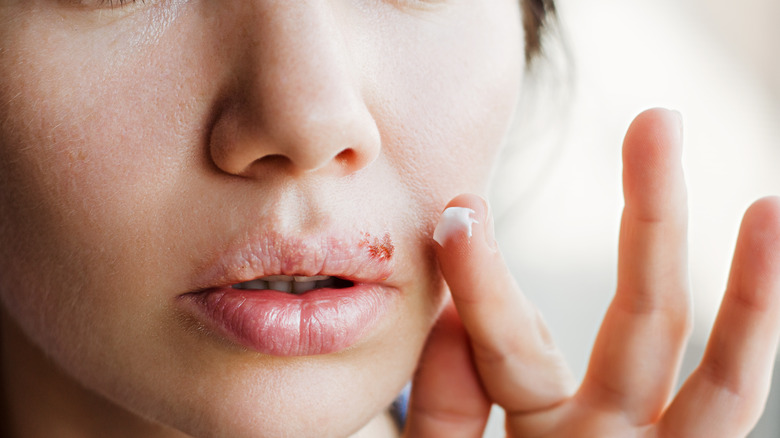 Shutterstock
If you've experienced cold sores for a long period of your life, then it's likely that you've established what triggers them for you. Hims explained that if you're feeling stressed, under the weather, experiencing hormonal changes, or are sleep deprived, then you may get a cold sore.
However, UV rays may also mean you're more susceptible to a cold sore recurrence. While UV supplies you with much-needed vitamin D, it can also damage your skin. "Dry, cold weather, wind, and sun can cause your lips to dry out," board-certified New York City-based dermatologist, Dr. Debra Jaliman, told Bustle. "This makes them vulnerable to a cold sore outbreak."
Colgate noted that if you notice that long days in the sun leave you with cold sores, then you should try to find a hydrating lip balm with a high SPF to wear all day. You should also consider breaking up your days spent outside by going indoors.
Healthline explained that cold sores differ from blisters after burning your lips in a number of ways. The publication noted that cold sores are similar to ulcers and may leave lesions as they heal. Sunburn blisters are generally white, fluid-filled bumps. They're generally surrounded by red swelling.
Here are lip balm options with SPF if you have cold sores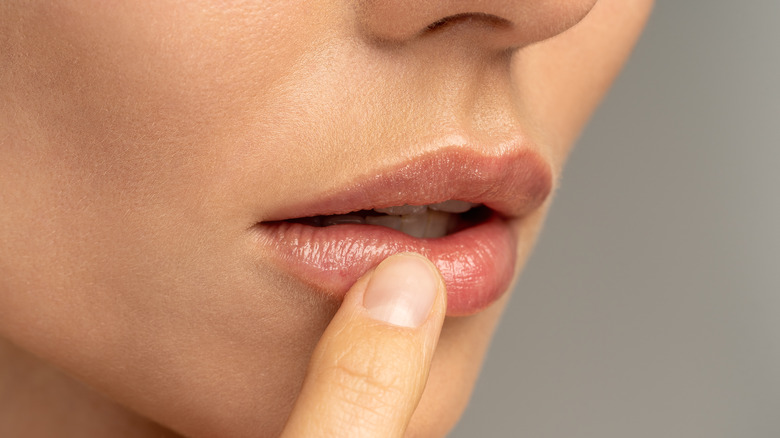 Shutterstock
When you're looking for a lip balm that will protect your lips from the sun, the higher the SPF the better. The skin around your lips is already sensitive, so ensure that you're not piling on products that are heavily scented or include lots of chemicals.
A really popular lip balm that will both protect your lips from the sun and help keep cold sores at bay is Herpecin L Lip Balm Stick. It includes ingredients that will help any cold sore outbreaks you're currently experiencing, while also nourishing your lips. This should prevent dryness and damage from the sun. Similarly, Urban ReLeaf Lemon Balm Blister Soothing Care Stick has calming properties which will help to relieve irritation from existing cold sores.
Bare Republic Dewberry Sun Protection Lip Balm SPF 30, Vanicream Lip Protectant/Sunscreen SPF 30, and Blistex Five Star Lip Protection SPF 30 are all really popular options if you're looking for a lip balm that will really protect your lips from the sun's UV rays. However, these may work better when you're currently not experiencing a cold sore break out.
If you want to heal a cold sore while protecting your lips from sun damage, then Blistex Medicated Lip Balm and Quantum Health Super Lysine+ ColdStick have also been recommended as great options.