The Truth About Taylor Swift And Gigi Hadid's Friendship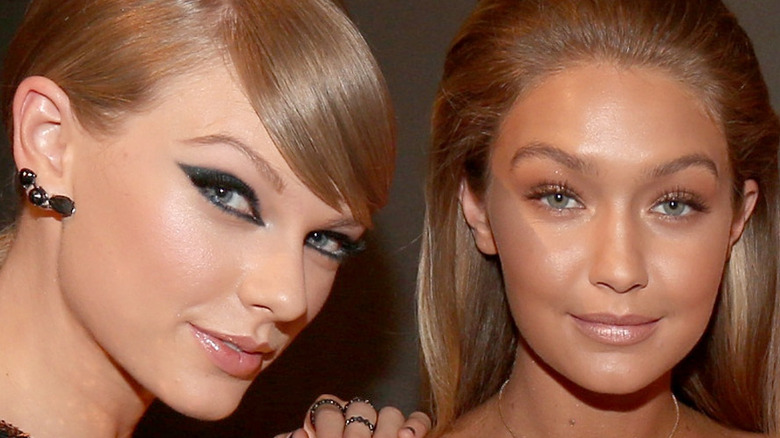 Christopher Polk/Getty Images
Taylor Swift and Gigi Hadid have been best friends for years. Fans are used to the pair gushing over each other, especially after Hadid highlighted all the beautiful baby gifts she received from "Auntie" Taylor. Hadid revealed that the "cardigan" singer sent a handmade pink silk blanket when her daughter with musician Zayn Malik, Khai, was first born (via Teen Vogue). The model stated in a separate interview with Vogue in March 2021 that Swift sent another sweet gift for her daughter that was even more sentimental than the first.
Apparently Swift sent little Khai a teddy bear that the singer had sewn from one of her dresses. "It's misshapen, and she called it Ugly Bear," Hadid told Vogue. "She had one when she was little." This thoughtfulness is reflective of the bond the two women share, as they have always had each other's backs over the years. In fact, Swift was one of the first people to find out that Hadid was pregnant and helped her friend through her first bouts of morning sickness (per Elle).
So, how did these fierce friends meet?
Taylor and Gigi became friends because of this famous model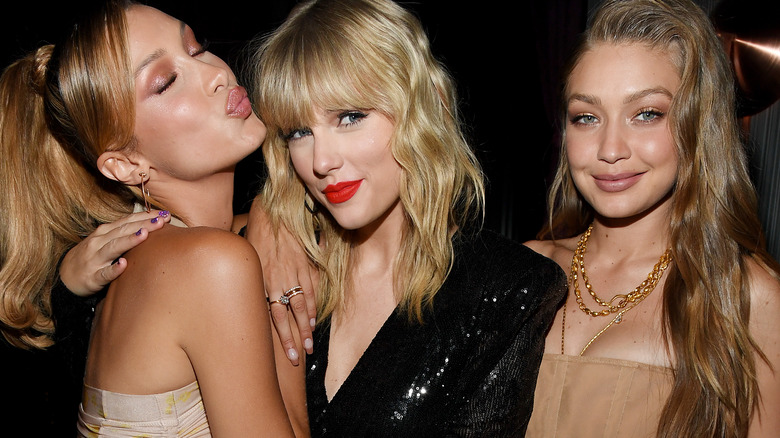 Kevin Mazur/Getty Images
Taylor Swift and Gigi Hadid first met back in 2014 at a Pre-Oscars party thanks to Swift's former BFF Karlie Kloss (per Bustle). 
Swift and Kloss had been friends since 2012, and Kloss was friends with Hadid through their modeling careers, so it only makes sense that Hadid and Swift were introduced through their mutual friend. Apparently Swift and Hadid hit it off right away, and the two quickly became one of the core friendships in Swift's famous "Squad" (via Capital FM).
Hadid spoke to Elle Canada in 2015 (via Bustle) about the importance of belonging to a girl squad and how meaningful it was for everyone to be invited into such an amazing group of friends. "We want to be the generation and the group of friends known for supporting each other," she explained. "'Squad Goals' is a big social-media thing right now, and that's what we want to inspire in other groups of friends — to be proud of the power you all have when you're together, which can be amplified so much by each person."
Taylor and Gigi maintain their close bond to this day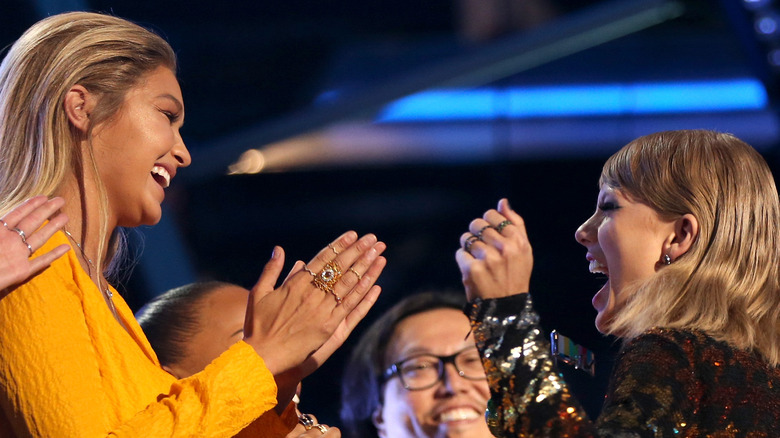 Christopher Polk/mtv1415/Getty Images
Gigi Hadid and Taylor Swift were the epitome of "Squad Goals" when the two appeared in Swift's incredible "Bad Blood" music video together in 2015. Hadid also joined Swift onstage during the singer's "1989 World Tour" on numerous occasions and frequently attended Swift's iconic Fourth of July parties (via Bustle). 
Since then, the two women have primarily strengthened their bond in private, though Hadid did give the singer a special shout out when discussing her initial struggle with morning sickness on Twitter. 
Hadid had been eating bagels and cream cheese to abate her nausea during London Fashion Week, and Swift made sure her bestie had as many bagels as she needed when hosting her in London (via Elle). How sweet is that? These famous friends aren't photographed in public as often nowadays, but their bond is clearly still going strong.