Here's What iCarly Star Reed Alexander Looks Like Today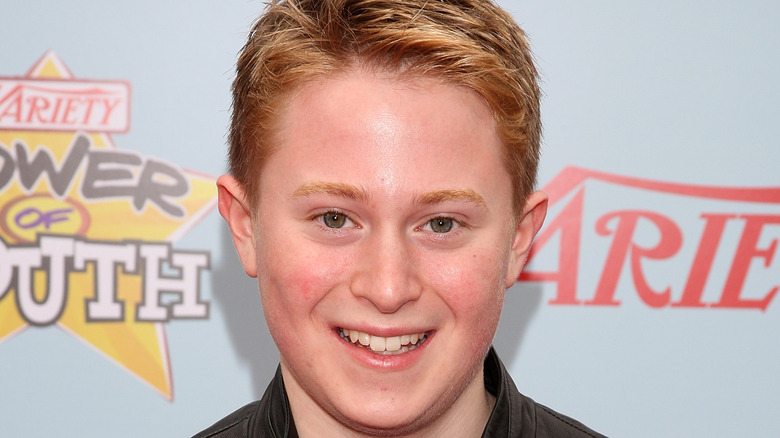 Frazer Harrison/Getty Images
Every hero needs a villain to tussle with and, in the case of "iCarly," the central crew frequently came a cropper of the dastardly Nevel Papperman. A pint-sized influencer with millions of loyal followers, Nevel was first introduced in Season 1's appropriately-named "iNevel," during which Carly incurred the eponymous internet troll's wrath after refusing his romantic advances. Nevel popped up frequently throughout the show's run, ensuring Carly would, as promised, rue the day she'd wronged him. 
According to IMDb, actor Reed Alexander had just a few bit parts to his name prior to playing Nevel, from a small recurring role on "Will & Grace" to the 2007 movie "If I Had Known I Was a Genius." Evidently, "iCarly" put Alexander on the map but, aside from appearing briefly in spinoff "Sam & Cat," as Nevel once again, he hasn't done much in the way of acting since the Nick show wrapped. In fact, movie "The Northlander" was the extent of his slate at the time of writing. Has Nevel been defeated?
The former child star has pivoted to a new career
The biggest role on Reed Alexander's IMDb to date is Nevel in "iCarly." However, the original show and a cameo in "Sam & Cat" weren't the extent of it, as Carly's nemesis returned in the well-received 2021 reboot. As Insider noted, although Alexander has moved on from acting in recent years — he currently works as a finance reporter at Business Insider, funnily enough, with Instagram advising the Columbia grad covers Wall Street and previously wrote for CNN, Dow Jones, and the BBC — the former Nickelodeon star isn't closing the door on Nevel for good. "He's always lurking," Alexander teased, adding, "My sense of him is that he always has a really tough time letting go of a grudge." 
As far as Alexander is concerned, the devious prankster will always pose a threat to Carly and her friends, even if he has finally found love elsewhere, since scheming is what he does best. The "iCarly" alum celebrated his return with a sweet post on Instagram, where Miranda Cosgrove and Jerry Trainor gushed over his triumphant return to set in the comments accordingly. On his new role as a journalist, Alexander told People he couldn't be happier, explaining the job affords him the opportunity to meet fascinating people from all walks of life and to tell their stories accurately. "I feel like I found a vocation that I just really have enjoyed and ran with," the former actor put it succinctly.