Inside Padma Lakshmi And Salman Rushdie's Tumultuous Marriage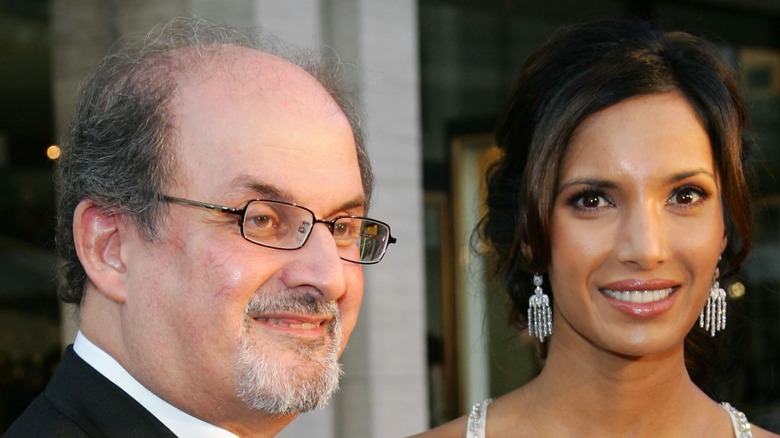 Evan Agostini/Getty Images
Back in 1999, "Top Chef" host Padma Lakshmi met author Salman Rushdie and was instantly enamored with his brilliance and eloquence. In an interview with People Magazine, Lakshmi likened Rushdie's celebrity in India to that of Hemingway in the United States. "Imagine a young woman in her twenties, who loves books and who had published her little cookbook and in comes this guy," Lakshmi told People Magazine. "I mean, he was the best thing that ever happened to me by a mile. The fact that somebody of that stature and caliber was even interested remotely enough in me to want to take me to lunch was kind of unbelievable."
Though Rushdie was married to his third wife when they first met, he eventually divorced his wife, and Rushdie and Lakshmi began living together in 2000. Then, in 2004, Lakshmi and Rushdie got married and, for the first few years, experienced a rather blissful marriage, as Lakshmi detailed in her tell-all autobiography, "Love, Loss and What We Ate," per New York Daily News. "For me, it was wonderful because I finally had somebody who understood me because he too was Indian and he was also living in the West and he was very nimble in navigating those two worlds," Lakshmi told People Magazine.
However, after only a few years together, the tumultuous nature of their relationship eventually became apparent to Lakshmi.
Lakshmi's health contributed to the problems in her marriage to Rushdie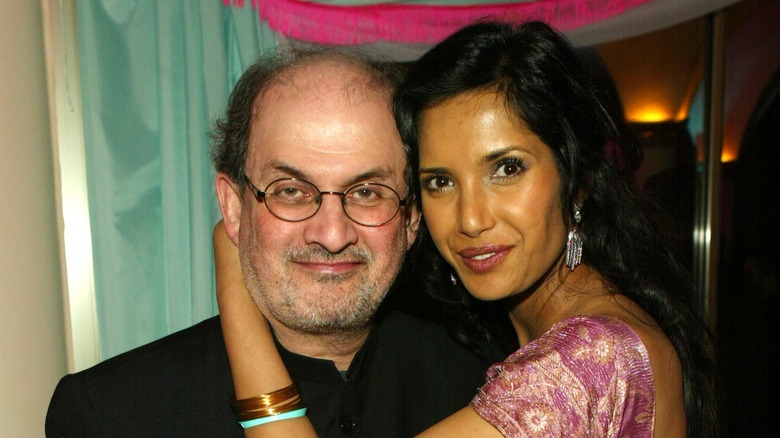 Dave Hogan/Getty Images
After Padma Lakshmi and Salman Rushdie got married in 2004, the problems in their marriage quickly became impossible to ignore. While it was undiagnosed at the time, Lakshmi's endometriosis left her bedridden with chronic pain and made it difficult for the pair to have sex. According to People Magazine, Rushdie's constant need for sexual intimacy directly collided with her health. At one point, Rushdie became so angry about this lack of intimacy in their marriage that he called his relationship with Lakshmi a "bad investment." Even after she was diagnosed with endometriosis and underwent operations to ease her symptoms, Rushdie often left on trips while she was still recovering from these various operations. Per Today, Lakshmi divorced Rushdie just three years after they were married, in 2007.
In 2016, Lakshmi revealed several details about her marriage to Rushdie and relationships with other notable men, including Ted Forstmann, the CEO of the media empire IMG, and venture capitalist Adam Dell, per New York Daily News. Though Lakshmi spoke about many intimate details of their relationship, she claims that she and Rushdie are now friends. "In many ways, I consider him still part of my family," Lakshmi told People Magazine. "I think if you really fall in love with someone, even if you fall out of love with them, you still must have some little portion, some little imprint, on your heart that can never be extinguished or erased."