These Are The Best Colors You Can Wear During The Summer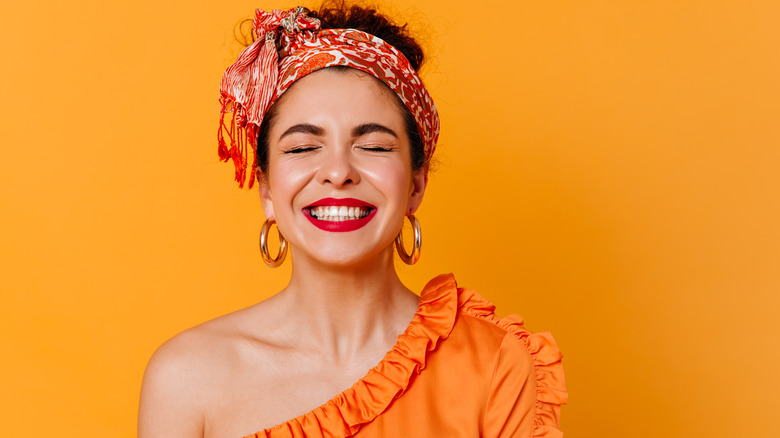 Shutterstock
Now that lockdowns have been lifted, people are getting out of the house to enjoy the sunshine and are looking forward to dressing up again. But if you are used to those black sweatpants and heather gray t-shirt, it may feel daunting to look for cute summer clothes. The key to curating a summer wardrobe is to embrace bright, saturated colors. Colors that make up the summer sun, fruits, grass and the ocean are all great go-tos for your summer wardrobe. Generally speaking, you also can't go wrong with jewel-toned colors this time of year, with warm tones especially being a great option for the summer.
One of the most popular colors right now is tangerine, per Who What Wear. Marigold, which is an auspicious color across several cultures, is a bold yellow-orange that is especially trendy this summer (via The Economic Times and Pantone). Cherry red, or the slightly darker candy apple red, are also stunning this time of year (via Newtess and Love to Know). For those who have July birthdays, wearing red will especially complement ruby birthstone jewelry.
Try wearing bright, tropical-inspired colors for the summer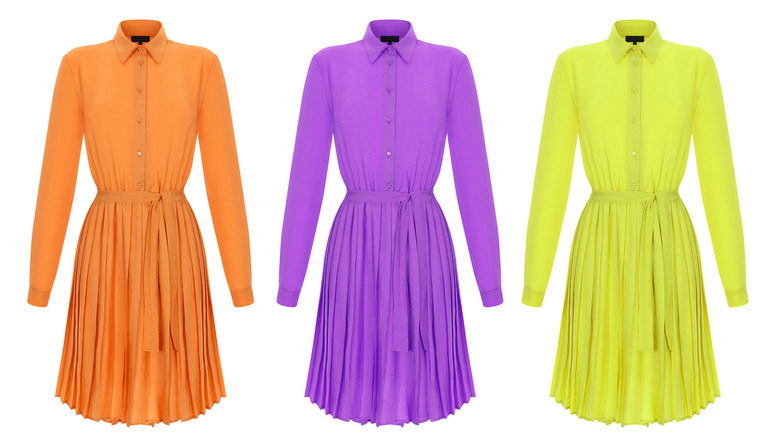 Shutterstock
Color authority Pantone recommends several bright colors as a part of their spring/summer 2021 New York and London Fashion Week color palettes. Colors they recommend that dominated New York Fashion Week include kelly green, burnt coral, raspberry sorbet and French blue (a mid-tone royal blue). Meanwhile, there were plenty of blue shades that dominated London Fashion Week and were reminiscent of a trip to Turks and Caicos. These colors include beach glass (a light aqua with hints of green), indigo bunting (the color of an Indigo Bunting bird), and blue atoll (a bright, lagoon blue). According to Who What Wear, certain pink and yellow-green neon shades are especially trendy this summer including bubblegum pink, magenta, tennis ball yellow, and chartreuse green. 
Colors that generally work well during the summer are lemon yellow, fuchsia and royal blue (via Love to Know). For those who prefer to wear more subtle colors, the good news is that pastels have carried over from the spring. Look for more-saturated, amped-up versions of pastel shades. Colors like purple rose (a mid-tone lilac) and amethyst orchid (a dark lavender) are perfect examples of pastels that work perfectly for the summer (via Newtess). Other pastel shades that you should look for include sky blue, powder pink, mint green, tiffany blue and pastel yellow (via Marie Claire, Newtess, and Pantone).
Pairing colors for summer outfits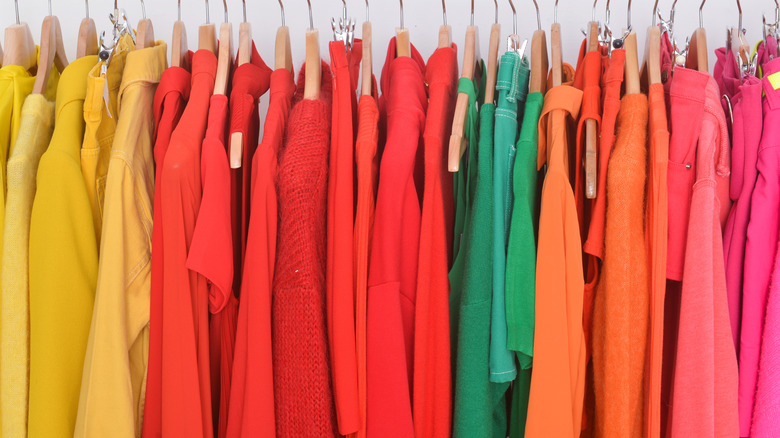 Shutterstock
Keep in mind there are only two more months until Labor Day. So take advantage of being able to wear white as a neutral, per Love to Know. White will go great when paired with pastel shades or bolder, jewel-toned colors. That's why investing in a white blazer, top and slacks is a great idea. The TrendSpotter especially recommends pairing plum with white as a universally-flattering look. One trendy neutral is buttercream, which is a warm-toned off-white with yellow undertones (via Newtess). Pairing this shade with a warm-toned color would look great, as well as wearing the color on its own in a light, airy sundress.
But you don't always have to incorporate neutrals. If you're someone who likes to experiment with bold colors, you can also pair different colors with each other. The TrendSpotter suggested combinations like purple with coral, blue with orange, cobalt blue with aqua, red with blue, and yellow with green. Essentially, you can't go wrong pairing contrasting colors with each other, or pairing a lighter and darker shade from the same color family. If you're still unsure on how to pair outfits together that involve contrasting colors, you can also look for prints that incorporate those color combinations. Floral prints like this Lilly Pulitzer midi skirt, are a great option for the summer. Whether you go for a bold print or a solid color, just know that embracing saturated colors is essential for building a hot girl summer wardrobe.