The Hefty Amount Andrew Cuomo May Now Earn In Retirement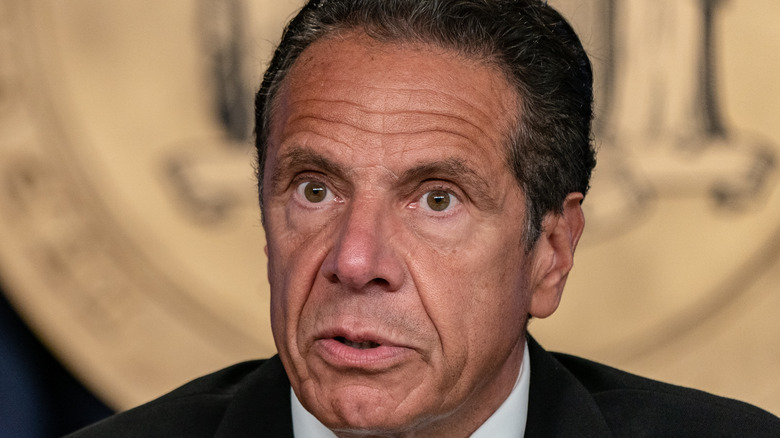 Jeenah Moon/Getty Images
Earlier this week, disgraced New York Governor Andrew Cuomo finally acquiesced to pressure from all sides and resigned his position. As the Associated Press reported, the announcement came amid an avalanche of sexual harassment allegations, which led to a spectacular fall from grace for the formerly beloved politician. Just last year, the governor was heralded for his impressive response to the COVID-19 pandemic. Cuomo also closely associated himself with the #MeToo movement, self-establishing as an ally despite his dodgy track record with female staffers (via The Guardian). "The best way I can help now is if I step aside and let government get back to governing," Cuomo explained succinctly. 
He continued to deny the disturbing allegations against him, but opined that the political climate is "too hot" to further subject New York to more hardship by digging his heels in further. Cuomo also described his ouster as politically motivated. The resignation will take effect in two weeks. It came after almost the entire Democratic establishment turned on the New York Governor, with even the president himself joining the ranks of those demanding he step down. The state's attorney general recently released the results of an investigation, which found Cuomo had sexually harassed more than 11 women by kissing them against their will, groping them, making inappropriate comments, and generally creating a work environment "rife with fear and intimidation." Despite everything swirling around him, and his resigning in utter disgrace, Cuomo is set to inherit a pretty hefty retirement settlement.
The New York governor is going to be just fine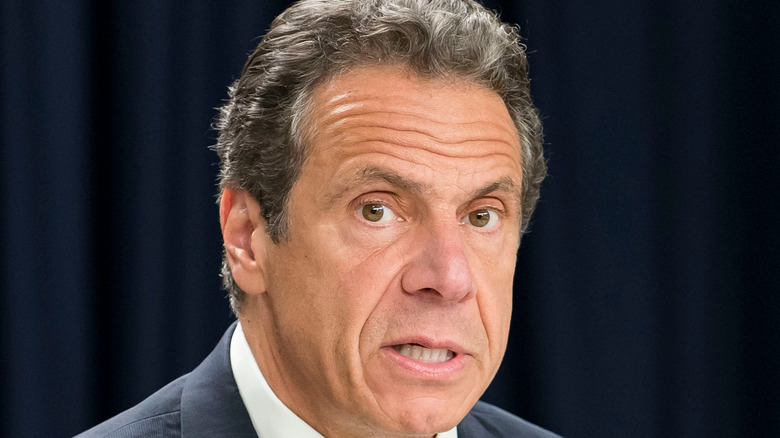 David McGlynn/Shutterstock
Andrew Cuomo may be saying goodbye to the governor's office, but he's in no hurry to leave New York. The disgraced politician told New York Magazine his plans aren't set in stone just yet, but people shouldn't expect this to be the last of him. "I'm not disappearing. I have a voice, I have a perspective and that's not gonna change," Cuomo stated firmly. Confirming he definitely "did the right thing," the soon-to-be former governor also pointed out how he's lived not just in New York City but also upstate, so Cuomo definitely considers himself a New Yorker. However, Cuomo also acknowledged, "I've lived everywhere, I came to Washington, so that's ... I don't really care about that. I'll figure that out."
Wherever he ends up, the staunch Democrat will have plenty of money to retire comfortably. According to USA Today, Cuomo is ready to retire ASAP so he can start collecting his lucrative public pension, which is estimated to be around $50,000 annually in accordance with Cuomo's 15 years of state service. As a Tier IV public retiree, the politician will also be entitled to the usual applicable health insurance benefits. Cuomo's retirement will take effect once his planned resignation does likewise. State law notes at least 15 days notice is required before retirement can officially take place for pension purposes. Still, wherever the former governor ends up, suffice to say he's going to be pretty comfortable.