The Trendiest Fashion Color For Fall 2021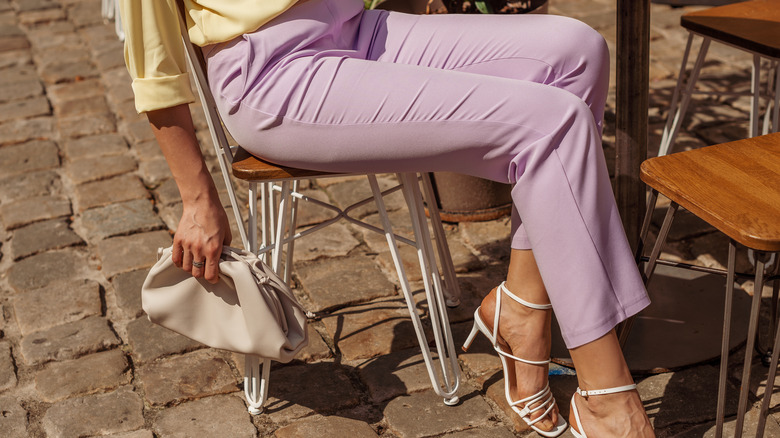 Victoria Chudinova/Shutterstock
Move over taupes and burnt orange — a new color is here for fall of 2021. With new styles and hues gracing the runways and fashion mags, we're ready to dive in and find the latest looks. According to Who What Wear, color is the name of the game for the season — lots of color.
All black everything has been the vibe for years now, with various colors slowly trickling back into style. However, after a rough year or so, color is here to brighten the day! The outlet noted that recent fashion shows included lots of deeply saturated looks gracing the runways. Think bold, noticeable color on jackets, coats, pants and more; this will be the name of the game come autumn. Secondly, a continuation of the sets trend is here — with a twist.
All summer, you may have been wearing a matching shorts and bra set. Now, as the temperature drops, that look is getting a chilly reset. The outlet explains that suits are about to become major fashion statements. But, these aren't your grandmother's pantsuits, these are slouchy, various textured pieces that work together under a single color. Whether you're headed out for a night with your friends or want to look chic in the office, a matching suit with varying cuts will be on-trend all season long. With that in mind, Who What Wear also recommends bracing yourself for sky-high boots. Baggier than their thigh-high predecessors, these shoes were made for walking — and strutting, of course.
Lilac is the color for fall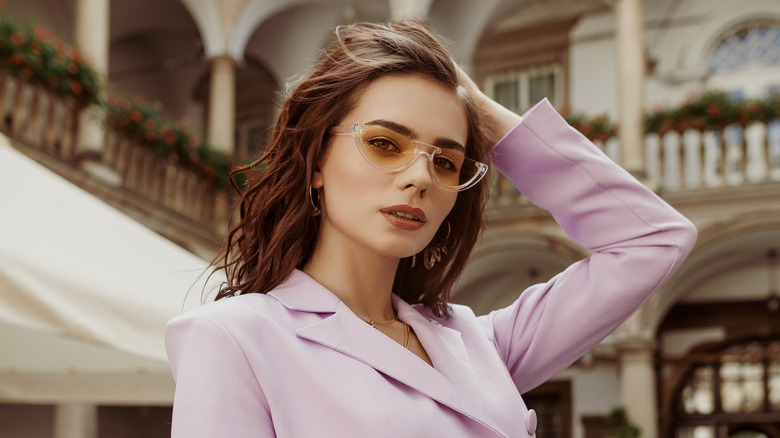 Victoria Chudinova/Shutterstock
Now that you know all of the silhouettes coming your way in September, get ready to cool off with lilac hues. Seen on celebrities like Hailey Bieber and designer runways, lilac ensembles are ready to take off this season. Expect to see this soft purple on dresses, purses, skirts and tops this fall and beyond. Additionally, Marie Claire reports, silver and fuschia made the cut as colors to watch in late 2021.
Bold fuschias and reds seemed to grace the runways recently showcasing a turn away from traditional fall colors. While deep clays and warm tones still made an appearance, they were surrounded by a sea of deeper, more vibrant hues. Denim and metallic silver also graced the runway, helping offset some of the bright colors present throughout the shows. Nonetheless, updating your fall wardrobe with more colorful coats and sweaters may not be a bad idea.
Some trends from the past year will still stick around, however. Baggy jeans brought to you by Gen-Z and the classic little black dress are both still in style. Pairing your new lilac tops with your slouchy denim will have you looking like a model off of the runway, according to Who What Wear. Be sure to find a pair that you love, because this look is likely here to stay. Plus, many of these options are low-rise jeans; if you're feeling bold, you can try this type of cut as well.
Fall 2021 is shaping up to be a colorful, coordinated affair. Check out the latest styles and see for yourself.