Meet Valentina Pinault, Salma Hayek's Daughter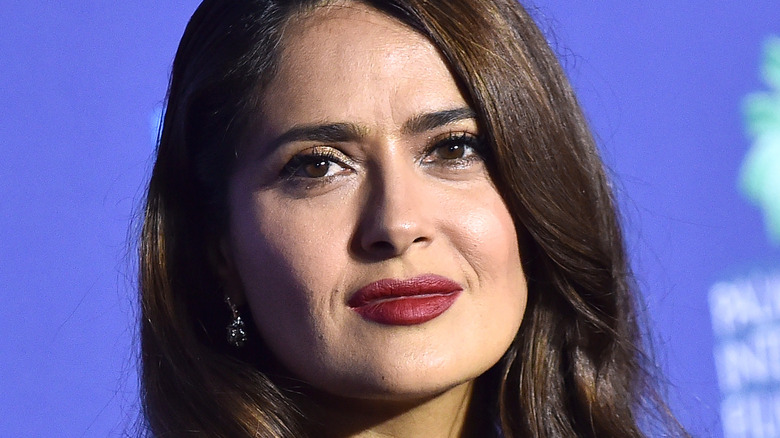 DFree/Shutterstock
In 2006, Salma Hayek found the man of her dreams in François-Henri Pinault (via People). "I found a man better than any man I could ever in my life imagine existed," she said of the French businessman during an interview with Latina (via the Daily Mail). "He found me, actually. I wasn't even looking."
A year later, the couple announced their engagement. If that news wasn't happy enough, they were also expecting their first child together. Born in September 2007 (via Oprah Daily), their daughter Valentina became the light of Hayek and Pinault's lives. "I never wished for someone to exist as much as I wished for you to come in my life," the actress captioned an Instagram post celebrating her daughter's 13th birthday, accompanied by a heartwarming photo of her cradling her baby girl.
"You are my greatest teacher, my greatest joy, and my greatest hope. I loved you before you were born and I'll love you forever," she ended the post, calling Valentina her "shining star."
Salma Hayek occasionally gives glimpses into her daughter's life and their mother-daughter bond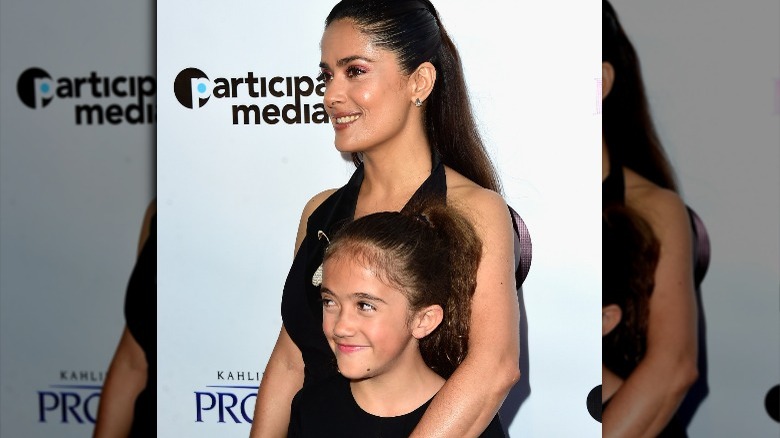 Frazer Harrison/Getty
Valentina isn't active on social media it seems, but her mother occasionally shares little snippets of her life. The actress has proudly posted photos of her baby girl as she's grown older, like this throwback which sees another snap of Hayek cradling a newborn Valentina (via Instagram).
Hayek also regularly shares her filming experiences with Valentina, who is (unsurprisingly) a regular visitor to sets that her mom is working on. In 2016, Hayek shared an image of herself dressed in regal attire for the film "Tale of Tales" (via Instagram), with her young daughter at her side sitting on a throne and holding a prop.
In 2021, Hayek gave a little more insight into Valentina's life after revealing that while her daughter successfully did schoolwork over lockdown, she found it difficult not being able to see her friends. "Lockdown was very difficult for a teenager," she told The Telegraph (via Hello!). "[Valentina] was very independent and did her online schoolwork on her own, but she didn't enjoy it. She also really missed her friends."
Valentina is a huge fan of this film starring her mom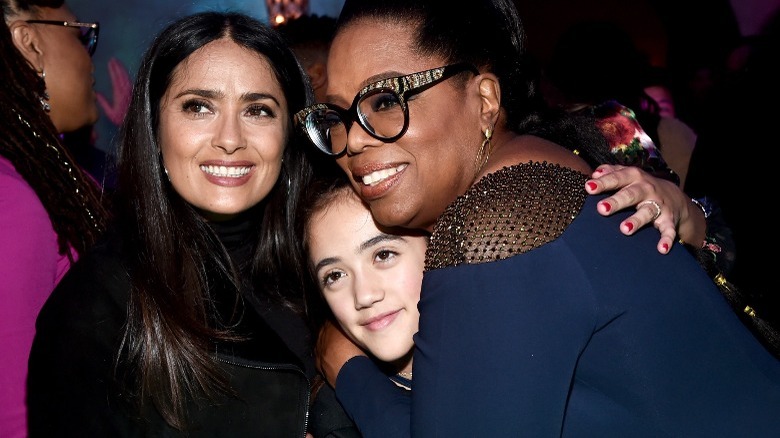 Alberto E. Rodriguez/Getty
Despite her struggles with lockdown, Valentina did get the opportunity to see her mom's new movie, "The Hitman's Wife's Bodyguard,"  which Hayek was less than pleased about. "She never wants to see my stuff, but she insisted on watching this one and to go with her friends," Hayek said on "Late Night with Seth Meyers." She continued, "I was really nervous and embarrassed. I said, 'Don't bring your friends, I'm really going to embarrass you,' and she's like, 'You embarrass me all the time, every day, so what's going to be different?'"
Hayek warned her daughter that the film is "very raunchy", but Valentina remained indifferent. "Oh, I'm sure there's nothing in there that I haven't heard or seen," she told her mom. Hayek continued, "Anyway, she convinced me and they loved it. She says, 'Mom, I understand it's not you, it's the character.' I was quite impressed with that."