What Khloé Kardashian Really Looks Like Underneath All That Makeup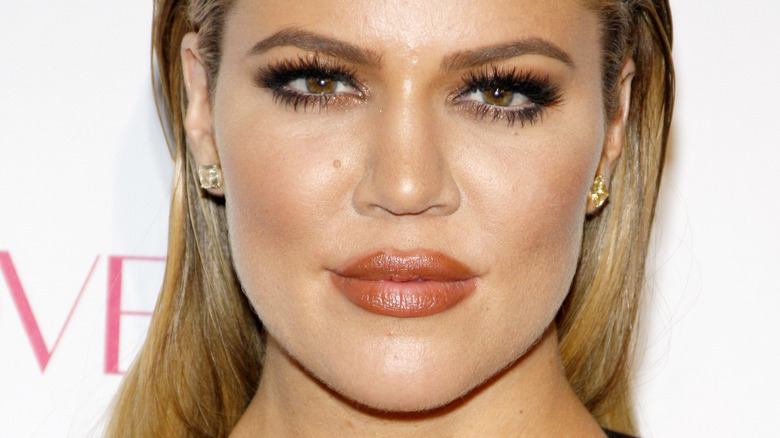 Tinseltown/Shutterstock
Over the years, Khloé Kardashian has been blamed for photoshopping her appearance on social media. In addition, the reality star's changing look has come into question with regards to how much plastic surgery she's had. During the "Keeping Up With the Kardashians Reunion" in the summer of 2021, the mom of one admitted, "I've had one nose job" (via E! Online).
Sadly, Kardashian also shared, "Interestingly enough, I was so confident and secure before the show." She went on to note, "I became insecure because of everyone else telling me."
Despite criticism over her appearance, with the Good American founder confessing that bullying comments online do affect her, Kardashian was brave enough to let the world see what she looks like underneath all the makeup she typically wears (via People). In 2019, the star shared a makeup tutorial for Vogue on YouTube. She started the video barefaced, and might we add, beautiful.
Khloé Kardashian prefers to wear makeup, but doesn't need it
First, it's worth noting that Kardashian's makeup routine has changed since welcoming her daughter, True, with the workout fanatic telling Vogue in 2019, "I had to learn how to do makeup really quickly, and not do too many wet things. Because if it's wet and I have to run after her, it's going to set really weird and then I'm going to look super blotchy."
Despite her shortened beauty regimen, it's not often that we see any Kardashian stripped down to no makeup at all. Perhaps that is why so many fans commented on the star's makeup-free face on YouTube, with one person enthusing, "she's so pretty." Another fan said, "She's SO pretty, and has such nice features."
Commented another supporter of the sometimes-embattled mama, "She really doesn't need makeup she's already beautiful the way she is." And yet another fan said, "when she don't have makeup, SHE'S SO PRETTY."
Ultimately, as much as Kardashian can definitely pull off a no-makeup look, she said in the video, "Stuff breaks out in this family all the time, so you just always wanna be cute and prepared — even in trauma or tragedy you wanna look good" (via Page Six). So perhaps we won't be seeing this celeb sans makeup too often, but we are glad she shared her "before" and proved all her critics wrong!