Eric Stonestreet Has The Best Response To Critics Of His Engagement Announcement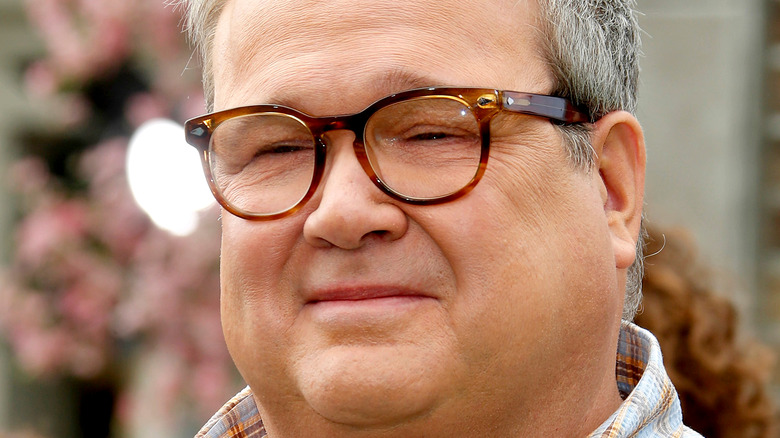 Kathy Hutchins/Shutterstock
When "Modern Family" star Eric Stonestreet posted his engagement announcement to Instagram earlier this week, most of the feedback was supportive. Celebrities from Bethenny Frankel to Angela Kinsey, and from Gwyneth Paltrow to Howie Mandel, offered their congratulations that the actor had proposed to his longtime girlfriend, Lindsay Schweitzer (via Page Six and KTVQ). Stonestreet's former castmates also shared their well wishes for the couple, including Julie Bowen and Jesse Tyler Ferguson.
Many of the star's 2.3 million followers also commented how happy they were for the duo, who have been dating since 2016.
But it seems some people felt the unknown age difference between the two was worth picking apart. Rather than take offense at the online sentiment, Stonestreet did what he's best at, and chose a comedic response that will go down in history as one of the best clapbacks to ever grace social media.
"Apparently a lot of people think I look too old, as a 49 year old man, to be engaged to my almost 42 year old fiancée," Stonestreet noted in a follow-up post that utilized the same engagement photos — but with one big alteration (via People).
Eric Stonestreet definitely had fun with his critics
Stonestreet returned to Instagram Wednesday to address trolls who called him out for appearing to be a lot older than his nurse fiancée after he shared news of their engagement.
"Look, she can't help that she looks so great at 42 and I can't help that I apparently look like her grandad so, I fixed it for everyone," the star went on to joke in the caption of a photoshopped set of photos that added years to Schweizer's life. Indeed, the "Modern Family" alum's doctored images included wrinkles and thinner lips, aging the soon-to-be Mrs. Stonestreet to hilarious exaggeration.
Ferguson may have had the best response to the pics, joking, "I assume these are the same people who love Jay & Gloria's relationship...Which is where YOU got the idea of having a younger spouse, right?" Of course, the star was referring to the 20-year age difference between the married couple on "Modern Family" played by Ed O'Neill and Sofia Vergara (via Cheat Sheet and IMDb).