How To Do An At-Home DIY Sugar Wax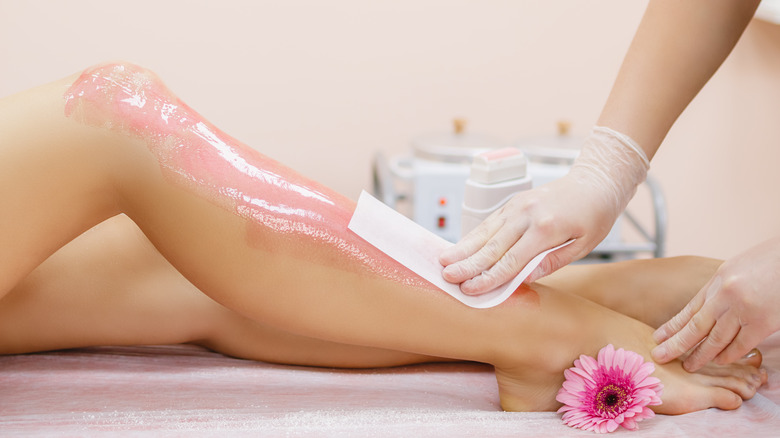 Anna Shiman/Shutterstock
The pandemic forced many storefronts to shutter, including beauty salons. Being quarantined also forced us to get creative with our beauty routines. We replaced $40 gel manicures with at-home nail art. We replayed various TikToks that taught us how to cut our own hair without disastrous results. We even contributed to a 23% increase in hair dye sales in 2020, creating complete salons at home (via Refinery29). Now, many of us want to cut costs and expand our home salons to include hair removal.
Premium razors and wax strips have become essentials to people who do not appreciate the "submissive and breedable" nature of their body hair. However, these can be hard to sustain in the long run. While it can be a convenient way to remove hair, shaving can have many drawbacks, like ingrown hairs and irritated skin. Waxing strips can also be very aggressive to sensitive skin over time (via Byrdie). Sugaring, a natural alternative to waxing has gained popularity recently. It's mainly known to reduce skin irritation and hurt less than waxing. If you'd like to incorporate sugaring into your at-home beauty rituals, continue scrolling.
Sugaring is an all-natural alternative to waxing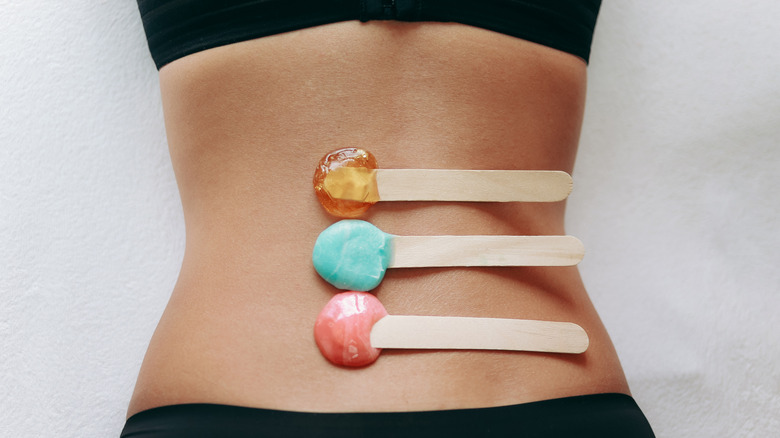 Marcovnica/Shutterstock
Unlike the artificial ingredients used in waxing, sugaring uses natural ingredients for its paste and is recommended by many professionals. "Sugaring is a far superior method of hair removal because when you remove the root, the follicle will have less blood supply to it overtime, which will in turn weaken it," esthetician Alexandra Accardo told Byrdie.
Susan Yara, the founder of skincare brand Naturium, offers a recipe for at-home sugaring in her YouTube channel. The ingredients she lists are: ¼ cup of water, 1/4 cup of lemon juice and 1 cup of granulated sugar. In the description of the video, she asks viewers to boil all the ingredients together for about five to seven minutes — the mixture should turn amber in color — then to pour the hot sugar syrup into a heat-proof jar and let it cool. 
While using it, it's important to remember that you apply the mixture against the direction your hair grows but remove it towards the direction of your hair growth in quick motions (via her YouTube video). The hair should come off easily, whether you use strips or just pick the paste off your skin. If you're looking for a complete kit, you can also check out some of the best at-home sugar wax kits out there.