Inside Gwen Stefani's Honeymoon With Blake Shelton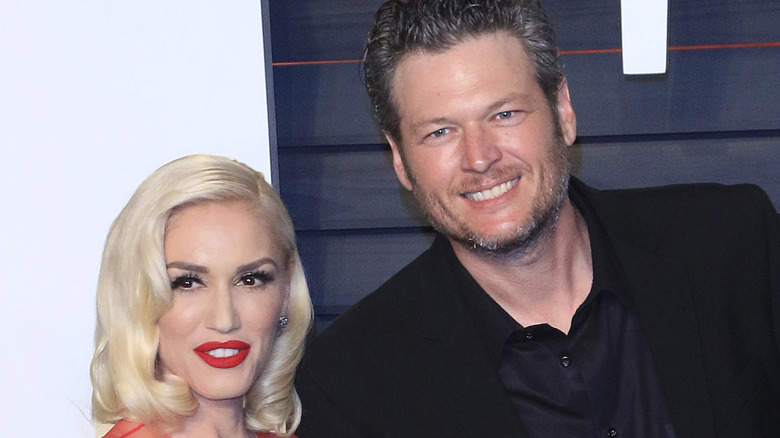 Joe Seer/Shutterstock
In 2014, music legends Gwen Stefani and Blake Shelton met on the set of the competition series "The Voice" (via Insider). The vocal coaches became fast friends and eventually began a whirlwind romance. After making their adorable red-carpet debut in 2016, the pair became engaged in October of 2020. Eight months after their engagement, they tied the knot at Shelton's Oklahoma ranch (via Page Six). The couple married in a small chapel, surrounded by their closest friends and family.
Though most couples go on their honeymoon immediately after their nuptials, Stefani and Shelton have had to postpone their official celebration because of their busy schedules. A source said, "They're both very, very busy this year with work, and [July] was the only time they could fit in the wedding" (via Yahoo). However, the music sensations have still been able to celebrate their love in their own special way, while they await their traditional honeymoon.
Gwen Stefani and Blake Shelton are celebrating their nuptials in a special way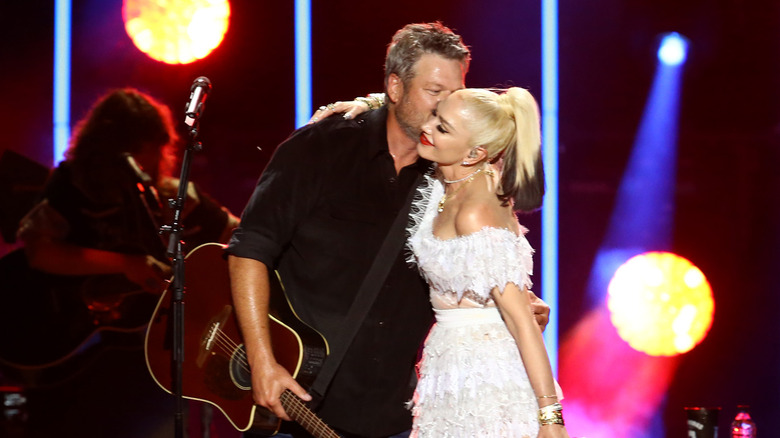 Terry Wyatt/Getty Images
In a recent Instagram post, newlywed Gwen Stefani shared a series of selfies-videos and backstage content from her husband Blake Shelton's Friends and Heroes Tour. Stefani also shared a snap of Shelton's setlist which featured their duets "Happy Anywhere" and "Nobody But You". She captioned the photo, "#honeymoon tour w my @blakeshelton." The "Rich Girl" singer was certainly feeling the love at the Bash on the Bay show in Put-in-Bay, Ohio (via People). While the pair are currently spending their first few months of marriage on tour, Shelton revealed that he does intend to take Stefani on a proper honeymoon.
He told SiriusXM's Storme Warren that immediately after the wedding he spent some private time with his new wife in Oklahoma. He explained to People, "We still are probably going to [go on a honeymoon]. We did have some time after the wedding, just she and I, but you know, we wanted something calm for a minute and not to run off and then go do something else." Stefani revealed on an episode of the Tell Me About It with Jade Iovine podcast that she's feeling "total honeymoon vibes." She concluded, "One of those things you think about a lot in your life is you don't know the future and you don't know what's gonna happen, but I feel like my spiritual journey has really guided me towards this place and this place of peace."