Keep Your Bathroom Counter Organized With These Ideas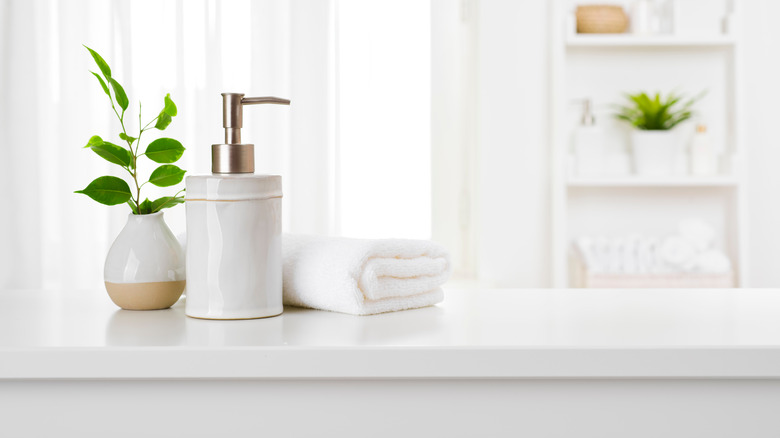 Didecs/Shutterstock
We've all been there — you've spent hours organizing your items only to find them scattered about in a few short weeks. Even if you buy the best organizing trays money can buy, there are still a few things you need to keep up with if you want your bathroom to look tidy. With a few easy-to-implement ideas, you can quickly take your powder room from cluttered to chic.
For instance, My Domaine recommends finding a mirrored tray to match the rest of your bathroom. By playing around with the visual effects of the tray, you can make the space look bigger and more curated. However, the outlet warns, it's important to consider the look of your organizer before you spring for one. "You could use the most beautiful bathroom organizer ever, but if it doesn't work with the way you organize, you'll have cluttered counters," author Lisa Lawmaster Hess, notes. So, if you have a lot of neutral tones in your bathroom, opt for a woven or twine organizer that fits the vibe and has enough space for your items. If you have a more modern aesthetic in the room, mirrored trays will work well.
When it comes time to choose items to put in those trays, start with the ones that you use the most and the ones that are visually appealing. To create better cohesion, the outlet suggests finding bottles that match for your hand soap and lotion. Instead of having random bottles scattered on your sink, even two matching ones will make your powder room look cleaner and more put together.
Utilize and add shelving in your bathroom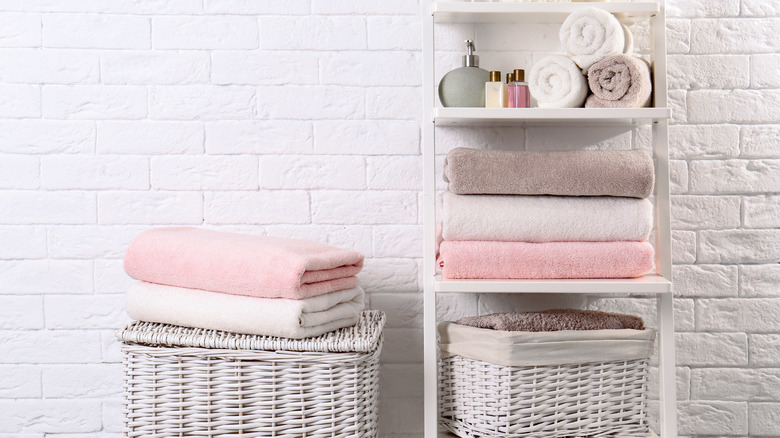 New Africa/Shutterstock
We know — your bathroom may not have all of the shelving options you would like. But, if you have a clear wall, you have space for a shelf. My Domaine suggests hanging a shelf above your vanity or anywhere with enough room to hold it as a way to create extra counter space. In addition to providing extra space, this is a chic way to hang decor that matches the rest of your bathroom.
Martha Stewart has other ideas when it comes to making more room in your space. In addition to hanging extra shelves, consider purchasing an extra medicine cabinet or vanity. Giving you yet another surface and drawers for storage, this method will make your space look put together while taking pressure off of your countertops. Furthermore, a few woven baskets will carve out room for excess towels and other linens that can sometimes clog up the area around your sink. Lastly, a wire cart can be a chic, functional addition that keeps your skincare items easily accessible. The outlet notes that you can find a gold-brushed option that elevates the vibe in your bathroom as well. 
If all else fails, make sure you have your dividers handy. With multiple containers separated accordingly, you'll have a place for everything you need. Take a few moments each week to clear the space and wipe it down so that it stays neat and tidy without a ton of effort.