Why Mike Pence's Presidential Chances In 2024 Don't Look Good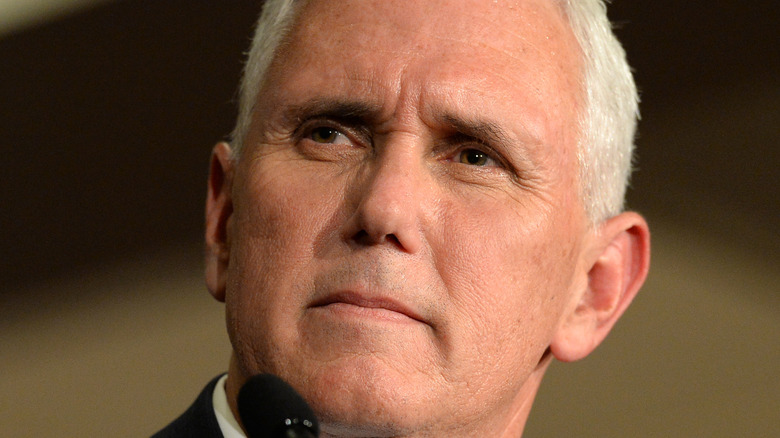 Shutterstock
Although the 2024 election is still years away, the race to secure the top spot as the GOP's next presidential prospect has been underway ever since President Joe Biden was sworn into the White House in January. Of course, there have been a few contenders whose names have been thrown around from the get-go, like Florida Governor Ron DeSantis, Texas Senator Ted Cruz, and unsurprisingly, former one-term, twice-impeached president, Donald Trump, who has been teasing another presidential run ever since he was booted from the Oval Office.
"I'm absolutely enthused. I look forward to doing an announcement at the right time," Trump said of running for office again in May (via The Hill). "As you know, it's very early. But I think people are going to be very, very happy when I make a certain announcement."
Although Trump hasn't made a formal announcement about whether or not he is, in fact, going to run for president in the upcoming 2024 election, per a report from Rolling Stone, the former reality television star has been touting the idea with his dinner pals as of late. "I have three friends who've had dinner with him in the last couple of months," a former senior official at the Republican National Committee told the outlet in July. "All three reported that his current plans are to run for president in 2024. Now, whether he does or not is a different issue. We've still got three years to go. But he's telling people that."
Here's why former Vice President Mike Pence may not stand a chance in the 2024 presidential run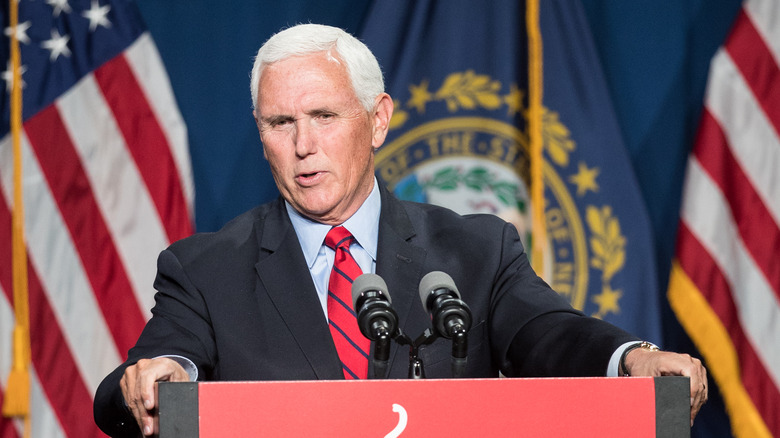 Scott Eisen/Getty Images
Of course, another name that has been thrown around for the GOP candidacy is former Vice President Mike Pence; however, just because his name has been tossed around for a 2024 presidential run doesn't mean he has a ton of support behind him. In fact, Raymond Harre, vice chair of the GOP in eastern Iowa's Scott County, revealed that he doesn't think Pence stands a chance against some of the other top GOP contenders — especially if Donald Trump runs. "I don't imagine he'd have a whole lot of support. There are some Trump supporters who think he's the Antichrist," he said (via Politico), adding that although Pence "did a good job as vice president," Harre doesn't "see him overcoming the negatives."
Republican Doug Gross, who served as chief of staff to former Iowa Governor Terry Branstad, didn't mince words when it came to his feelings about Pence, echoing Harre's sentiments about Trump loyalists' views on Pence running for president. "It's just, where would you place him? ... With Trumpsters, he didn't perform when they really wanted him to perform, so he's DQ'd there. Then you go to the evangelicals, they have plenty of other choices."
Republicans and social media users alike seem to have a similar opinion about Mike Pence running in 2024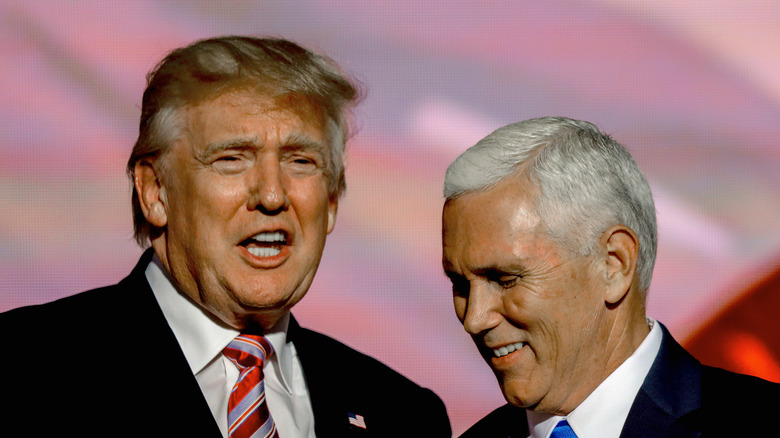 Shutterstock
"He's got to justify to the Trumpistas why he isn't Judas Iscariot, and then he's got to demonstrate to a bunch of other Republicans why he hung out with someone they perceive to be a nutjob," Republican strategist Sean Walsh stated (via Politico), adding, "I just think it is an awfully tough, tough hill for him to climb."
Social media users didn't hold back with their opinions on Pence, either, with one Twitter user writing, "Good luck Mike but you had the power to stop a crazy man from attempting to destroy our democracy we need someone that will stand up for out democracy all the time not just ceremoniously," while another said, "He's toast with the former guy's supporters because he followed the constitution instead of Trump. He's toast with everyone else because he otherwise followed Trump on everything. Who will support him?"
However, one Twitter user issued a slightly different response about Pence flatlining in the 2024 race, writing, "It really is a shame for the right wing of the party because he is one of the better orators and debaters they have. No complaints from me though, cause he would be a tough candidate to beat in the General."