Inside Jake Paul And Julia Rose's Relationship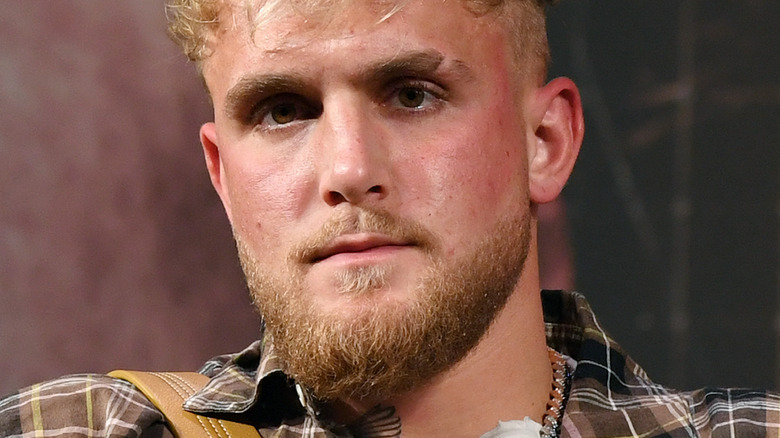 Ethan Miller/Getty Images
Jake Paul has lived out most of the last decade in front of the camera. The YouTuber-turned-boxer has not had much of a filter with his viewers and it's meant that many of his relationships have gone public very quickly. That's probably why we already know so much about Jake Paul and Julia Rose's relationship. News.com.au details that the pair have sparked engagement and marriage rumors after a key change on social media.
Jake Paul's girlfriend, Julia Rose, is just as used to social media stardom as he is. The model currently has 515k followers on Instagram and shares behind-the-scenes snaps with Paul often. The New York Post reports that they have dated each other "on-and-off" since 2020. In 2016, Rose found fame on MTV's reality show "Are You the One?" She went on to host her own podcast, "THESH*TSHOW," and founded the erotic publication "SHAGMAG."
On March 20, 2020, Paul made their relationship Instagram official. Underneath a picture of the couple kissing he wrote, "first video back is out now feat. new jeep – new content – new girlfriend – new life." Since then, Rose has appeared in some of Paul's videos alongside his brother, Logan Paul, and exes Tana Mongeau and Erika Costell. And the couple has got their fans talking about how serious they are for each other after one eyebrow-raising Instagram update.
Are Jake Paul and Julia Rose married?
Jake Paul is no stranger to a wedding ceremony. Essentially Sports outlines that his fake marriage to his ex-girlfriend, Tana Mongeau, almost broke the internet. However, eagle-eyed fans of his new partner, Julia Rose, have started to question whether the couple has gotten serious very quickly.
Rose changed her Instagram handle to Julia Rose Paul. In a post published on August 11, Rose's followers picked up on the name change and started to ask if there was anything behind it. While she did not reply to the comments, Paul did set the record straight.
Speaking to Stephanie Haney on the "3 Things to Know" podcast, Paul said, "We are not married. But I see that coming, for sure. I got her a nice promise-ring-slash-pre-engagement ring. I plan on proposing sometime soon. But we'll see what happens." While Rose and Paul have only been together for less than 18 months, it would seem neither are afraid of taking the next step and teasing their fans in the meantime.