Here's How Prince Harry And Meghan Markle Celebrated Their Second Anniversary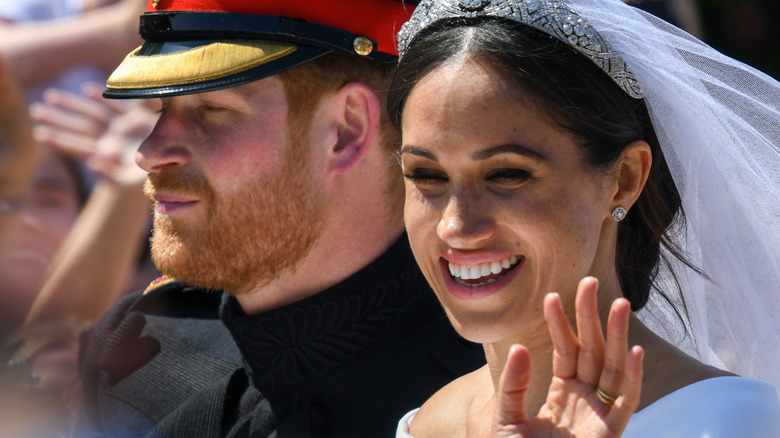 Bart Lenoir/Shutterstock
Celebrating special events during the pandemic has been no easy feat. Social distancing and quarantine requirements made parties and nights out on the town practically impossible, even for celebrities and royals. Amidst the COVID chaos, Prince Harry and Meghan Markle celebrated their second anniversary creatively and had a night in that practically everyone can all relate to. 
With an unauthorized look inside Harry and Meghan's retreat from royal duties and move to the U.S.,"Finding Freedom" includes many details of the couple's lives since their decision to leave the royal family. One section touches on how the two managed to make their anniversary special despite regulations in place during the pandemic. The two celebrated with a night at home, tasty takeout, and gifts on theme for the second anniversary tradition of cotton, per Town & Country.  
"With restaurant outing off-limits, the couple had to get a little creative in May for their second-anniversary festivities at home, spending part of the day looking back at their 2018 with a number of people who had been part of the wedding festivities, including vendors that had helped bring their magical Windsor Castle ceremony to life," an excerpt from the book reads, as excerpted by Town & Country. "They capped off the day with a Southern Californian favorite: Mexican food ordered from a popular local restaurant, washed down with margaritas (alcoholic for him, nonalcoholic for her). For gifts, they exchanged cotton-based items, as the tradition suggests."
'Finding Freedom' shares details of Prince Harry and Meghan Markle's life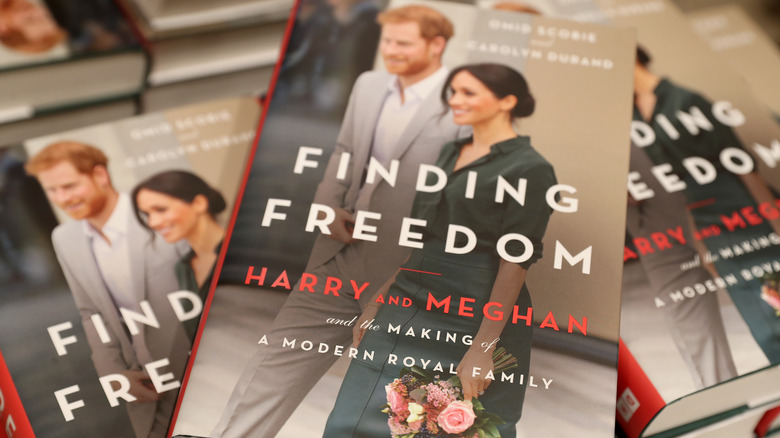 Chris Jackson/Getty Images
Curious fans of Prince Harry and Meghan Markle would do well to read the unauthorized biography of their lives, "Finding Freedom." Since its release, the biography by Omid Scobie and Carolyn Durand has given fans a view into their lives and the challenges they have faced since getting married. Following its original release in August of 2020, the authors have decided to release an updated version that will include even more exciting information, per Tatler. 
The new edition will be released on August 31 and promises a new epilogue that will fill readers in on the action-packed year of their life. New pages will reveal details of their life during the pandemic, their interview with Oprah Winfrey, the birth of their second child, daughter Lilibet Diana, and the impact of Prince Philip's death in the spring. With controversies and celebrations alike, there is no shortage of content in Harry and Meghan's life. 
Despite all that they have been through in their short time together, it sounds like the couple is going strong and making new memories, regardless of how difficult their circumstances may be. Mexican takeout and margaritas at home make for a pretty perfect pandemic anniversary, if we do say so ourselves.