The Heartbreaking Death Of HGTV Star Carmeon Hamilton's Husband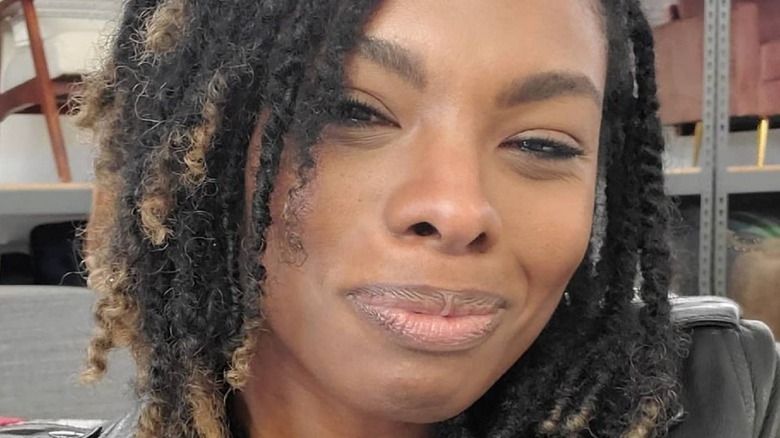 Instagram
It's a sad day for HGTV fans. Winner of HGTV's "Design Star: Next Gen" Carmeon Hamilton has shared some heartbreaking news regarding her husband. She took to Instagram to announce the news to her "extended Internet family" that her husband, Marcus Hamilton, died in a motorcycle accident (via People).
"I was alerted by MPD late last night that Marcus succumbed to his injuries from a motorcycle accident yesterday afternoon," she wrote on Instagram. "I'm no stranger to loss, but this loss brings something beyond pain. Something I can't describe. I'm now missing a major part of myself and that void seems to grow more and more every second." In the post, she added that she fears for the future of her and Marcus' son, Davin, who just started 7th grade, according to Carmeon's Instagram. But she will be taking her time to figure out what their plan will be.
"In the midst of this immense pain came a wave of support from the community of people that we've worked so hard to build. They are the only reason I have the strength and ability to put these words in writing," she added.
The couple was two weeks away from renewing their vows
Per her Instagram, Carmeon and Marcus Hamilton were together for about 15 years and married for almost 10. There was no doubt that the couple was blissfully happy together. On Instagram, Carmeon said that meeting Marcus was "the absolute best thing that's ever happened to [her]" and that they were even making plans to renew their vows. News of Marcus' death has come nearly two weeks before the couple's planned vow renewal for their 10th wedding anniversary, which was slated to happen on September 10. Marcus drove a Suzuki GSXR 1000 motorcycle in 2017, and also owned a Can Am Outlander 800 ATV, per Daily Mail. He ran a podcast called "Spilling Whiskey," in which he discussed "dating, marriage, money and whole lot of other s*** all while enjoying a good drank!" (via Spotify).
Carmeon has received an incredible amount of love and support on social media, including from her fellow HGTV peers. "The House My Wedding Bought" host Breegan Jane took to the comments of Carmeon's announcement post to write, "Carmeon, there are no words for what you must be going through. I am incredibly sorry for your loss. While I didn't know him, it was clear that he was a bright light. I'm sending you so much love." 
"My heart breaks for you and your family!" HGTV star Maria Antoinette Loggins added on Instagram. "I am so so sorry and I am praying for a covering that only God can provide."