Here's Why Dog The Bounty Hunter's Daughter Was Just Arrested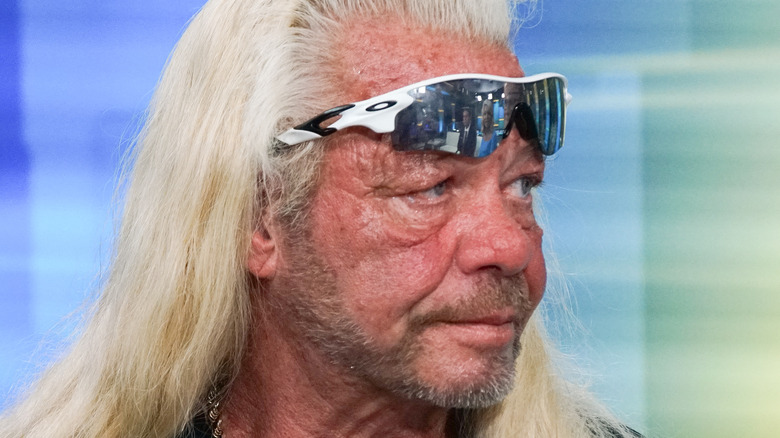 Bennett Raglin/Getty Images
Duane Chapman — better known as Dog the Bounty Hunter — has been making headlines for years, thanks to his wildly successful show, aptly named "Dog the Bounty Hunter," which ran from 2003-2012. Duane started the show with his late wife, Beth Chapman, who died after a years-long battle with throat cancer in 2019. "It's terrible, the most terrible time in someone's life," Duane stated in a press conference video to Hawaii News Now shortly after his wife's death (via Taste of Country). "You kind of try to remember that you're celebrating life, but right now we're mourning the death, so it's not good."
And while there is certainly not just one way to grieve and everyone deals with the death of a loved one in different ways, Duane came under fire from fans everywhere after he revealed that he was in a serious relationship less than a year after his wife's death, and during an appearance on the "Two Guys From Hollywood" podcast in August, the reality star revealed that he and fiancée Francie Frane were planning to wed in September (via People).
Although Duane and Frane's upcoming nuptials have been the talk of the tabloids recently, one of Dog the Bounty Hunter's daughters, Cecily, has been making headlines herself, due in part to her recent arrest on July 31.
Cecily Chapman was arrested for this reason
Per TMZ, Cecily Chapman, Duane Chapman's 28-year-old stepdaughter from his marriage to Beth Chapman, was arrested shortly before midnight on July 31 after she allegedly punched and bit her partner of over five years. Cecily's man reportedly told Honolulu police that the pair had been drinking before she "became verbally and physically abusive," punching her boyfriend on both sides of the face and biting him on the back. Despite his alleged injuries, the Honolulu Prosecuting Attorney's Office told TMZ that they will not be following through with pressing charges.
Cecily described the incident as an "altercation where a man struck me and said vile things about the memory of my dead mother," adding, "I used proportional response, disabled the aggressor, and stood up for the memory of my mom. She would have handled it quite the same way, I can assure you. If you put your hands on Cecily Chapman you will get your ass kicked."
If you or someone you know is dealing with domestic abuse, you can call the National Domestic Violence Hotline at 1−800−799−7233. You can also find more information, resources, and support at their website.
This isn't the first time Duane Chapman's daughters have been in the news recently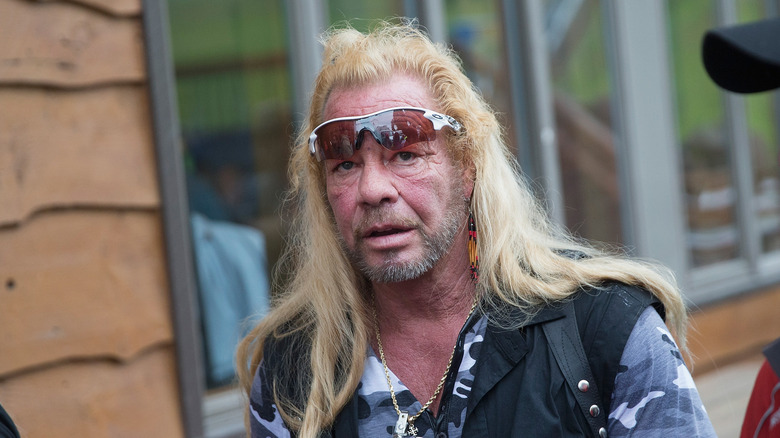 Scott Olson/Getty Images
Earlier in August, Cecily Chapman and her 22-year-old half-sister, Bonnie Chapman, made headlines after Bonnie revealed that they aren't invited to their dad's upcoming wedding with Francie Frane, alleging that Frane skipped their invites because they participated in the Black Lives Matter protests in 2020. "On the morning of August 22, TMZ released the following story about my sister and me not being invited to my dad's wedding. Later in the morning, I received a text from Francie Frane, my dad's [fiancée]," Bonnie wrote in a lengthy Facebook post (via People). "Francie's text message confirmed that the reason I wasn't invited to my dads wedding is my choice to participate in social justice and BLM protests with 'The System', and not condemn the streaming platform when they fired my father for using epithets. I'm sorry, but I can't defend my Dad's racism."
Bonnie also alleged that Duane had cheated on Beth, writing, "I had forgiven my father after my mother's death for countless actions that I shouldn't have. He would cheat on my mom all the time, and I hated him every time he did it, but I forgave him for that because I wanted a relationship with my dad."
"My mother was a shining light in the void," Bonnie continued, adding, "I can no longer watch someone diminish her light with his hatred. I can no longer sit and be quiet about these things."