Inside Anna Kendrick's Strange Relationship With Taco Bell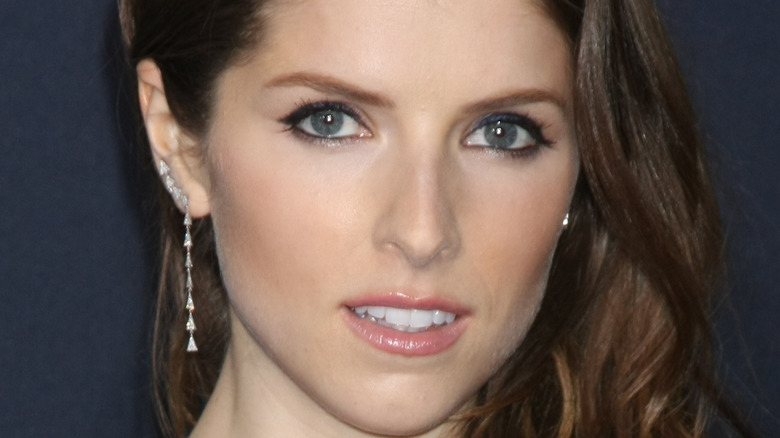 Kathy Hutchins/Shutterstock
Actor and songstress Anna Kendrick seems fearless in front of the camera. She can belt out some serious lyrics in "Pitch Perfect," and she can clearly hold her own against legendary co-star George Clooney in "Up in the Air." Off-camera, though, Kendrick has a self-proclaimed "dirty" vice that she can only do hidden by the darkness of night.
Like many other Hollywood starlets, Kendrick has shared her healthy eating tips with the media. "I am powered by ginger. I keep wellness shots of ginger, lemon, and cayenne from Pressed Juicery in my fridge," she once told Shape. "If I'm traveling and I can't have ginger, I'll feel sick." Still, the actress knows the importance of a balanced diet, explaining it's important to indulge every once in a while.
"'Everything in moderation' is such a cliché, I know, but it's true. The times in my life when I tried to restrict the foods I love always backfired, and I ended up feeling miserable," she shared with the outlet. "For me, it's all about really being present in my body, not depriving it." And while she won't deprive herself of this one fast food restaurant, she's still a little ashamed about it.
Anna Kendrick won't go to Taco Bell during the daytime
Walter Cicchetti/Shutterstock
Ginger shots and belief in moderation: so very typical celebrity. That is why we couldn't help but be more intrigued with Anna Kendrick when she dropped a greasy bomb of a secret named Taco Bell.
As it turns out, the "Into The Woods" star has a love for the fast food chain. "It's a dirty thing that I love Taco Bell so much," she revealed on "Conan." Adding more intrigue to her story, she admits, "I cannot, cannot eat Taco Bell before midnight. It's a reverse 'Gremlins' thing. It's just so filthy that I can't do it. It has to be under cover of darkness in my car," she claimed, gushing, "It's so good." "I drive out of my way to get to the one with the drive-thru so I don't have to go inside, and then I'll just eat it in the parking lot in my car," Kendrick admitted.
Who doesn't love a good Crunch Wrap Supreme or classic bean burrito every now and then? Now that the singer and actor has revealed her "dirty" love for Taco Bell to the masses, we hope she'll come out of the darkness and walk into a Taco Bell during the daytime one day. No judgement here! Just intrigue.