Florence Pugh's Instagram Cooking Show Is Iconic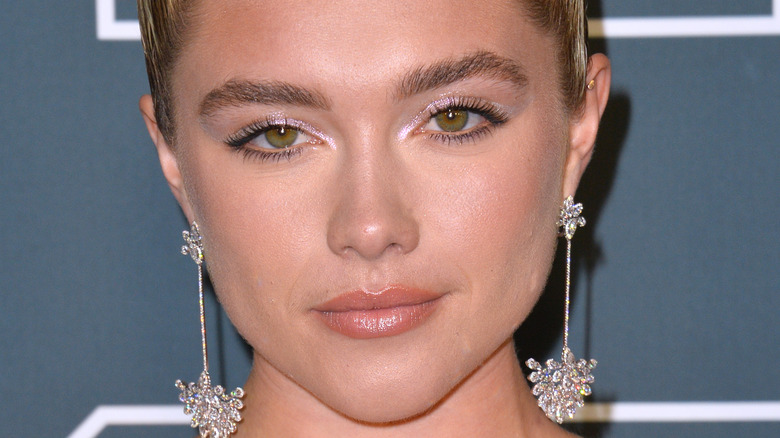 Featureflash Photo Agency/Shutterstock
Florence Pugh: you may know her best from her outstanding acting in "Little Women," "Midsommar," and "Black Widow," but did you know she has her own cooking show? It's not an official televised show, but an Instagram one of her own that people have fallen in love with. In a March episode, the actor posted a series of videos of herself making a chickpea salad recipe on her Instagram Story. She started off by telling her 4.6 million followers, per InStyle, "It's cooking with Flo, b**ches. I have decided to do a very quick, very small recipe, and it includes chickpeas. So get your can of chickpeas out. Let's use them."
Pugh donned a yellow apron with her name embroidered in red on the waistband, and went through her chickpea salad recipe that she also referred to as a "beany-fart salad." This is not her first foray into sharing her cooking with the world. Since 2020, she's posted videos about making all kinds of things, including peanut butter ice cream, pizza dough, marmalade, and more, according to Elle.
Like so many of us, the actor found cooking and baking to be a comfort during the pandemic. "When the world lockdown started and it obviously got serious very quickly, I found myself desperate to chop. Feed. Eat. Repeat!" Pugh told Elle UK. "It keeps me calm, stirring, and creating." Read on to learn more about Pugh's love of cooking. 
Florence Pugh finds cooking to be calming
Pugh finds cooking to be soothing regardless of a pandemic. "Genuinely, my therapeutic thing is chopping and cooking and stirring and tasting," she told Elle UK. She also shared that she's happy to let people see her natural persona in her cooking videos and online. "When I'm making marmalade, I don't have pretty hair. There are moments in my life when I get dolled up. ... But when I make marmalade, I look normal," she explained.
Throughout all of her Instagram cooking show posts, Pugh cracks jokes as she makes her dishes and acknowledges she's not an expert; she's very relaxed and is clearly not taking herself too seriously. She also includes her music recommendations and she doesn't edit out her mistakes, per Elle. And people love her for it.
Along with screenshots of Pugh's recent post, one person tweeted, "florence pugh is back at cooking on her instagram and nature is healing." Another wrote, "florence pugh cooking on her instagram stories makes me feel like she is cradling me in the palm of her hand & i am the size of a marble and it makes me feel Very Nice." A third fan tweeted, "all i want in life is to cook a meal with florence pugh." It's clear that cooking is enjoyable for Pugh, and just as enjoyable for her fans to watch.