Here's What You Should Be For Halloween If You're A Scorpio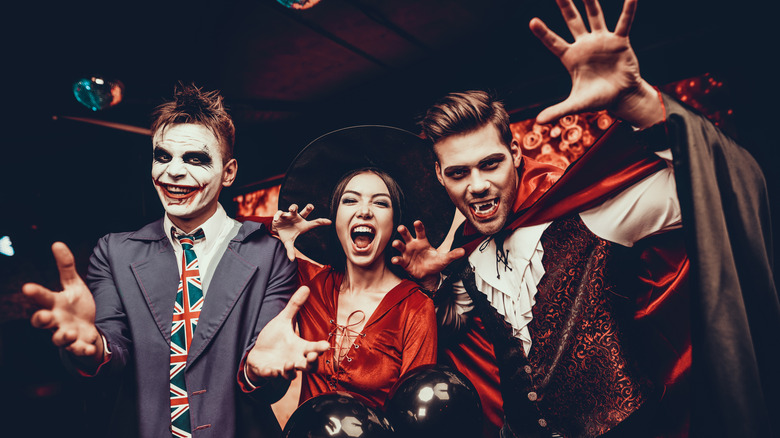 VGstockstudio/Shutterstock
The weather is becoming chilly, the leaves are starting to fall, and scarves are beginning to emerge from our closets, which can only mean one thing: it's nearly fall. And as we enter this new season and the energy of summer moves into a spooky, pumpkin-spiced themed time of year, this also means that it's almost Scorpio season.
While zodiac signs tend to look different on different people, there are certain traits that are nearly totally synonymous with each sun sign — and some people believe that Scorpios have some of the most recognizable traits. At their core, Scorpios are often misunderstood due to their combination of fiery passion and brooding, intense emotion. According to Allure, Scorpios are ambitious and enticing. They also have deep, soulful connections in relationships, and they are intrinsically intense. Needless to say, they thrive during the fall months and tend to gravitate toward Halloween. That's why it's the perfect time of year to lean into those classic Scorpio characteristics via an awesome costume that'll scream your star sign to the world.
Scorpio, channel your inner horror lover for Halloween
One of the best Halloween costumes for Scorpio is the "horror star," according to Refinery29. This enigmatic water sign goes about life with a subtle, dark energy that — depending on the type of Scorpio you are — is either leaned into or totally hidden. And Halloween is the perfect time for you to totally embrace that darkness in an awesome, spooky costume.
In order to channel this theme, we recommend taking inspiration from some of your favorite classic horror films. But we're not talking the cute Halloween flicks, like "The Nightmare Before Christmas" or "Hocus Pocus" — as much as we do love those — we're talking about the properly scary ones that send chills up your spine and you won't watch alone. Some ideas include Wendy Torrence from "The Shining" (complete with giant — but make it fake — knife!), Carrie from "Carrie," or Irena from "Cat People" (via Harper's Bazaar). 
Since you're also known as one of the "darker" zodiac signs (via Bustle), how about a chic, all-black outfit? As PopSugar notes, Wednesday Addams makes another great pick for your intense personality. But maybe you want something a bit lighter — after all, perhaps you're not the quintessential dark and broody Scorpio that gets such a bad rap. Dressing up as a rock star fits your cool persona to a T.
These are just a few of the best Halloween costume ideas that will allow you to channel your inner, most Scorpio vibes.