Jennifer Garner Reveals The Breakfast She Eats Every Day To Stay In Shape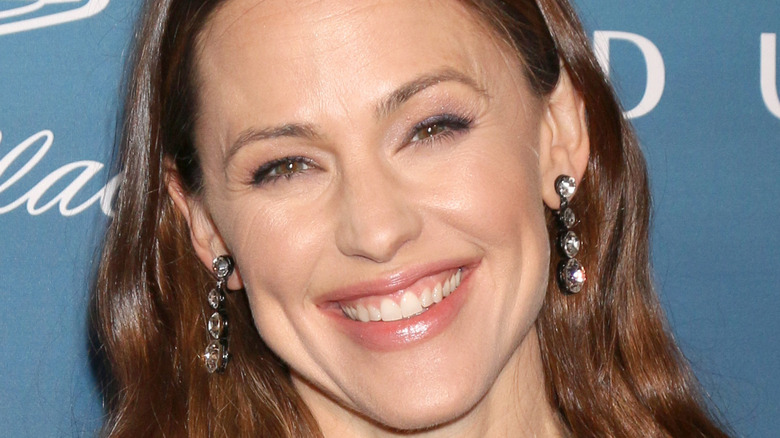 Kathy Hutchins/Shutterstock
The words celebrity and relatable aren't always used in the same sentence, but that's exactly what this A-lister's breakfast recipe is. Jennifer Garner recently shared on Instagram her go-to morning smoothie, and as she writes in her post, it's something she learned while training for the movie "Peppermint." According to Yahoo, the star started working with nutritionist Kelly LeVeque when she was shooting the action flick, and she has been having this for breakfast ever since.
Leveque is known for her Fab Four recipes. According to her course website, the idea is to blend the correct amount of protein, fat, fiber, and greens to leave you fuller for longer. Garner took her advice and made it even more her own. 
There are tons of celebrity smoothie recipes out there. They range from Kourtney Kardashian's avocado pudding (via Insider), to Gwyneth Paltrow sprinkling Sex Dust in her morning beverage (via Goop). Yes, really. While not all of them are practical for the average person, Garner's "Be Well Smoothie" smoothie seems pretty simple.
Garner added baby food into her smoothie for extra nutrition.
According to Jennifer Garner's Instagram post, the ingredients are collagen protein powder, ground flaxseed, chia seeds, almond butter, almond milk, spinach, and blueberries. Add them all to a blender with some ice and enjoy. That's it.
Of course, you can always get a little creative as well. For example, in her post, Garner says that she ran out of blueberries so she used her Once Upon A Farm's Cold-Pressed Baby Puree instead. "Today, I decided to play scientist and see if my @onceuponafarm cold-pressed, organic purée (or baby food, if you're a baby, but whatever) could be a substitute for fresh blueberries when I didn't see any in the fridge," she wrote. "Yep, it could."
While simple, Garner's smoothie recipe isn't just a blend of random items from her fridge, though. Instead, it's designed to help you feel fuller for longer, by utilizing Kelly LeVeque's specific system.
"It's a light structure to help my clients feel satisfied, elongate their blood sugar curve and eat foods that are the most nourishing to support hormone production, microbiome proliferation, and healthy body composition," LeVeque told The Inspired Home of her Fab Four formula. "In combination, the Fab Four works to turn off eight hunger hormones in the body, it ensures you are getting the essential fatty and amino acids you need for cell regeneration, and helps you build a complete meal that will keep you satisfied for four to six hours."
They don't call it the most important meal of the day for nothing.