What Kourtney Kardashian's VMA Appearance Reveals About Her Relationship - Exclusive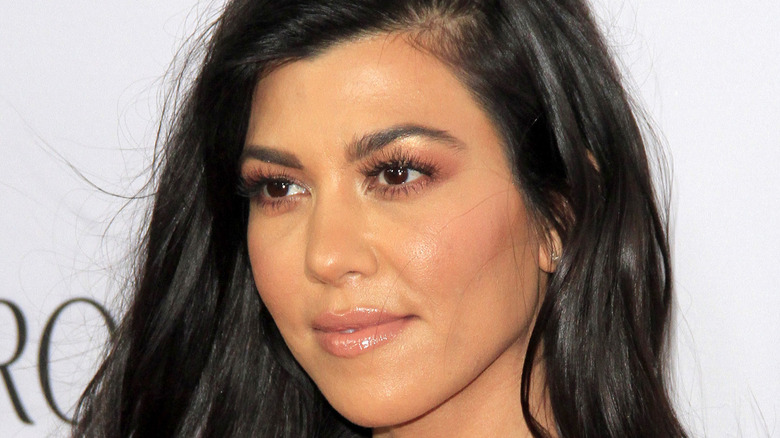 Kathy Hutchins/Shutterstock
After publicly denying rumors of dating, Kourtney Kardashian and Travis Barker are finally bearing it all to the public. Many might have imagined this couple to be something of a mismatched one, with Barker, the Blink-182 drummer, and Kardashian, a reality TV star mogul, struggling to fit into each other's lives. But against all odds, they appear to suit one another perfectly. Indeed, this past summer was full of loved-up Instagram photos and romantic declarations of love for one another. Barker even shared a photo to Instagram of himself embracing Kardashian with a caption that read, "With you anything is possible," to which Kardashian commented, "Anything and everything with you." Sources say that they have even been spending time with one another's children, which means we can only assume that things are getting pretty serious, per USA Today.
Well, as if things didn't already seem pretty major between Kardashian and Barker, they have finally made their red carpet debut as a couple at the 2021 VMAs, which in the world of Hollywood relationships means that wedding bells surely can't be far behind.
Kourtney and Travis absolutely loved the attention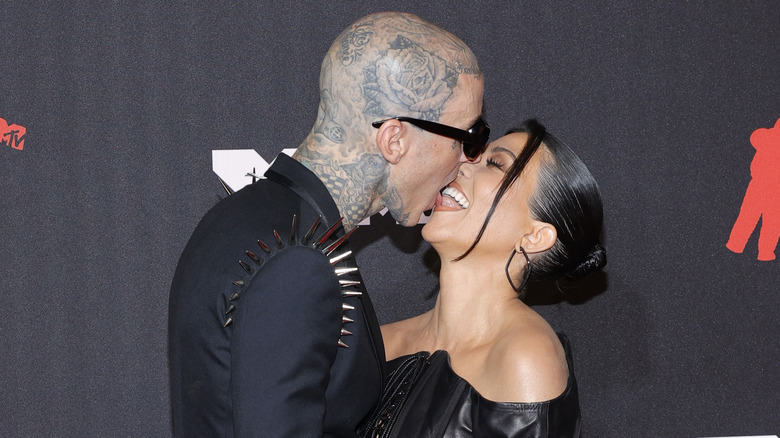 Jason Kempin/Getty Images
In an exclusive interview with Jess Ponce III, we learned all about what Kourtney Kardashian and Travis Scott's VMA appearance might reveal about their relationship. Ponce is a body language expert, media coach, international personal branding expert, and author of "A.W.E.S.O.M.E." According to his website, Lucasfilm, The Walt Disney Company, HGTV, LinkedIn, The Ritz Carlton, and BNP Paribas are only some of the renowned companies that have requested his expertise.
Ponce revealed to The List that Kardashian and Barker were playful and silly on the red carpet, playing to the press and eating up the attention. Kardashian is certainly no stranger to the paparazzi, which was evident through her comfort and ease on the red carpet. Ponce said that she appeared to be "in her element." While Barker isn't as comfortable being in the public eye as his girlfriend appears to be, he didn't seem to have any issues navigating the excessive attention. Ponce described Kardashian's interaction with Barker on the red carpet akin to her playing with an accessory.
Here's what Ponce said about Travis' body language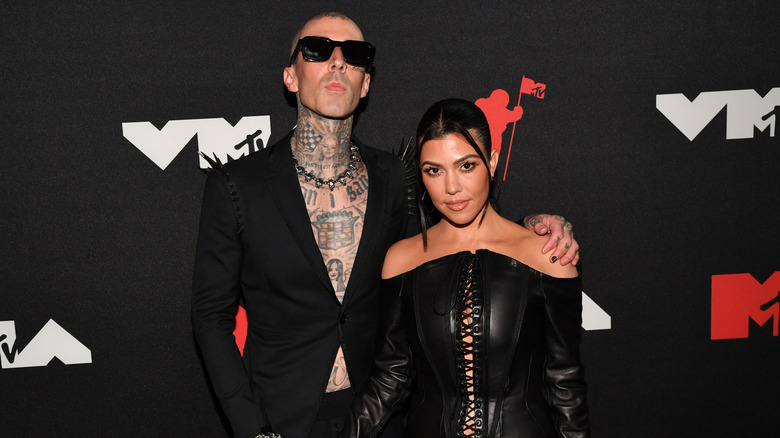 Jeff Kravitz/mtv Vmas 2021/Getty Images
Ponce said that Kardashian navigated the red carpet like nothing short of a professional. She managed to pay attention to the cameras just as easily as she did to Barker, "making appropriate eye contact between both parties."
As for Barker's body language, Ponce explained, "Travis held his own and seemed happy to play his role in this scenario. His body and external energy were focused solely on Kourtney. If we could see his eyes beneath his sunglasses, it would clearly show his gaze was set on her.
Ponce added that while Barker was certainly focused on his girlfriend, he was still able to confidently stand independently, as shown by the swagger that he exhibited on the red carpet. "For example," Ponce explained, "when the press encouraged them to kiss, as if they were clinking glasses at a wedding, he responded immediately by leaning into Kourtney. His entire body was leaning toward her. Then, when she giggled, breaking the moment in a playful way — he turned to the camera in an upright confident way."
We're thrilled that Kardashian and Barker passed the test of the ever-coveted red carpet debut!