Doja Cat Has A New Pepsi Commercial And The Internet Is Loving It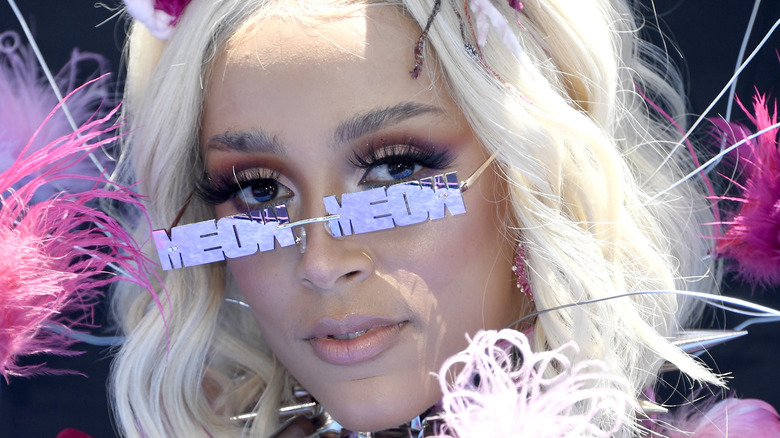 Frazer Harrison/Getty Images
Just when you thought you had known everything there was to know about Doja Cat, she went and totally blew our minds again. The 25-year-old songwriter has made an absolute killing in the world of rap music, with hits like "Kiss Me More" and "Get Into It (Yuh)" climbing the charts (via Billboard). But as it turns out, Doja Cat isn't only limited to just one genre of music. She's given R&B, hip hop, pop, and even psychedelic music a try, consistently surpassing any challenges that come her way (via Insider). That's why it came as no surprise when the young singer gave musical theatre a try and absolutely smashed it.
At the 2020 Billboard Music Awards, Doja Cat gave fans the performance of a lifetime. She performed a mashup of "Juicy," "Say So" and "Like That" in the style of the 1920s themed Broadway show, "Chicago." She was dressed in a flapper-inspired dress in sequins and fringed, specifically paying homage to Renée Zellweger's "Roxie" from the 2002 film rendition of the musical (via Entertainment Weekly). Fans were buzzing over the performance and loved seeing Doja Cat take on a totally unique genre to her.
Well, it would appear that the "Need To Know" singer is giving the musical theatre genre another try, and fans are loving it.
Inside Doja Cat's Grease-inspired Pepsi commercial
Pepsi recently released a new ad for their "Pepsi Soda Shop" product, which is meant to be a modern take on the classic 1950s "soda shop" experience. The product is very much reminiscent of the 1950s through the specific styling and packaging of the cans, which feature their new Cream Soda and Black Cherry flavors (via ChewBoom). Furthermore, the new commercial stars none other than Doja Cat as the lead, but with a twist — it takes place in a "Grease" inspired world. The Pepsi ad follows Doja as she walks through a set inspired after "Grease"'s Rydell High School as well some of the show's other infamous locations. While the original track of the song "You're The One That I Want" plays, it's edited in more of a Doja Cat style, with some instrumental and vocal twists added to the background. And, in other changes, Doja isn't singing about wanting a man — what she's after is the delicious looking Pepsi. As much as we love the original version of the song, this Doja Cat inspired version slaps. One fan on Twitter even wrote, "[for real] I need this song on streaming services," and we couldn't agree more.
Fans are absolutely buzzing on social media about the ad. One fan took to Twitter to praise the commercial, writing, "Doja Cat is indeed a queen! She did well with the Pepsi video!" Another fan wrote that Doja should play at next year's Pepsi Super Bowl half-time show, which many other fans agreed with.