The Real Reason Halsey Skipped The Met Gala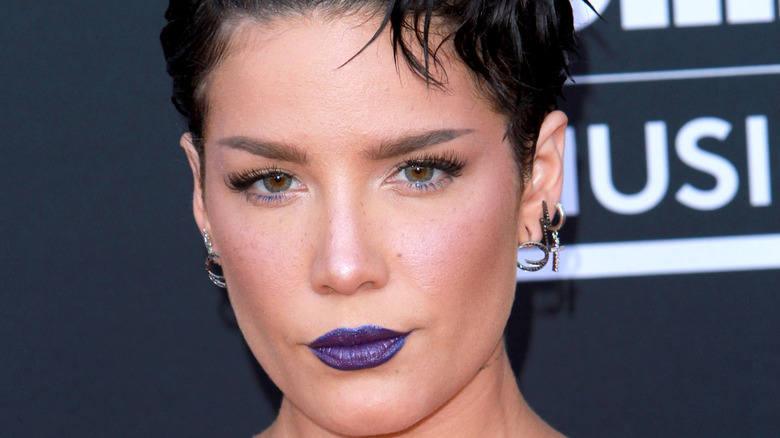 Kathy Hutchins/Shutterstock
Following the cancelation of the 2020 Met Gala, the usual attendees were delighted to learn they could return to the red carpet this year (via Vogue). On September 13th the top designers, celebrities, and fashion industry players dressed up to see the unveiling of the latest exhibit at the Costume Institute. In honor of the "In America: A Lexicon of Fashion" exhibit, the guests paid homage to American fashion. Some of the celebrities that best embodied this theme, include Lupita Nyong'o, Gigi Hadid, and Billie Eilish (via CNN).
While many of the usual Met Gala attendees made an appearance on September 13th, a few fan favorites had to skip out on the event, including musician Harry Styles, actress Zendaya, and beauty mogul Kylie Jenner (via E! Online). While many of these celebrities neglected to reveal why they wouldn't walk the infamous Met stairs, new mom Halsey shared why they had to miss the star-studded event.
New mom Halsey had another engagement
After their noticeable absence from the 2021 Met Gala, "Without Me" singer Halsey took to Twitter to explain why they couldn't make the elusive event (via People). The 26-year-old revealed that they had to take care of their newborn Ender Riley. Since Halsey is still breastfeeding, they wouldn't have had a chance to properly pump if they attended the time-consuming event. They said, "I only had my baby 7 weeks ago. There's nothing more 'American fashion' than moms having to go back to work after just giving birth lol."
Halsey added that while they are "incredibly privileged to afford time off", they are still affected by biology and have to deal with the responsibilities of becoming a new parent. They continued, "I got leaky hurty boobs, a bloody swollen uterus, and a human being that depends on me as a life force. I recognize my privilege every single day and the time it affords me with my baby. [But] like it or not my body is gonna do what it wants. I'm doing my best to juggle it all!" Regardless of the challenges they face, Halsey is endlessly grateful for their baby and continuing to make strides in their career. If we're lucky we may see them at the next Met Gala event this upcoming spring.