Mom Jeans Vs. Boyfriend Jeans: How To Tell Them Apart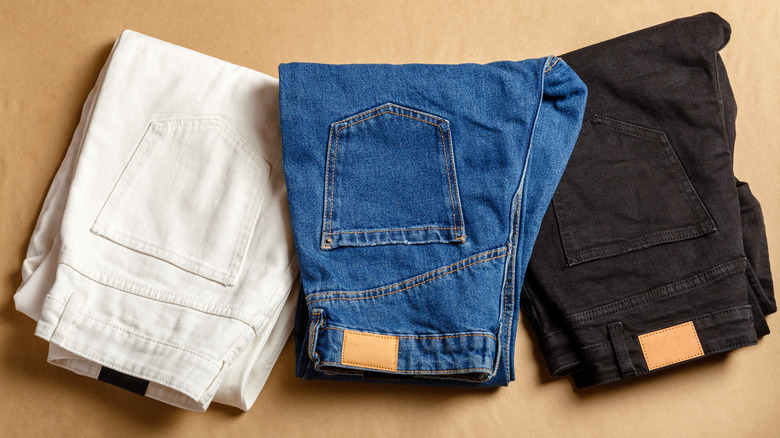 Beton Studio/Shutterstock
New denim trends seem to pop up by the day, and it can be hard to keep track of what they all look like. With skinny jeans labeled "dead" by Elle, mom and boyfriend jeans are both having a moment. The difference between wide-leg and straight-leg denim is pretty straightforward, but these two styles can be a bit tricky to spot. Once you start paying attention to how each denim style falls on the body, the names will make much more sense. 
Not all jeans are created equal — mom and boyfriend silhouettes are proof of that. Unlike the skinny cut, these two styles don't tell you what you need to know just from the name. Simply put, boyfriend jeans are a bit slouchy while mom jeans fit a bit more snug. No matter the color or how distressed they are, mom jeans and boyfriend jeans are easy to spot once you know the differences between the two. 
Mom jeans are high-waisted and have a tapered leg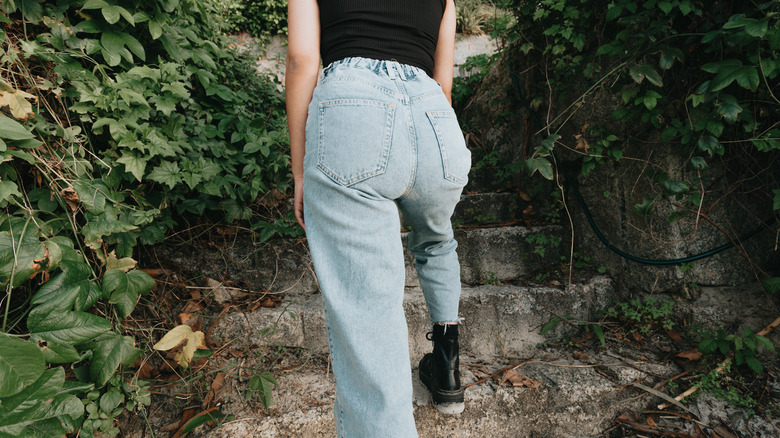 Avelino Calvar Martinez/Shutterstock
The easiest way to spot a pair of mom jeans is to look at the fit of the waist. The style is almost always overly high-waisted to accentuate the butt and has a straight leg at the bottom (via Types of Jeans Fits). It's your classic '90s-sitcom-mom style, and it's making a comeback. Think light wash, no chance of falling down, and easy to wear with boots and sneakers. Celebrities like Kim Kardashian and Julianne Hough rock this silhouette often (via Marie Claire).
This style is super popular right now, but the name of the jeans actually started as a joke. The term "mom jeans" comes from an SNL skit (via Pop Sugar). The skit shows Tina Fey and Amy Poehler in high-waisted jeans, mocking the style. "Mom jeans fit mom just the way she likes it," the fake commercial says. "She'll love the 9-inch zipper and casual front pleats." 
While the snippet might have been mocking the style when it came out, the cut was iconic enough to stick around. Today, not much has changed about mom jeans besides getting a little more form-fitting around the waist.
Boyfriend jeans are more loose-fitting and slouchy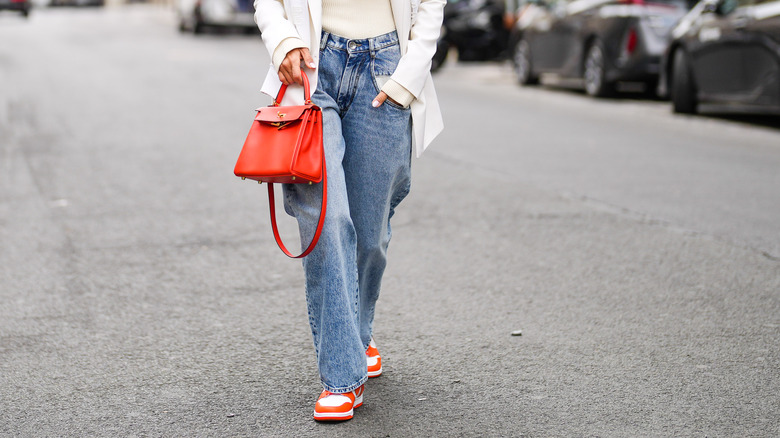 Edward Berthelot/Getty Images
If mom jeans are high-waisted and butt-shaping, think of boyfriend jeans as the exact opposite. They typically have a lower-fitting waistline and generally fall more loosely against your legs. Imagine stepping into a pair of guys' jeans — there's a little more space in the front, which makes the style a bit more slouchy on the female body. If you buy boyfriend jeans in the girl's section, you will typically find them to be more fitted than if you were to slide on a men's pair (via Current/Elliot). While mom jeans cling to the body, boyfriend jeans give off a cool-girl, relaxed vibe.
According to Pop Sugar, the boyfriend-style jean was made popular by Marilyn Monroe in the '60s. All great trends have a way of finding their way onto the fashion scene again, so it only makes sense that boyfriend jeans have come full circle. Today, celebrities like Gigi Hadid and Kerry Washington love the style as well (via InStyle). Each brand makes their boyfriend style a little bit different, though, meaning that there are plenty of options when it comes to the slouchy fit.
There are so many different styles of denim out there, but trying mom and boyfriend jeans are a great way to switch up your traditional look. Now that you know the difference between the two, you'll be spotting them everywhere.