The Hidden Meaning Behind Meghan Markle's Pinky Ring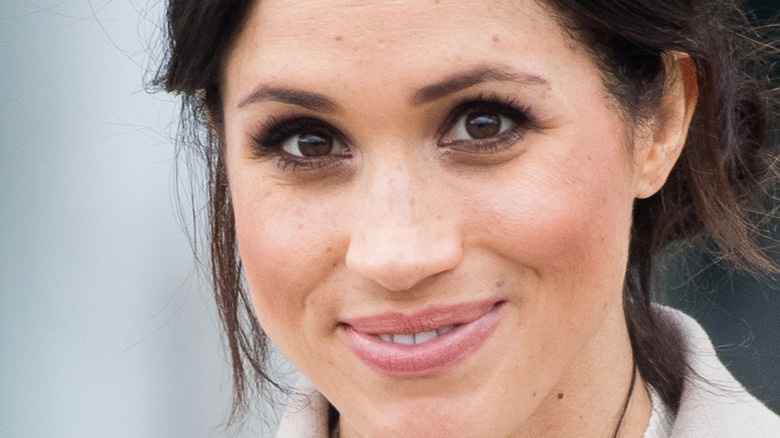 Naresh777/Shutterstock
Meghan Markle's name is on the tip of everyone's tongue and has been for some time now — and she isn't going anywhere. Markle is talked about for her fashion, for her groundbreaking interview with Oprah Winfrey, and for her relationship with the royal family after leaving the family alongside her husband, Prince Harry. Markle is viewed differently by everyone, with some supporting all of her efforts and others not understanding her choices. In either case, her presence in the media is indisputable.
The Duchess of Sussex is often discussed because of her fashion, and this is for several reasons. Fashion is relatable, and it's expressive. Her color palette, her style, and her accessories help tell the world who she is. According to Town & Country, the duchess is "quickly becoming fashion's preppiest new 'it' girl." Of particular note is how Markle is never afraid to play with colors and express an entire spectrum of emotions through her clothing. The duchess also often works with socially and environmentally conscious designers and brands, making her clothes carry extra meaning. This extends to her jewelry, and her pinky ring carries a special message.
This is how Meghan Markle's jewelry choice has made a social statement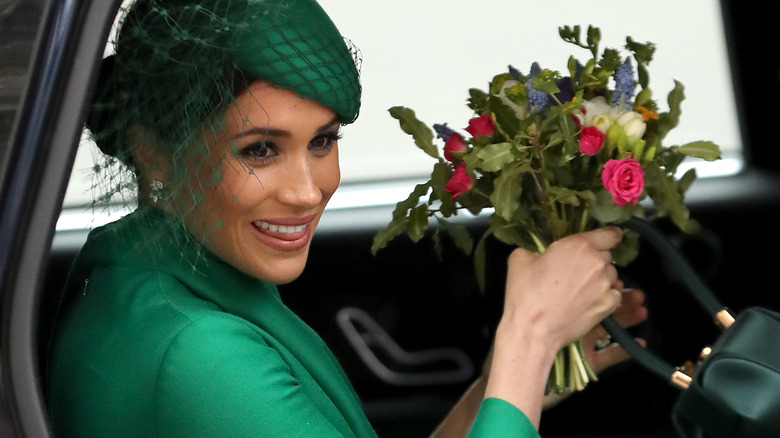 Chris Jackson/Getty Images
The hubbub surrounding Meghan Markle's pinky ring comes after she and Prince Harry appeared in TIME Magazine's top 100 most influential people list. According to People, the duchess was seen wearing the Duet Pinky Ring from Shiffon in the magazine. This ring is Shiffon's flagship product, and it carries a message stronger than any fashion statement.
Shiffon is adored by celebrities because of what the brand represents. The extra cool part? The brand was founded in a Harvard dorm room by sophomore Shilpa Yarlagadda with a strong purpose in mind (via Who What Wear). Half of the profits from Yarlagadda's rings are donated to "seed grants for female entrepreneurs." Its name is important, too. Yarlagadda told Who What Wear that the "Duet Pinky Ring represents a 'pinky promise' to pay it forward to support women."
In addition to Markle, Yarlagadda's rings have been worn by Nicole Kidman, Serena Williams, and Michelle Obama, among many other celebrities and influential people. All of these names have one thing in common: They want to uplift women, which they do in part by supporting Yarlagadda and in part by supporting Yarlagadda's overall mission through promoting her business.
"We are a social enterprise that supports women's choices and young female entrepreneurs," Yarlagadda told Elle. And shouldn't we all want this for our world?