Could The Upcoming Trump Tell-All Book Hurt Melania And Donald's Marriage?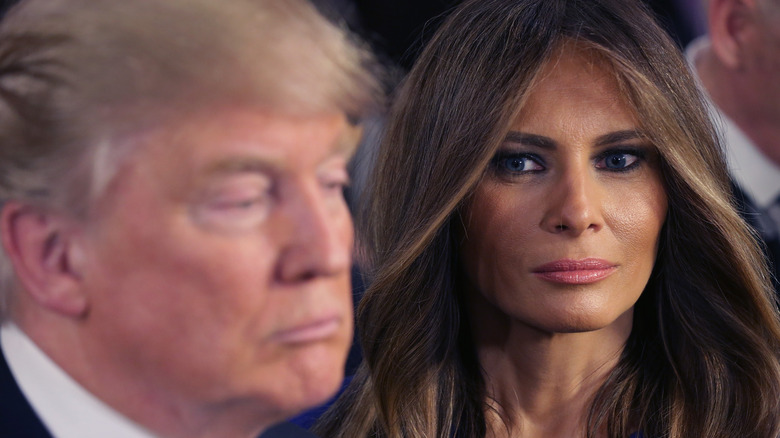 Chip Somodevilla/Getty Images
The particulars of Melania and Donald Trump's relationship continue to court attention. In a recent interview with The U.S. Sun, disgraced former press secretary Sean Spicer railed against those poking holes in their marriage. As the former Trump aide reasoned, "I think the reports are absolutely abhorrent and disgusting. I have seen them together for six years." He added, "I don't have any insight into their personal relationship but seeing people speculate on the state of their marriage is absolutely deplorable and despicable." As far as Spicer is concerned, some people just can't help themselves when it comes to disparaging the controversial former president. 
Moreover, another insider fought back against claims Melania wouldn't support her husband's 2024 run. According to Politico, the source confirmed, "If [Trump] runs, she will be right there." They acknowledged the former first lady probably wouldn't be running her own promotional events in support of his campaign, but that was never her deal to begin with. Their relationship could be rocked by upcoming revelations, however. 
Stephanie Grisham is ready to spill the tea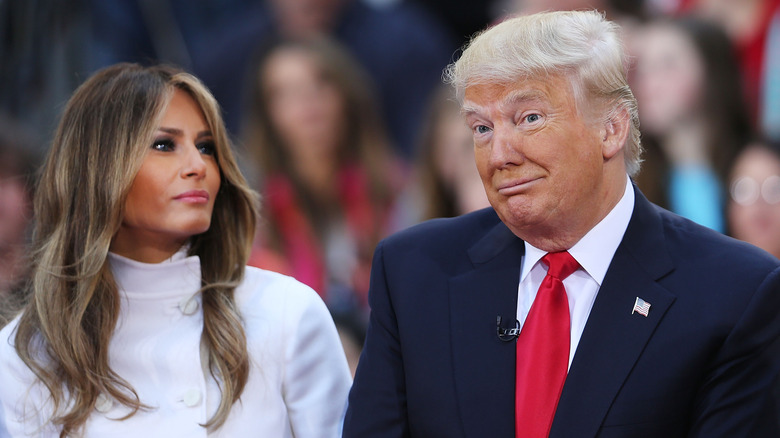 Spencer Platt/Getty Images
Former White House press secretary Stephanie Grisham is set to blow the lid off the Trump administration with the release of her book, which drops October 5. According to Politico, Grisham is set to reveal unflattering details about both former president Donald Trump and his wife, Melania Trump, for whom she served as chief of staff and communications aide. They spoke to a publishing source, who teased, "Stephanie has secrets about Trump that even the first lady doesn't know. Secrets that he doesn't want her to know. They will be in this book." Moreover, juicy excerpts suggest these secrets are pretty explosive. Among them are notes about Melania's widely derided response to the Capitol riot, which is described as the final straw that made Grisham leave her post. She was the first major White House aide to do so. 
According to her upcoming book, when Grisham texted Melania to ask whether she might like to tweet something along the lines of, "peaceful protests are the right of every American, but there is no place for lawlessness and violence," the first lady responded simply "No." Likewise, Melania fully backed her husband's debunked claims about the 2020 election being stolen from him. Unsurprisingly, a spokesperson for Melania claimed Grisham is lying about everything and simply looking to "redeem herself after a poor performance as press secretary, failed personal relationships, and unprofessional behavior in the White House."