What Mary Trump Liked About Being Sued By Donald Trump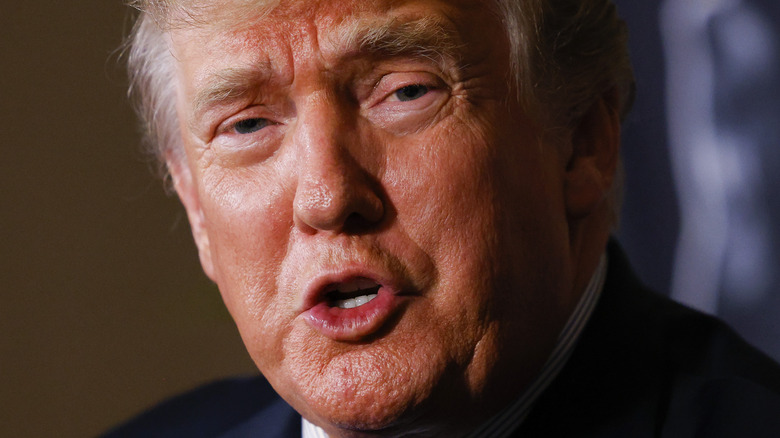 Douglas P. Defelice/Getty Images
Following the publication of Mary Trump's best-selling tell-all book, Donald Trump sued his niece and took her to court. While a legal battle is never a fun experience, the author has a bit of a cheery disposition when it comes to the proceedings. In a recent interview, Mary shared what she liked about being sued by her uncle, and it makes quite a bit of sense.
Mary is a clinical psychologist and international best-selling author of the book "Too Much and Never Enough: How My Family Created the World's Most Dangerous Man," per The New York Times. In her book, she explained her motivation for writing it. "Donald, following the lead of my grandfather and with the complicity, silence and inaction of his siblings, destroyed my father," she wrote. "I can't let him destroy my country." Mary's father passed away when she was just 16 and he did not have a good relationship with the rest of the family. 
Speaking with The Sydney Morning Herald, Mary said she never feared for her life during the publishing process. "Donald is the weakest person I've ever known," she claimed. "I knew there would be some kind of retaliation, but it was the kind of retaliation I'd expect from them: they sued me. I got very little negative feedback, which was sort of astonishing. The negative feedback I got was in three categories: one, I'm a grifter; two, I just want my 15 minutes of fame; and three, I'm disloyal."
Mary Trump finds the silver lining in her legal battles
On the first day of its publication, Mary Trump's book sold a million copies. She told The Sydney Morning Herald that she has made a neat profit off of it and she has the publicity surrounding her uncle's court case to thank for that. "Yes, I am quite well-off now. I was just hoping I would make my advance back, so it was quite surprising," she said. "Of course, Donald helped [with the book's publicity] by suing me."
Still, she didn't give him all the credit, continuing to explain, "But I think it's also because the story resonated with a lot of people. That's been the most gratifying thing – other than hopefully having some tiny impact on the way things went in 2020 – hearing that people felt understood because they had similar situations."
In the midst of her legal proceedings with Donald Trump, Mary went on to publish another book that touches on her family's political ties. In "The Reckoning: Our Nation's Trauma and Finding a Way to Heal," Mary discusses the mental health impacts of Donald's time in the White House, both for herself and the nation, per USA Today. The new book was released in July and Mary may have even more to say. It seems Donald's niece isn't finished telling her side of the story and isn't holding anything back. While Donald may oppose, she is making the most of the situation and using her experiences to fuel a flourishing writing career.