Here's What The September 20 Full Moon Means For Earth Signs
Chatham172/Shutterstock
The full moon on September 20 falls under the sign of Pisces. The lunar event is also known as the Harvest Moon as it kicks off the official fall season (via The Farmer's Almanac). According to Vogue, this full moon will promote emotional healing in your life, and many members of the zodiac should plan on being on an emotional roller coaster as the big day approaches. The outlet admits that you may also feel very inspired to do something creative or even obsess over something that you want or need to get done. All these feelings could manifest themselves in an emotional outburst, so if you feel like crying go for it. It's likely that the release will leave you feeling less stressed.
During the full moon, some people may feel themselves tuning into other people's vibes. If that's the case for you be sure to stay away from anyone you feel has negative energy. In addition, if you have any unfinished business or projects, this is the perfect time to get them done.
If you're an earth sign like a Taurus, Virgo, or Capricorn, this full moon may offer up some big changes for you as your feelings will be close to the surface.
Earth signs should examine their relationships during the full moon on September 20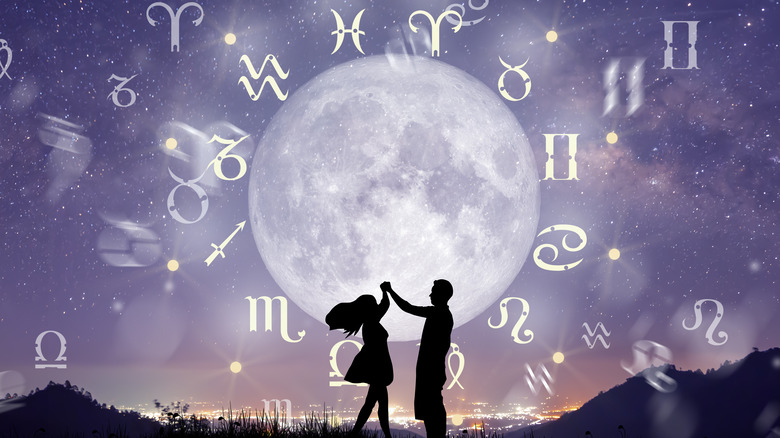 Peach ShutterStock/Shutterstock
The full moon on September 20 is said to be full of emotion, and that is especially true for earth signs, per Vogue. Those born under the sign of Taurus (born between April 20 and May 20) may find themselves being drawn to people who you feel understand you better than your usual crowd. The changing moon phase may bring Taureans clarity when it comes to relationships, so examine them closely and figure out what you really want. 
If you're a Virgo (born between August 23 and September 22), you may find yourself feeling very content in your relationships. It could be a partnership at work that has you feeling like you're on solid ground, or perhaps you've moved to the next level in your romantic pairing. However, if you find yourself less than happy with the people in your life, now is the time to fix what's broken or let it go.
As for Capricorns (born between December 22 and January 19), your relationships will also be changing this month. If you have a friend who you've lost contact with or someone in your life who you've had a falling out with, you might see that you've finally given closure on the situation. You may even mend fences with the person.
It seems that September's full moon is set to be an important one for earth signs, so be ready for the flood of emotion to come your way.