What DWTS Fans Really Think About Tyra Banks As Host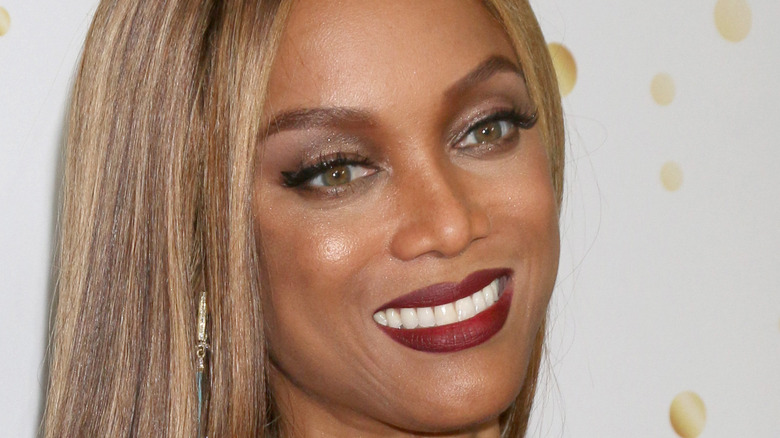 Kathy Hutchins/Shutterstock
It's an exciting time for "Dancing With the Stars" fans, as the show is coming back for its 30th season. But it's not just the dancers that fans tune in to gush over — it's the star-studded panel of judges and acclaimed hosts as well. The repertoire of celebrities involved over the years is unlike any other reality TV or performance show, from the likes of Paula Abdul, Nick Carter, Cher, Idina Menzel, Olivia Newton-John, amongst many others (via Us Weekly). Adding to the list of fabulous judges is Tyra Banks, who joined the show during its 29th season. Banks is more than familiar with the art of judging and hosting, as she was the creator and lead host of "America's Next Top Model" — the long-running and hugely popular competition modeling show (via Vox). Despite her experience as a judge, fans aren't sure she's the right person for the "DWTS" job.
Things started off a bit rough when Banks' return to the live show consisted of a huge mistake she made. Indeed, the awkward error occurred when she mistakenly announced the wrong dancing couple as safe, before having to correct herself and actually declare them as being on the bottom (via Entertainment Weekly). "People see my face; they don't know there are things in my ears, and there are directors and things, people saying stuff to me," Banks said at the Television Critics Association summer press tour in regards to her snafu, "but the world sees me."
Tyra Banks received similar criticism from America's Next Top Model
If you're a true fan of "DWTS," you'll know that one of the most exciting parts of a new season is the cast announcement. After ABC revealed who will be dancing on Season 30 — including Jojo Siwa, Suni Lee, Spice Girl Mel C, Olivia Jade, and more — they announced who will be hosting the new season (via Parade). According to Good Housekeeping, ABC revealed that Tyra Banks will be replacing beloved hosts Tom Bergeron and Erin Andrews for a second year in a row, and not everyone was thrilled by this news. One user in the comments of ABC's Instagram post teasing the new cast wrote, "Does no one important enough read these comments to see that LITERALLY NO ONE likes Tyra as the host?!!! I don't understand." Another person's criticism read, "get rid of your host and I'll consider watching this season."
This isn't Banks' first time being slammed for her hosting and judging abilities. In fact, Alex Abad-Santos per Vox even called Banks the true "villain" of "America's Next Top Model," pointing out several different examples of Banks exhibiting alleged racism, ableism, homophobia, and content that would arguably not be aired by today's standards. Much of the criticism she's received regarding her "DWTS" hosting calls her unlikable, narcissistic, unwatchable, and even difficult to understand, per The Sun.