The Pilates Program That Carrie Ann Inaba Swears By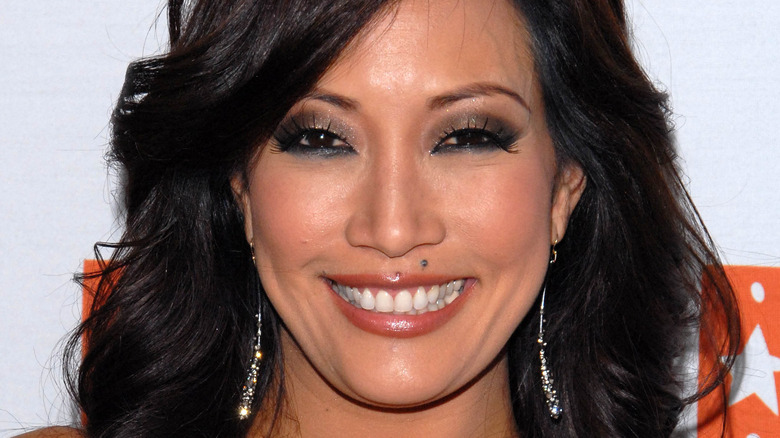 S Bukley/Shutterstock
Dancer and choreographer Carrie Ann Inaba always seems to look fabulous. While she may have good genes, she also works hard to keep fit. "I just love to dance. I never really looked at it as exercise," she told Women's Health Today (via the Foundation for Female Health Awareness). Inaba discovered her love for dance and movement when she was just 3 years old, according to the outlet. Later in life, she became passionate about hip hop, hula, and other dance styles as well. 
Recently, Inaba announced on Twitter that she's ready to return to "Dancing With the Stars" after taking a break from her role as a judge and her job co-hosting "The Talk" to take care of her health. In 2021, Inaba opened up about her struggle with lupus, fibromyalgia, rheumatoid arthritis, and other autoimmune disorders (via Carrie Ann Conversations). Thankfully, her illnesses didn't stop her from leading an active lifestyle and helping others build healthy habits. 
"I used to push myself to the limits all the time. Now I enjoy a healthy and balanced routine and I'm kinder to myself about my workout schedule," Inaba told Healthy Living Magazine. Her favorite Pilates program seems to give her the exercise she needs — here's what you should know about it. 
Carrie Ann Inaba swears by this workout for full-body toning
The "Dancing With the Stars" judge practices martial arts and kickboxing, but she doesn't shy away from weight training either. She also combines yoga and Pilates to keep her core muscles strong, according to her interview with Healthy Living Magazine. There are different types of Pilates, and each style involves a different technique. Pilates can improve your balance, posture, and range of motion while building core strength, Muscle, Ligaments, and Tendons Journal reports. 
Carrie Ann Inaba also loves Bio Think — a program that combines stretching and massage. "I do yoga and Bio Think, a Pilates program where you're getting a massage while you stretch. I do a kickboxing workout that is so intense, a lot of guys can't take it because they can't keep up," she told Us Weekly. 
In clinical trials, Pilates has been shown to reduce low back pain and enhance muscle function (per Muscle, Ligaments, and Tendons Journal). Moreover, it's safe for people of all ages and fitness levels. Inaba suffers from rheumatoid arthritis and fibromyalgia — two conditions that cause joint pain, but she's still able to keep up with her workouts. "Pilates will meet anybody's needs to improve their movement in a graceful way, and at the same time make it extremely challenging," ACE-certified personal trainer, Gabriela Estrade, explains (via SELF).