How Nikki Haley Made History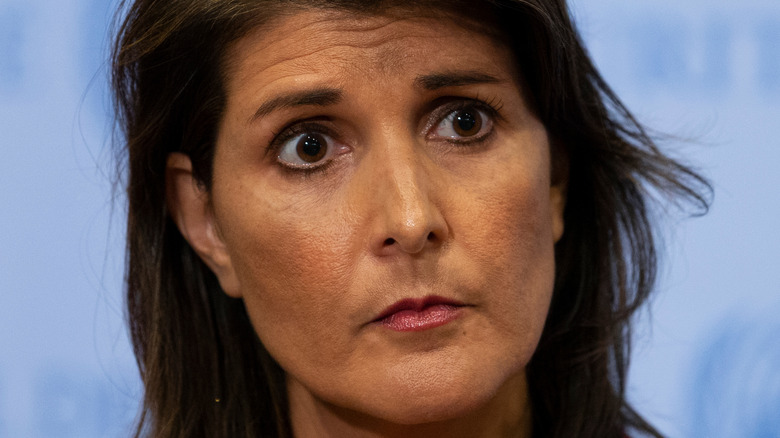 lev radin/Shutterstock
Long before she was known for being a generally faithful, sometimes fickle follower of Donald Trump's, she was a rising star in the Republican Party. Nikki Haley was born Nirmata Nikki Randhawa, the daughter of immigrants who were born in India's Punjab state but moved to South Carolina in the 1970s (via Daily Signal).
We can only imagine how tough life was for Haley when she was growing up. Her family was based in the small town of Bamberg, South Carolina. She grew up Sikh, her father wore a turban, and as she put it to The New York Times, "It's survival mode. You learn to try and show people how you're more alike than you are different." 
Before Nikki Haley entered politics, she worked in her mother's clothing company. Her first job was as an accountant and bookkeeper when she was just 13, but after she graduated from Clemson University, she took over its finances as chief financial officer. She was named president of the National Association of Women Business Owners in 2004.
Nikki Haley has made history several times over, and not just within her own party. When she was elected Governor of South Carolina in 2010, Nikki Haley also became the state's first Indian-American governor, as well as the second Indian-American governor in the history of the United States. For a time, she was even the youngest governor in the country.
Nikki Haley made waves over her action involving the Confederate flag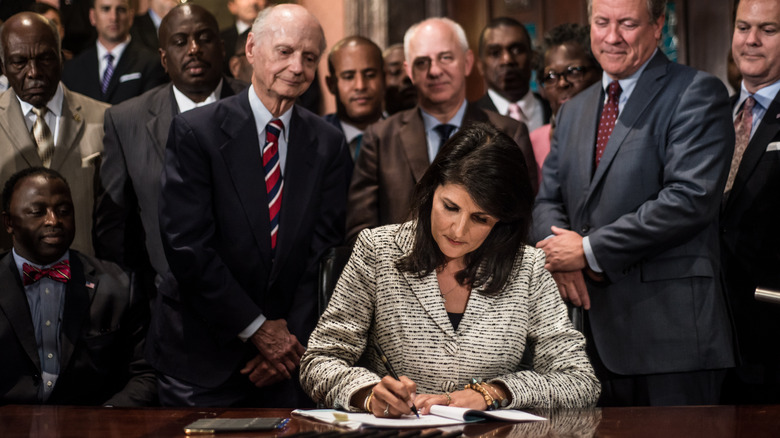 Sean Rayford/Getty Images
Nikki Haley has made history in other ways, too. In 2015, Haley made waves outside of her state and the GOP, when the then-governor pushed for the removal of the Confederate flag from the South Carolina State House. The decision, which was upheld by two-thirds majority of the state legislature, was made after a hate crime resulted in the murder of nine Black members of a church in Charleston.  
The decision was seen as groundbreaking, because even after the shootings had occurred, more moderate republicans like former Florida Governor Jeb Bush and Ohio Governor John Kasich could not comment on whether or not the flag should have been removed, saying it was up to the people of South Carolina to make that decision. Before the murders were committed, even Haley herself did not support the flag's total removal from the grounds of the State legislature (via CNN).
While she continues to make headlines as a member of the Trump administration and beyond, there were those who indicated that Haley had morphed during her meteoric rise in both state and national politics. As former Speaker Pro-Tempore of South Carolina's House of Representatives Harry F. Cato put it, "I'm a fan of the old Nikki Haley. The new Nikki Haley became more of a P.R. machine" (via The New York Times).