Here's What Zendaya Looks Like In Real Life Vs. Instagram
Zendaya isn't your typical Disney star. After initially finding fame opposite Bella Thorne in "Shake It Up," the actress has diversified with take-notice roles in "The Greatest Showman," the modern "Spider-Man" movies, opposite rumored boyfriend Tom Holland, and "Euphoria," for which she notably won an Emmy (via IMDb). 
Zendaya also has no problem speaking her mind about important causes, discussing her role as an activist with Black Lives Matter co-founder Patrisse Cullors (via InStyle). As she explained to Cullors, "I have always hesitated to use the word "activist" for myself. That is a lifestyle. That is a choice every day to be doing the work and devoting your life to a cause. And I don't feel I am deserving of the title. There are a lot of words that better describe what I do. I'm an actress, but I'm also just a person who has a heart and wants to do the right thing." 
That extends to sharing her makeup-free face with the world, even when it's difficult or painful to do so. 
Zendaya embraces going fully natural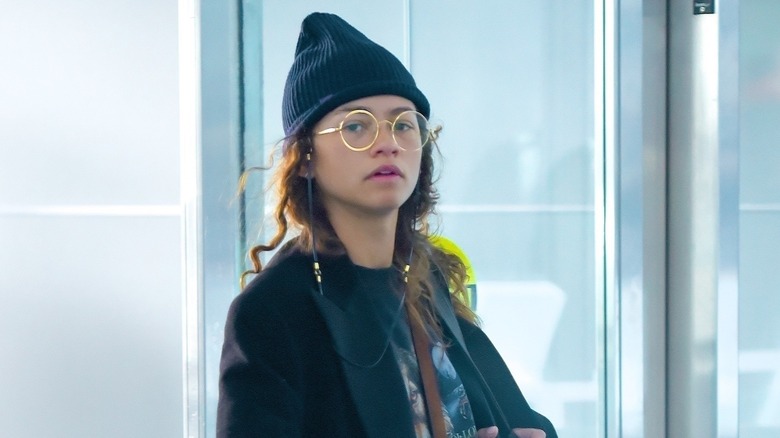 BACKGRID
In 2015, talented multihyphenate Zendaya — so famous she doesn't even need a last name anymore — took to Instagram to share her makeup-free face with the world. The "Euphoria" star also shared an important message with followers, arguing, "It should not be a phenomenon if a girl decides to, or not to, wear makeup. If you want to beat that face down, then beat it down. If you want to go natural, then go natural. Do you, booboo. Be happy." 
Zendaya is frequently snapped without a stitch of makeup on, and, to her great credit, the actress doesn't really look that different, comparably speaking. She's equally stunning made up and not, but Zendaya's stance on going natural is impressive, nonetheless.
In an interview with Allure, Zendaya explained emphatically, "I'm not wearing this makeup so some guy will check out my highlighter. He's not going to care. I'm doing this because I feel bomb. I could not care less about what anyone thinks. I'm secure in myself, I love myself, and when you get to that point, you do what you want." She added, "It's never for the attention. I also like showcasing different types of beauty. I like women to feel empowered by me doing different stuff and feel like they can try it out, too." 
Speaking to Fashionista that same year, Zendaya described makeup as art and admitted that figuring out new looks was a "hobby." No matter what, it's for her, not anybody else.