Twitter Is Seeing Red Over Olivia Jade's DWTS Intro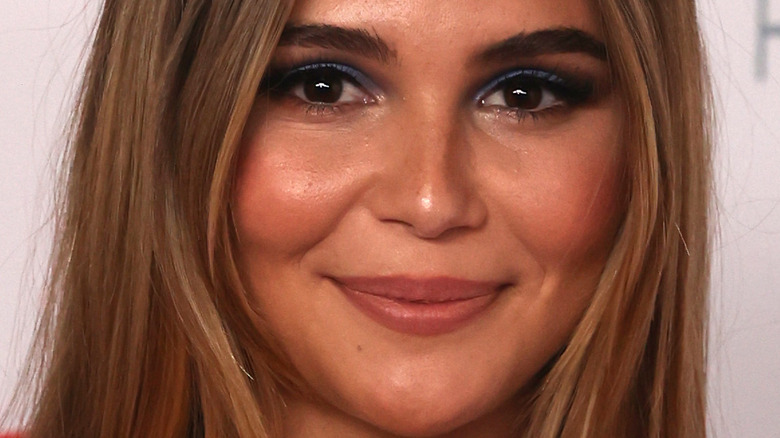 Isaac Brekken/Getty Images
We all remember when the name Olivia Jade came into our collective consciousness. It was in 2019, when her parents, actress Lori Loughlin and designer Mossimo Giannulli, were accused of participating in the college bribery scandal that also ensnared Felicity Huffman. The couple went on to serve prison time for being found guilty of illegally paying the University of Southern California to admit Olivia and her sister, Isabella (via Forbes and Page Six).
According to The Tab, Olivia was a YouTuber and had a decent following on Instagram, sharing content about makeup and hating school, interestingly, with Distractify reporting she had over 3 million followers between the two platforms before her name became synonymous with the scandal. Her online presence was significant enough that she had secured brand partnerships, with Sephora, most notably.
Then, with the fallout from the scandal somewhat behind her, Olivia was cast on "Dancing With the Stars." But it turns out viewers weren't too impressed with how she introduced herself on the premiere episode of her season, Monday night on ABC.
Social media is not buying what Olivia Jade is selling on "DWTS"
Kathy Hutchins/Shutterstock
Twitter quickly responded when Olivia Jade noted, "I'm probably best known for being an influencer," when identifying herself for "DWTS" viewers (via HuffPost).
"Nah, we all know what you're best known for and it's not that," journalist Rose McBride tweeted. "OLIVIA JADE CALLED HERSELF AN INFLUENCER ON #DWTS BUT LIKE IS THAT REALLY WHY YOUR DANCING?" asked another Twitter user, while someone else declared, "I didn't know who Olivia jade was until the college admissions scandal."
Joked another viewer, "Olivia Jade said she's best known for being an influencer... aww honey, everyone knows that rowing is your thing." Of course, the person was referring to the fake crew photos her parents used to help her get into USC (via Mercury News).
When Olivia went on to say she got "wrapped up in a scandal," of course Twitter was no more impressed. Ultimately, one person commented, "I thought Olivia Jade was best known for being part of the college scandal, can't believe @DancingABC has her on the show (via Yahoo!).