Chrissy Teigen Shares Her Simple Beauty Hack To Get Rid Of Puffy Eyes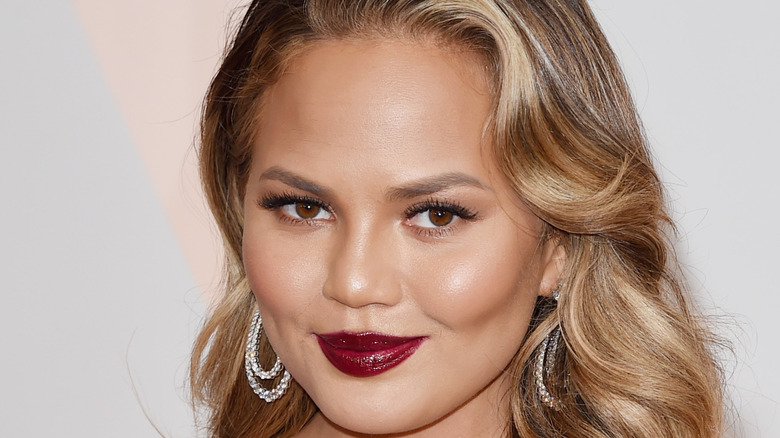 Jason Merritt/term/Getty Images
Chrissy Teigen has had more than her fair share of blunders and feuds in the public eye, but she remains a reliably solid source of brilliant beauty hacks. As Buzzfeed reported in January 2021, Teigen started a trend for wearing sheet masks on long-haul flights, and, with the COVID-19 pandemic raging and mask mandates firmly in place, the former model proudly wore a pore strip underneath her face covering to save time. Elsewhere, as People reported later that same year, Teigen has also shared her love of pimple patches. 
The cookbook author admitted, "I have suffered from blackheads, whiteheads, cystic acne, pimples that won't go away for weeks and months. I have taken antibiotics, used Differin, different topicals that did not really work for me," but this particular product totally hits the spot (quite literally). Also, according to Prevention, Teigen shared on her Instagram Stories that she always takes her makeup off before bed, while cleansing, moisturizing, and using a good sunscreen are also a must for the model and mom. 
She's even got a genius hack for puffy eyes.
Chrissy Teigen's beauty trick won't cost you a penny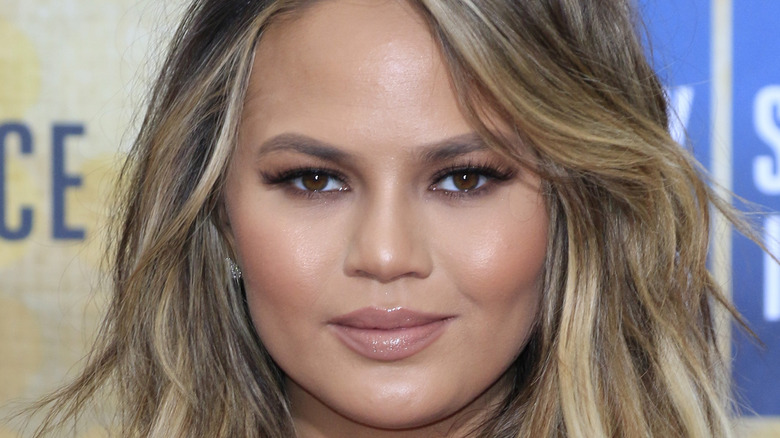 Kathy Hutchins/Shutterstock
If you've got some seriously puffy eyes in the morning, fear not, because Chrissy Teigen has a handy tip for cooling them down and reducing the swelling at the same time. "I put my eye cream in the freezer. Having it nice and chilled and cold for you makes a big difference. It really wakes you up and I have really early call-times, so it helps," she told Harper's Bazaar. Teigen is known for dropping some serious dough on her beauty favorites, particularly La Mer products (via Prevention). 
As Women's Health notes, she went through her entire — very pricey — nighttime skin routine in a series of Instagram Stories, including all manner of lotions and potions. In particular, Teigen shouted out Le Prunier's Plum Beauty Oil, which retails for $72 online, as a little-known secret that works miracles. Boasting that it contains "one ingredient," Teigen revealed, "I used it and when I tell you my skin changed — my life changed — it did." Describing it as a "magic" product, the cookbook author admitted to waking up the morning after using the oil to discover her skin was "plump and supple." In fact, Teigen applies it everywhere, gushing, "It is amazing." 
If it's slightly over budget, you can still put your eye cream in the fridge.