The True Story Of How Dr. Dre Began Working With Eazy-E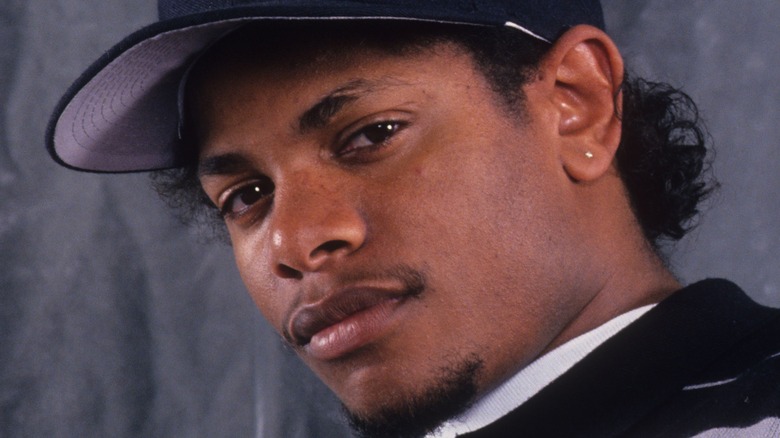 Al Pereira/Getty Images
The rap group N.W.A. was known in the 1980s as "The World's Most Dangerous Group" (via BBC). Comprised of rappers Eazy-E, Dr. Dre, Ice Cube, MC Ren, and DJ Yella, the rap group helped to popularize the "gangsta rap" genre, beginning with their seminal 1988 album "Straight Outta Compton" (via Rolling Stone).
"We always saw ourselves as street reporters," Ice Cube told NPR. "This song was bigger than N.W.A at that point — it was an anthem," he said of their hit song "F*** Tha Police." "We just wasn't five guys crying wolf or complaining about our little incidents with the officers, but that it was an epidemic and it was everywhere."
The group's early days and rise to fame were so compelling that in 2015, their story was fictionalized in the appropriately titled film "Straight Outta Compton." Ice Cube was a producer on the film, as was Dr. Dre — at least eventually. It took some convincing, but Ice Cube was able to convince Dr. Dre to sign on as well.
"He was like, 'Don't touch our history, don't mess with our legacy, don't mess it up," Ice Cube shared. "And I'm like, 'We're not messing it up; we're gonna enhance it.' I just told him that we're not gonna be wack."
The movie tracks the group's disputes with manager Jerry Heller and music producer Suge Knight. Of course, like any aspiring group, there was infighting in N.W.A as well.
The beginnings of N.W.A.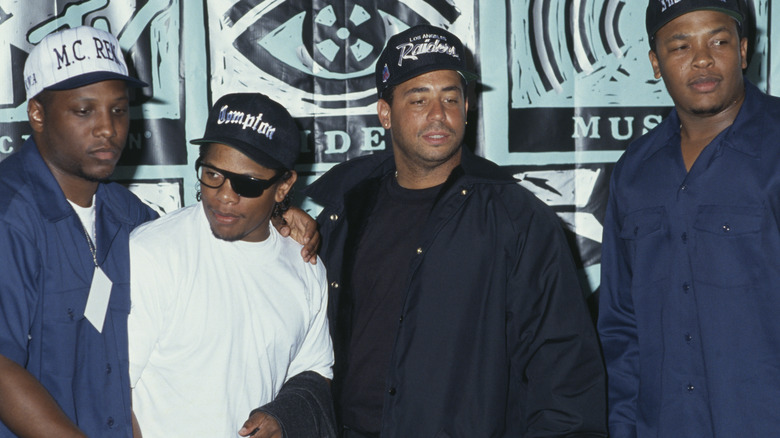 Michael Ochs Archives/Getty Images
When Dr. Dre and fellow N.W.A. member Eazy-E first began collaborating in the mid-1980s, following Dr. Dre's release from jail (via Daily Rap Facts), Eazy-E had already begun his own record label, Ruthless Records, with future N.W.A. manager Jerry Heller. Eazy-E asked Dr. Dre to come on board to create beats (via Britannica). In exchange, Eazy-E provided Dr. Dre with bail money. Not long after that, N.W.A. was formed when H.B.O — a group new to Ruthless Records — declined to record Ice Cube and Dr. Dre's track "The Boyz-n-the-Hood." Eazy-E recorded it himself, and not long after that, N.W.A. was born.
Eventually, however, Dr. Dre and Ice Cube had a falling out with Eazy-E, and N.W.A. went their separate ways (via Phoenix News Times, The Hollywood Reporter). Eazy-E continued to work with Ruthless Records, signing Bone Thugs-n-Harmony out of Cleveland.
Sadly, Eazy-E died due to complications from AIDS in 1995. Dr. Dre and Ice Cube were able to patch things up with Eazy-E before his death.
"We would probably be working together right now," Dr. Dre told The Hollywood Reporter. [We would probably be] arguing about the work, as we did back in the past. It's like, every project, we had some little argument about what the project should be creatively, and I would say we would probably still be doing that, but at the same time getting the work done and probably doing something amazing."