What You Don't Know About Miranda Lambert's Husband, Brendan McLoughlin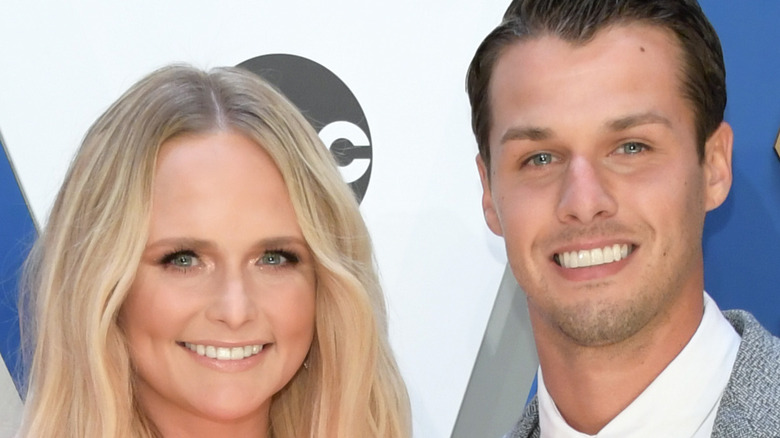 Jason Kempin/Getty Images
Superstar Miranda Lambert broke the country music world's heart after her split from husband of four years, fellow singer Blake Shelton, but she shocked fans even further when she announced her marriage to current husband Brian McLoughlin after just two months of dating in 2019 (via Us). Shelton, who has since dated and married pop singer Gwen Stefani, whom he met while coaching on NBC TV show "The Voice," was shocked by the news. "Blake found out about the wedding at the same time everyone else did," a source told Us Weekly. 
According to an insider, Shelton had some questions about the couple, and he reportedly said that "the timing of Miranda's announcement of the marriage was certainly curious," even going so far as to call it a "quickie situation." The whirlwind courtship raised a lot of questions and even sparked rumors that Lambert was cheating on Shelton. So what exactly do we know about Brendan McLoughlin — Lambert's new man who has everybody talking? Keep reading to find out.
Brendan McLoughlin met Miranda Lambert at work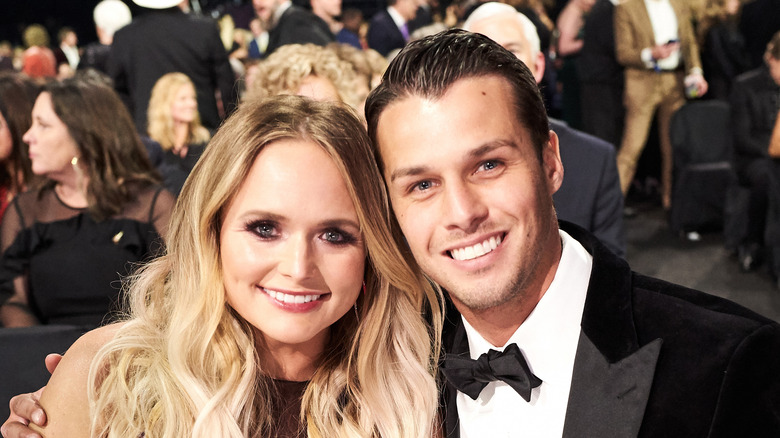 John Shearer/Getty Images
When it comes to meeting new loves, Miranda Lambert seems to always be at the right place at the right time. The country singer met her first husband, Blake Shelton,  when the two were tapped to sing together at the CMT 100 Greatest Duets concerts in 2005 (via Bustle). Her career also led her right into the arms of Brendan McLoughlin, a Staten Island native who was working as a New York City police officer at the time he and Lambert began their relationship (via Brides).
The two met while McLoughlin was on duty — literally. Lambert was performing on "Good Morning America" while McLoughlin was stationed as security for the area. "My girlfriends, the Annies, saw him and knew I might be ready to hang out with someone. They invited him to our show behind my back," Lambert said of their meeting. A little while after they met, McLoughlin took an "authorized leave of absence" from the force, which we doubt was a coincidence.
Both Lambert and McLoughlin have complicated relationship histories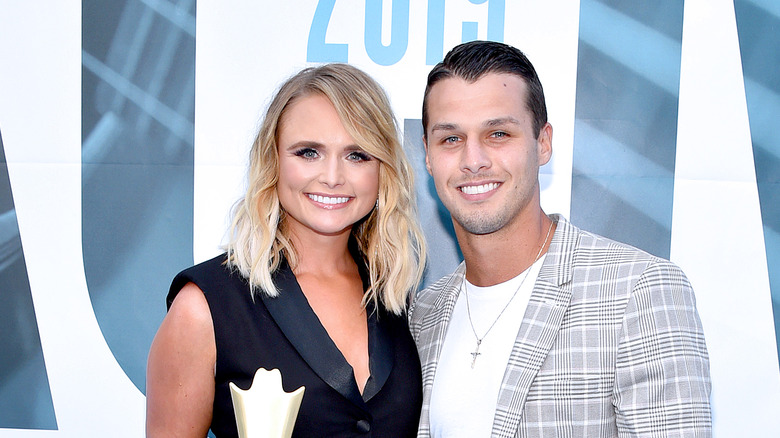 John Shearer/Getty Images
The speedy way Miranda Lambert moved on from Blake Shelton isn't the only complicated part of her dating history. According to Us, the "Bluebird" singer was near the end of a three-year relationship with country singer Jeff Allen McManus at the time that she met Shelton in 2005. McManus said of the relationship, "I would imagine that the Miranda I knew 12 years ago is a completely different person now. I don't necessarily mean good or bad, but you grow a lot from 18 to 34. But you've also learned a lot and should know better." The Grammy-winning singer also made waves when it was reported in 2018 that she was dating musician Evan Felker while he was married (via Us).
It turns out that you don't need to be a celebrity to have your own share of dating scandals, as Brendan McLoughlin has a bit of a complicated relationship history as well. According to Us, the Staten Island native got another woman pregnant while cheating on Jackie Bruno, who was his fiancée at the time. Bruno's mother said that McLoughlin "begged" her daughter to stay with him "even though he knew the girl was pregnant." McLoughlin's son with Rettinger was born in 2018, just a few days after he met Lambert for the first time.