The Truth About Sarah Jessica Parker And Kim Cattrall's Iconic Feud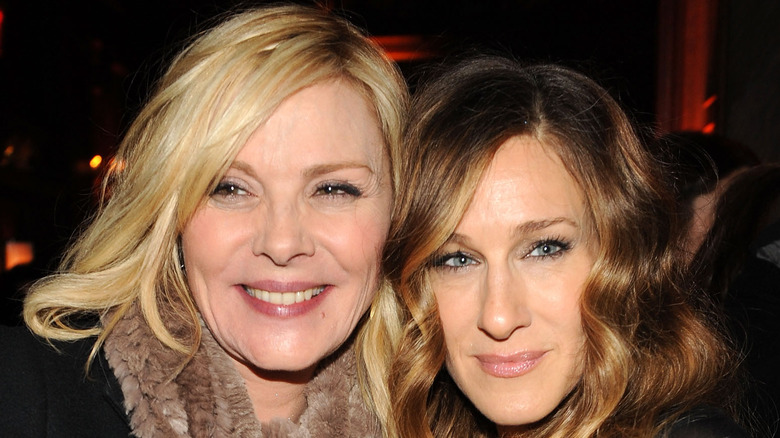 Bryan Bedder/Getty Images
When fans learned that they wouldn't be seeing Kim Cattrall in the "Sex and The City" reboot (called "And Just Like That..."), they were understandably devastated but not terribly surprised. After all, it's not exactly a secret that two of the original show's four leads don't get along. Rumors have been rife for years that Sarah Jessica Parker, who played lead Carrie, and Kim Cattrall, who played sexpot Samantha, were at odds throughout its run. Cattrall memorably made it clear that she and her "Sex and the City" co-stars were actresses, not besties IRL. 
As E! News reported, during an appearance on Piers Morgan's "Life Stories," Cattrall discussed their relationship. "We've never been friends," she said. "We've been colleagues and in some ways it's a very healthy place to be because then you have a clear line between your professional life and relationship and your personal." 
However, it's worth noting that the woman who so memorably brought Samantha to life never had as much of an issue with the other ladies as she did with Parker, in particular. 
Sarah Jessica Parker and Kim Cattrall initially claimed everything was fine between them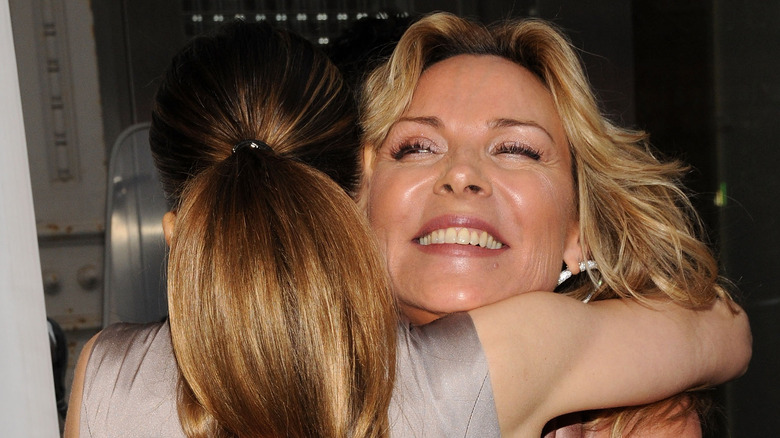 Bryan Bedder/Getty Images
As Cosmopolitan notes, Kim Cattrall has long been established as the outsider of the "Sex and the City" cast, notably sitting apart from the other women when they all attended the 2004 Emmy Awards. During an appearance on "Friday Night with Jonathan Ross," via Digital Spy, Cattrall admitted that pay disputes ultimately led to the show ending. The spinoff movie was also, allegedly, delayed by her protracted salary negotiations. However, Sarah Jessica Parker stuck up for her co-star at the time, arguing to The Telegraph that nobody had "vilified her" for asking for more money. "I don't think anybody wants to believe that I love Kim," she subsequently told Elle. "I adore her. I wouldn't have done the movie without her."
Cattrall also denied that there was a feud in an interview with the Daily Mail the following year, echoing Parker's words about people preferring to believe that something is rotten between "two strong, successful women." Parker then doubled down with Marie Claire in 2011, reasoning that on-set arguments are all part of the process. She publicly wished her colleague a happy birthday in 2016, too, telling Time that same year that the continuing feud rumors were "heartbreaking."
Kim Cattrall later admitted that there were major issues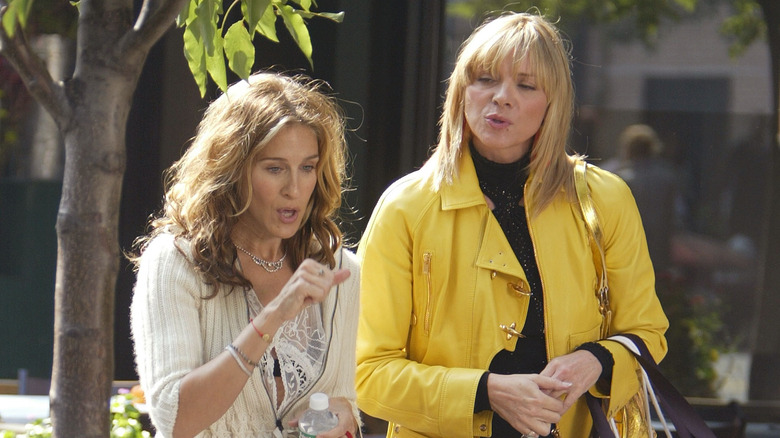 Mark Mainz/Getty Images
In 2017, once it was confirmed that the third "Sex and the City" movie wasn't happening, Kim Cattrall was immediately blamed. The actress defended herself on Twitter, admitting she simply didn't want to do it. The New York Post subsequently published an exposé about the so-called "mean girls" culture on the set of the show, with Sarah Jessica Parker singled out as a bully, particularly when it came to Cattrall. Although the actresses didn't publicly respond, Parker admitted to finding it "upsetting" that Cattrall didn't consider them real friends (via YouTube). However, Cattrall later made it clear that there was no love lost between them when she called Parker out for being fake by sending her condolences when Cattrall's brother passed away. 
The "Sex and the City" icon posted a lengthy Instagram note alleging that Parker was simply trying to "restore [her] 'nice girl' persona." She also, notably, included a link to the original Post story. Parker, however, continued to insist that there was no issue in interviews with People and Vulture. As ET! Online reported, Cattrall then pointedly liked a tweet about her not being a part of the "Sex and the City" reboot. Other than that, though, she appears to be done with the whole thing. Parker, meanwhile, continues to protest her innocence (via Cosmopolitan).