Is Olaplex Worth The Money?
Unless you're a hairstylist yourself, there's most likely been a point in your life where you've been overwhelmed by just how many hair care products and methods there are on the market. In an environment where everyone has an opinion — and everyone's opinion is usually wildly different from the last thing you read — it can be hard to know where to start, especially with the amount of money some of the higher end products cost. A staple of salons everywhere is Olaplex, the upscale hair care brand that is a favorite of celebrities from the Kardashian-Jenners to Drew Barrymore (via People).
Olaplex carries a wide range of products, including shampoos, conditioners, leave-in treatments, styling creams, and more. They all boast restorative properties and other healthy hair benefits, but at a hefty price — the lowest price on the website is $28 per single bottle, and goes up to $196 for a product set. Keep reading to decide for yourself if it's worth the money.
What does Olaplex do for the hair?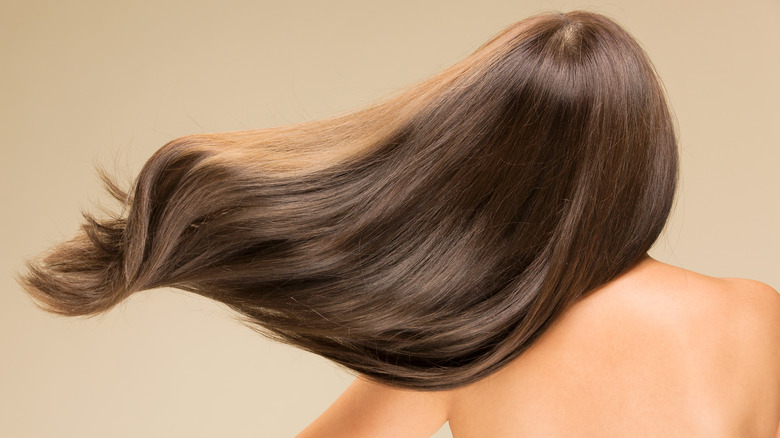 kei907/Shutterstock
While Olaplex certainly seems impressive, the big question is what does the stylist and celebrity recommended hair care brand do differently than all the other ones out there. According to Glamour, Olaplex goes a little deeper than other brands — literally, by working "on the molecular level to repair the bonds that make up our hair" rather than simply using ingredients that enhance the shine on the outermost layer without doing much on the structural level. Olaplex is recognized as the first hair care brand to have this technology available outside of the salon.
These treatments especially provide relief and restoration for people with color-treated and damaged hair. Victoria's Secret model Rosie Huntington-Whiteley vouched for this part of Olaplex's claims, saying, "I get my hair colored about once every eight weeks and, with all the heat products I have on my hair at work, I do find that my hair can get quite brittle and damaged. Since using Olaplex over the last couple of years I've found that it really does hydrate my hair, strengthen it, and really repairs the ends and the brittle parts," (via Harper's Bazaar).
Should you be using Olaplex as part of your hair care routine?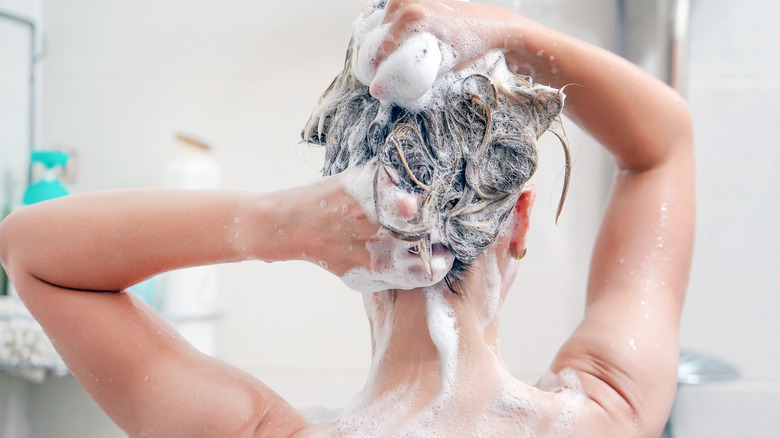 lunopark/Shutterstock
Hair care is by no means one-size-fits-all. Environmental factors, hair texture, hair color, and more all play a part in the best way to take care of your hair. Olaplex is unique in that it claims that everyone can benefit from their products. Martine Robertson, Olaplex's director of education, explained, "Olaplex is for everyone, literally. All hair goes through stress that can lead to breakage. Imagine that Olaplex is like a gym routine for your hair — the more you use it the stronger, healthier, and shinier it will be," (via Byrdie).
Celebrity hair colorist Matt Rez doubled down on Olaplex's reputation for preventing damage from bleach and other coloring methods, saying that "blondes and those who want the lightest strands must be on their Olaplex game." According to hair extension artist Violet Teriti, Olaplex even works well on maintaining the integrity and shine of hair extensions, allowing clients to use the extensions for "over a year."