Does Meghan Trainor Want More Kids?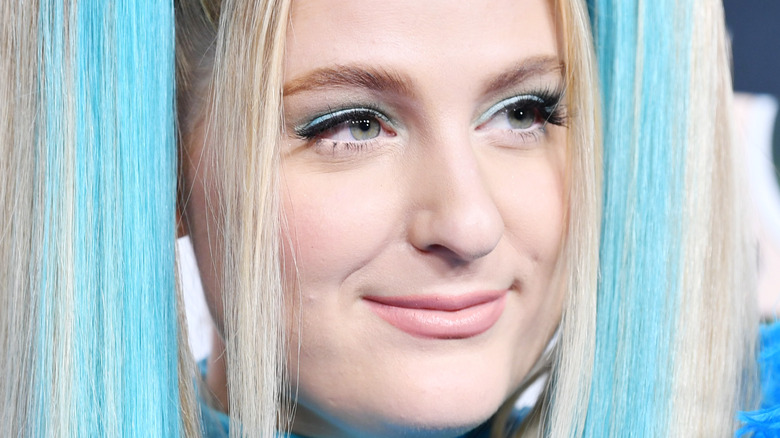 Amy Sussman/Getty Images
If you've ever questioned the notion of true love, may we direct your attention to Meghan Trainor and Daryl Sabara? The adorable love story all began back in 2016 when Trainor asked BFF Chloë Grace Moretz to set her up with "the nicest guy ever," which ended up being Moretz's good friend Sabara. According to sources, the first date was a total success full of bowling, karaoke, and what Trainor described as being akin to "a middle school date" (via People). On his relationship with the "All About That Bass" singer, Sabara said, "It's super cheesy, but when you know, you know. As soon as she walked in the room and I saw her, I just knew: This is the one. Everything about her."
After 18 months of dating and a romantic proposal that happened on Trainor's birthday, the couple had the most beautiful Christmas-themed wedding in the backyard of their house, per The Knot.
Fast-forward to February 2021, and the young couple welcomed their first child together, Riley, who came just a few days earlier than they had expected (via E!). But do Trainor and Sabara plan to have any more kids in the future?
Here's what inspired Meghan Trainor and her husband to have their first child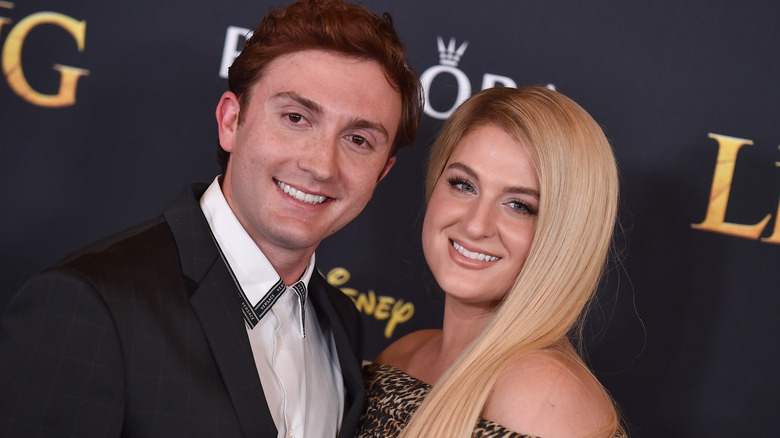 DFree/Shutterstock
If you ask Meghan Trainor and her "Spy Kids" husband, Daryl Sabara about their decision to have their first child, they'll say it came from being stuck at home. "As soon as COVID had hit and we knew we were going to be stuck at home for months, we were like, 'It's kind of now or never, right? Let's go.'" The next thing they knew, Trainor was pregnant during lockdown and their first baby was on his way (via People).
It's certainly no secret that Trainor and Sabara are absolutely loving parenthood. From adorable Instagram photos of baby Riley to interviews in which they're ear-to-ear happy, there's something about being parents that these two have absolutely taken to. "The biggest change is that anytime I walk into a room with him in it, it's the biggest smile and the most joy, the most love anyone could ever give you," Trainor told People. "And to look at that and be like, 'I made that. That's crazy. That came from love. That came from soulmates.' It's the greatest." She added that they couldn't feel luckier, as they were blessed with a "happy baby" that is a pro at sleeping through the night.
Here's how many more kids Meghan Trainor wants
In fact, Meghan Trainor and Daryl Sabara appear to love parenting so much that they're already eager to have more children, despite having only had their first a matter of months ago. "I'm ready for three more kids!" Trainor told People.
She says that she was given lots of great advice on how to become a mom and raise a baby well. That being said, not all of the advice she was given was golden. According to E!, some of the worst parenting advice she got consisted of people telling her husband not to participate. "They would say, like, 'Oh, sit down,' to my husband. Like, 'Just keep your head down and stay out of her way.' Or, like, 'Once you have a kid, it's their life now and you're in it.'" But she totally rejects this notion, and even finds it problematic to suggest that men don't need to be present in parenting their children.
When she's not cooing over her adorable baby boy, you can catch Trainor working on her spinoff competition series, "Top Chef Family Style" and prepping for "Clash of the Cover Bands," in which she will serve as a judge. She's also in the midst of working on an upcoming comedy show via NBC that's reportedly all about her life (via The Wrap).