Catherine Zeta-Jones Shares All Her Secret DIY Beauty Hacks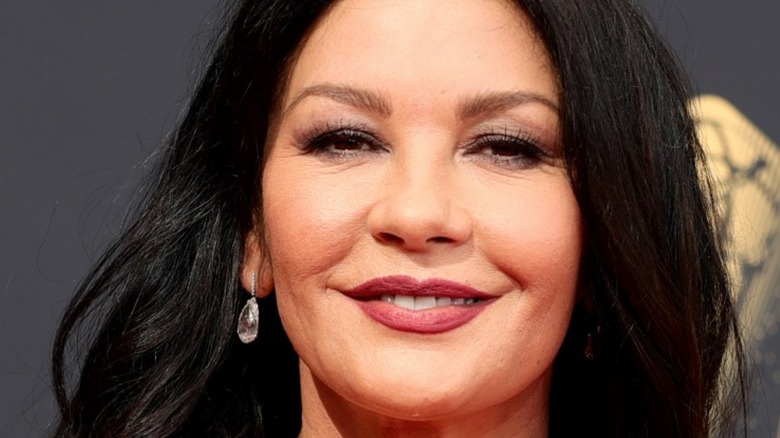 Rich Fury/Getty Images
Actress and all-around Hollywood royalty Catherine Zeta-Jones is our forever beauty icon. She's never had a miss on the red carpet, and her glowing skin and youthful appearance make us more invested in raiding her makeup bag. As the spokesperson for cosmetics brand Elizabeth Arden, Zeta-Jones' approach to beauty incorporates classic with modern (via Vogue). 
In a think-piece for The Times, she wrote about Old Hollywood's influence on her beauty looks. "I feel better when I have a bit of definition on my eyes, and even better when I have a lot," she penned. "As a child, I was obsessed with Elizabeth Taylor's smoky eyeliner, butterfly eyelashes, and violet eyes. I do wonder if Elizabeth Taylor hadn't married a Welshman, would I have ever fallen in love with black kohl eyeliner?" 
Hydration is a big part of Catherine Zeta-Jones' beauty routine. In a September 2017 interview with W Magazine, she outlined the makeup and skincare products responsible for her radiant, clear skin. Some favorites included Elizabeth Arden Eight Hour Cream, Rhonda Allison's Pumpkin E Serum, Methode Physiodermie Soft Face Biopeeling, and Sarah Chapman Skinesis Overnight Facial. But don't let the price tag on some of these fool you. The "Chicago" star's beauty routine is a mix of DIY and store-bought products. In fact, her typical Sunday routine involves DIY-ing her nails, a face mask, and hair care, per Yahoo. 
The DIY beauty tricks Catherine Zeta-Jones swears by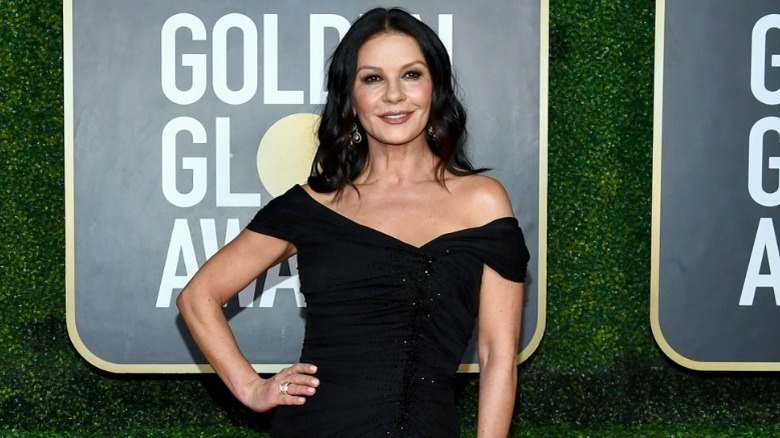 Dimitrios Kambouris/Getty Images
Catherine Zeta-Jones keeps a healthy stock of natural ingredients in her beauty arsenal — and her kitchen. Per Daily Mail, Zeta-Jones combats wrinkles and fine lines by applying honey and salt on her skin. Honey is one of nature's best beauty elixirs. It exfoliates your skin, reduces acne, and locks in moisture, as reported by Pure Wow.
Zeta-Jones is also big on using essential oils, and often combines them (via Women's Health). For gorgeous hair, she turns to a surprising beauty hack. "I do condition my hair with honey and beer," she revealed (via Daily Mail). "I smell like the bottom of a beer barrel for days afterwards but it's very good for the hair." This is one of the oldest hair tricks in Hollywood. Per StyleCaster, Bella Thorne uses beer as a hair lightener. Even legends Audrey Hepburn and Marilyn Monroe were rumored to use this hack (via NY Post). But buyer beware. Before you drop your favorite beer down the drain, this hack has produced mixed results for some. VinePair put the beer theory to the test, and was left with oily and flaky hair.